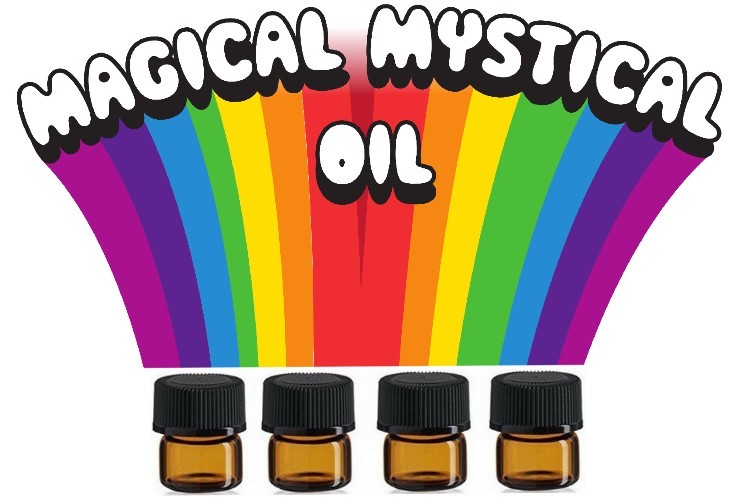 Magical Mystical Oil FAQ's
Will Magical Mystical Oil work instantly?

Each person is an individual and we all have our own different biological and physiological makeup. For this reason, Magical Mystical Oil may present differently for each individual. Please contact us in regards to any issues or question.

Is Magical Mystical Oil legal?

Yes. Magical Mystical Oil products are 100% legal according to Article 28 of the Single Convention on Narcotic Drugs set out by the INCB (United Nations) and the Hemp Industry Act 2008 (Australia), as we use high grade healing Hemp oils.

Can Magical Mystical Oil react on my skin?

As everyone is different and all sort of allergies occur in different individuals, we encourage people to first apply a patch test of the Magical Mystical Oil to themselves. Apply a drop to your inner wrist. Leave for 24 hours. If you experience any irritation, discontinue use.

How do I use Magical Mystical Oil?

Massage one drop onto the bottom of each foot prior to bed time. Magical Mystical Oil may make you feel relaxed or sleepy. Do not use before driving or operating machinery. Please refer to the graphic below.

Why apply the Magical Mystical Oil to the feet?

In traditional Chinese medicine the feet are regarded as your "second heart" and a mirror of internal health. The feet have the largest pores on the human body as traditionally when we lived within nature and did not wear shoes, we would absorb a lot of our minerals and traces of nutrients from walking on the earth. This is why therapeutic foot spas filled with magnesium and herbs are still popular today. Want to see how powerful the uptake is through the feet? Rub some raw chopped garlic and/or cinnamon on the soft part of the soles of your feet. Within minutes you will taste it in your mouth!

Now let's get down to the scientific explanation of why Magical Mystical Oil works via the feet and not the mouth. Our research has found that too many of the therapeutic benefits are lost when Magical Mystical Oil is taken orally. This is due to the first-pass effect where the liver metabolizes what we digest, sometimes to such an extent that only a small amount of the active components within Magical Mystical Oil emerges from the liver to the rest of the circulatory system. This first-pass effect through the liver greatly reduces the bio-availability of Magical Mystical Oil essences.

Our aim is to maximize the healing benefits by allowing the body to circulate and absorb as much of the Magical Mystical Oil as possible and we found that application through the feet is the most rapid method and has the highest potential to reach the areas of the body requiring treatment. Please refer to the graphic below.

How does Magical Mystical Oil make you feel calm, rid anxiety and nervousness and even sleepy?

The simple answer: Magical Mystical Oil love your brain! The Blood-Brain Barrier (BBB) is semi-permeable; it keeps hormones and neurotransmitters that are not lipid soluble from reaching the brain. The neutral cannabinoids found in Magical Mystical Oil are all small molecules that are highly lipophilic and cross the blood-brain barrier. As the Magical Mystical Oil interact with your endocannabinoid system in your brain, the brain is signaled to relax and allow stress and anxiety to disappear so you may rest and unwind. This is why we encourage people to use Magical Mystical Oil prior to bed. Do not use prior to driving or using potentially dangerous machinery of any sort.

The long answer: Magical Mystical Oil are formulated to bind with the endocannabinoid (CB1 ad CB2) system of our bodies, the brain can produce its own cannabinoids. Our formulas are particularly binding to the CB2 receptors of the brain. "The endocannabinoid system (ECS) is one of science's newest and most exciting discoveries. The ECS regulates relaxation, eating, sleeping, certain inflammation responses and even cognitive function. There are two types of cannabinoid receptors found throughout the body (CB1 and CB2), but they are most abundant in the brain and immune system respectively. In a nutshell, your ECS is responsible for making sure your entire body is working optimally, no small task!"

As mentioned, the brain can produce its own cannabinoids, all of which are made from metabolites of linoleic acid as found in therapeutic hemp. The receptors cannabinoids interact with are also made from omega 3 and 6. Recent research showed that omega 3 deficiency leads to destruction of cannabinoid receptors resulting in various mental, emotional and physical dysfunctions. The entire endocannabinoid system is best fueled by therapeutic hemp.