Magnetic Dog Beds Australia. We are proud to provide you with a 100% Australia made magnetic dog bed range.
Dog arthritis is as prevalent as it is in human, our Magnetic Experience eBay store has the largest range of magnetic therapy pain relief products.
With 40 years combined experience we have a wealth of experience to share when it comes to magnetic therapy pain relief solutions. So don't hesitate to contact us for a solution that suits you.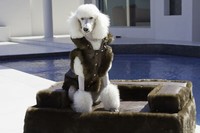 Learn more about our luxury dog beds
To my wife Jannese and I have scaled down our large operation to a family business where we make and sell the products ourselves through the company Magnetic Experience. Jannese actually made her first magnetic product in 1974. We provide you with quality Australian Made Products and after sales service as only the owner/operators can do. Many of our competitors have their products made in countries that use both cheap labour and materials. We could take that same easy route but prefer to be Australian made where possible. Australian eBay customers can now take advantage of our Australian Magnetic Therapy Range
Remember dogs suffer arthritis the same as humans. Look at our Designer Dog beds Australia made