Many Customers ring me confused as Dicks Wicks and our company have a similar range of products. We actually both come from the same source in the early days. Although the owner of Dick Wicks (Mr Dick Wicks) has be decease for a number of years now, his company still trades. I have even read his book. Let me tell you how this may have come to be.
My wife Jannese's family has been manufacturing and selling magnetic therapy products for nearly 40 years and she can remember as a young woman when Dick Wicks use to be a Rep for her mother, down in Melbourne. Of course in time he broke away and did his own thing, as did we. Today his company is a leading retailer of magnetic underlays and magnetic therapy products. So in many ways we did both start from a similar product range.
As to the difference today. Without getting into too much detail the main point of difference being the the country of manufacture.
When it come to the sewn products, we have well over 30 magnetic products and now proudly there are only three of them that we do not personally make our self. Given time and finding exactly the right materials that we like we will be 100% Australian made.
As for each individual product. I encourage you to compare the quantity and surface strength of magnets. also keep in mind that in the product description if the country of origin is not mentioned there is a likely chance that the product is not Australian Made.
Jannese and I have personally dealt with thousands upon thousand of customers when it comes to magnetic pain relief. I have personally performed casual leasing in the middle of many of Melbourne, Sydney and Brisbane shopping Centres. Here is a photo of me in the middle of Centro Shopping Centre in Gympie a few years ago. Aha you may say, I remember them now.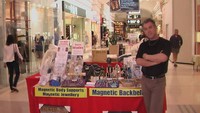 We are a family business so feel free to contact Jannese or Cameron (that's me) any time for
Free advice on Magnetic Pain Relief Products
View our Range of Magnetic Therapy Products