Our Magnetic Underlays are manufactured in Queensland near Brisbane. With up to 470 x 1200 Gauss Magnets we have the most therapeutic magnetic underlay on the Market. If you can find a more therapeutic magnetic underlay we are willing to give you one for free.
Now Back to Brisbane. You may remember Magnetic Therapy Stands set up in the middle of your local shopping centres selling magnetic products. Well that was our company. But Today we have scaled down to a family business where near all our sewn products are all Australian Made.
The use of biomagnetic therapy is a drug free alternative to taking harsh drugs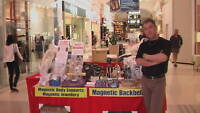 My wife Jannese personally has over 30 years of experience with Magnetic Therapy.
Ring us for your free consultation on Magnetic Pain Relief
View our Range of Australia Made and Owned Magnetic Underlays
Here are Seven Little know Secrets when doing a Magnetic Underlay Comparison
Remember no matter where you are in Brisbane of Queensland you can get your magnetic underlay through our eBay store