Always wanted to make your own jewellery? Here is the place to learn how to make the perfect first piece. Quick, simple and easy, this design can suit any need, style or occasion just by using different beads. Need a pair of earrings to match your outfit tonight? - Well we better get started!!! With practice these earrings can easily be made within five minutes. Find the materials you need here on ebay (look for links below) and soon you will be making professional looking jewellery.... in five easy steps!
Tools you will need: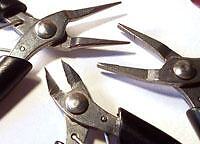 (from top to bottom) round nosed pliers, flat nosed pliers and wire cutters.
Materials you will need: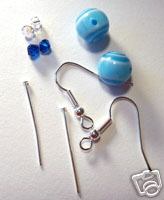 2x Ear hooks

2x Head pins

2x 10mm beads

4x 4mm beads
Five Easy Steps:
1. Thread you beads onto the head pins, usually the biggest bead first.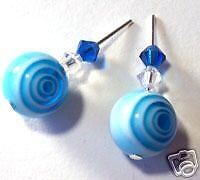 2. Using your flat nosed pliers bend headpin over at a right angle as close to the beads as possible.
3. You may need to cut ends of head pin so they measures 5-8mm and check they are the same length by comparing them.
4. Use your round nosed pliers to curl ends of headpins into loop shapes.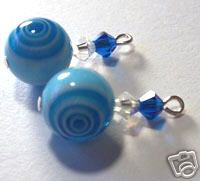 5. Slip on your earring hooks and close loops of head pins completely by squeezing sides of loop with flat nose pliers and your earrings are complete.
Materials that I used to make theses earrings:
Don't forget to look in MY STORE ... for beads you could use to make these earrings yourself or finished pieces.
Did you enjoy reading this guide? If so click on yes below!!!!