Make It Stand Out!
Your Easy Guide To Great Selling On EBAY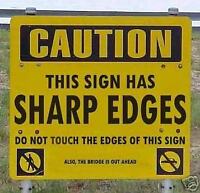 When it comes to selling on ebay don't detour around the facts...like this sign.
Yes, it may have sharp edges... but the real point is, THE BRIDGE IS OUT!!!!! (see the very fine print)
Get the point across, make people whom see your item,
WANT IT, NEED IT, CRAVE & DESIRE IT.
Make Your Potential Customers Think Its Something They MUST HAVE!


Its all in the way you market your items, may they be your first old bombed out car or your wife's wedding dress

(shhh don't tell her, she will kill you!)
If you want to sell it you do have to be prepared to spend a little money on that advertising...
You can't make money without first spending some.
If you know your item is going to get you a good profit and alot more "hitz" (views from other ebayers) in my opinion its 100% worth it.
Gallerys
&
Pictures
are a
VERY
BIG MUST
.
Nothing gets other ebayers attention like a great picture....
ps...
DON'T STEAL PICTURES FROM OTHER EBAYS
Its just not cool!


Borders & Colour & Text (the language you use) also play a big part.
mix up your text colour but dont make it so blinding that ebayers hit the back botton on so fast that the world changes direction
Language (be tasteful & RESPECTFUL to all) : If your selling a gangsta cd for example:
To All Yo In The Hood
Bust A Bid On This Slaming New CD BY ********************
Respect G's
Ok, not the greatest example... but you get the picture.
Make It Flashy, Catchy & Very Appealing
This Guide Can Only Help You This Far...The Rest Is Up To You.
Be Creative & MAKE IT STAND OUT
I Have Had Great Sales By Following These Tips My Self.
Resident Nemesis (118)