MAKE SURE IT'S REAL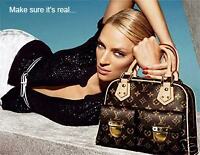 PLEASE REMEMBER TO VOTE FOR THIS GUIDE AS HELPFUL OR UNHELPFUL
When it comes to purchasing on ebay everybody wants a bargain, but how do we know that the bag we are buying is the real thing ??? There is nothing more frustrating than recieving your item only to find it is fake so with these tips you will be one step closer to getting what you pay for. Personally i get very angry that people will quite willingly take hundreds of dollars off people when the bags they are selling cost next to nothing from china, and are some of the worst fakes i have ever seen !!!!
BE VIGILANT !!
Buyers should take the initiative by doing plenty of background research. They must learn as much
as possible about the products before bidding on them. If the seller provides pictures of an item,
they should not be taken at face value. Comparison of these pictures with the real item helps
in this regard.
Many sellers will use pictures from manufacturers that do not represent the item they are
actually selling; buyers should ask the seller for actual pictures of the item. If the seller
balks, buyers should refrain from bidding.
AUTHENTICATE
Familiarize yourself with the various bodies that certify respective items.
genuine items should include a COA (certificate of authenticity) care cards etc.
Counterfeit or misrepresented items should be reported to eBay.

FEEDBACK
One should analyze the feedback rating of a seller. Analyzing feedback is another helpful
exercise to prevent buying counterfeit bags. Sellers who have an established history of credible sales are
Usually helpful and professional to deal with but there is also a big chance the bags they are selling are
not the real thing. Negative feedback should be a red flag as to whether one should pursue a trade
with the person. The same thing applies for those who do not have feedback ratings at all.
Buyers should make sure they have read the entire product description on its eBay listing.
Things to look out for are current item condition, material used, lining, stitching . etc
If this information is not specified, it would do well for the buyer to contact the seller
regarding such.
THE BAG

Arguably, the most dominant sellers of designer bags on ebay is Louis Vuitton. If genuine Vuitton
is what you're after, refer to this list of guidelines before you buy a "genuine" bag.
The classic Louis Vuitton monogram bags run from $500 to more than $1,000.

Why would people sell a thousand dollar bag for $50-300 dollars ???

Check sellers feedback, multiple item being sold mean they are asian imports and FAKES !!
any less, you're not getting the real deal. Fakes range in price from $50 to 300 on ebay.


Real Louis Vuitton purse snaps are monogrammed. Manufacturers of replica Vuittons often skip that specific.
Genuine Louis Vuitton bags usually start out with light leather. Over time, the leather will wear and darken.
Take a close look at the handles, which should be made of an entire strip of natural leather.
When first purchased, the handle is light tan in color; over the course of a few weeks, it should
oxidize and turn into a darker, cognac color. Fake bags don't change color like this because the
handles are usually painted.
The stitching on the handles should be clean and consistent, and should use yellow thread.
The sides of the handles should be a shiny, glazed red.
The zipper pull should be brass hardware, and quite heavy looking. Look for a neatly imprinted "LV" symbol on it.
The canvas of the bag shouldn't be too soft or stiff, or "oily" or shiny.
The LV monogram should have irregular brown lines through the gold-colored letters, and flower pattern.

Fake monograms may be a solid color or look too green or orange.

Ask for ID. There should be a card with the style number and name inside the bag.
Know what styles of the bags are genuine and look at the lining. Fake bags often come in styles and colors not available in the real thing and the lining will be different.
It is always a good idea to look at websites that carry the genuine article : Louis vuitton, Prada,
Gucci, etc and compare .
The Genuine article will always have beautiful clean lines as you can see in the picture on the left below. All LV's will be in line as you can also see in the picture on the left. Also notice the color difference between the two bags.
And remember 9 times out of ten, even when stated as GENUINE 90% of LV sold on ebay is fake, so if there are ANY doubts dont purchase.
If you are still having trouble with your decision feel free to email me through ( contact member ) and i will be more than willing to help you !
EXAMPLE :
GENUINE FAKE