CONFUSED ABOUT WATER FILTERS AND TERMS LIKE MICRONS, VOC'S AND THM'S?
THIS GUIDE TO BUYING AN UNDER SINK WATER FILTER WILL HELP YOU MAKE THE RIGHT CHOICE: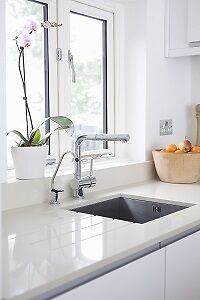 WHAT IS AN UNDER SINK WATER FILTER?
An under sink water filter is designed to fit neatly under the kitchen sink, there are a few different versions generally referred to as single, twin or even triple stage water filters. It is wrong to assume that a three stage water filter is better than a single stage water filter, it is the quality of the water filter cartridge that counts not how many stages are used.
HOW ARE THEY INSTALLED?
The most common system is hooked into your cold water supply under the sink with the pure water being delivered via a separate tap or a specialised 3 way tap. The benefit of using a three way tap is that there is no need to drill a hole in your sink or bench top.
The other option available is a high flow water filter which can be installed directly to your existing kitchen mixer tap.
UNDER SINK WATER FILTERS BUYING GUIDE
Australian Standards 3497 outlines the criteria for burst strength for housings and structural integrity make sure that the system you choose is certified.
Industry size cartridges are 10 inch by 2.5 inches if you buy a non standard size system check that you will not be paying over the odds for replacements.
If any specific claims are made for example cyst reduction or lead reduction a water filter cartridge has to comply with NSF 53 or AS/NZS 4348, Giardia and Cryptosporidium cysts are around 5 microns however it is incorrect to claim that any water filter removes them to 99.9% without certification.
A pressure limiting valve should be fitted to systems which are attached to town water; this prevents water hammer damage and slows the flow of water through the carbon filter allowing the correct contact time, exceptions are high flow systems check the specification sheet for flow rates.
The fittings and tubing used to install your water filter are one of the most important parts of the system, make sure that the Fittings and Tubing have been NSF certified, Australian Water Mark approved or WRAS rated, there are many copies that have been made which can dramatically lower the price of the system, it is important to remember that your water filter is permanently connected to the town water supply a water leak could cost many hundreds of dollars.
The final piece of the jigsaw is the water filter tap or faucet, in the case of a separate dedicated tap you should choose an NSF approved tap, this means that the tap has been structurally tested for durability and is also certified lead free – do not go to the trouble and expense of purifying your water only to re contaminate it by using a cheap non NSF approved copy!
If you choose a 3 way tap this must be water mark approved and Wels rated if it isn't you will not find a reputable plumber to install it.
THM's and VOC's
Thm's stands for Trihalomethanes (this is any by product that occurs due to the use of disinfectants such as chlorine in the water supply)
Voc's stand for Volatile Organic Compounds (such as pesticides, herbicides and other chemicals. These chemicals are found in most municipal water sources and even in well and other sources due to agricultural run-off and contamination). Carbon Filters are an excellent way to remove VOC's and THM's, again if the cartridge you choose is certified to NSF/ANSI Standard 53 you can be assured that your water will be free of these nasties.
MICRONS
This is the basic 101 of what you need to know before you buy any water filter cartridge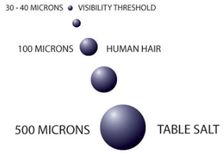 A micron is one millionth of a metre. A human hair is approximately 70 microns in diameter, a cryptosporidium oocyst 4-6 microns and a Giardia cyst 8 - 12 microns.
So therefore a 1 micron filter will remove everything that is bigger than 1 micron? Unfortunately it isn't that easy.
Filters are rated absolute and nominal:
NOMINAL RATING A nominal rating is an estimate of the smallest particle size that the filter should remove or reduce according to its design criteria. So a 1 micron nominal filter will remove around 95% of particles that are 1 micron in size or above
ABSOLUTE RATING An absolute rating is a certified reduction rate commonly 99.9% although this can go up as high as 99.99% for example the Doulton Ceramic cartridge will remove 99.99% of harmful bacteria.
I hope this has helped you. If you need any more information, feel free to contact me or see our store:
HIGHLANDS WATER FILTERS
Thank you for reading the article, if you enjoyed it please let us know by voting using the was this guide helpful button below.