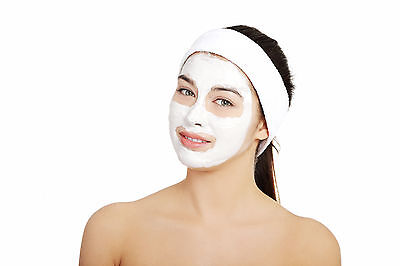 8 Amazing home-made masks
Run out of your usual mask ?
No time to order Hydracol online ?
Feel like being creative ?
Check out these amazing masks, all made from ingredients lying around the house.
I have personally enjoyed a few of them.
Brightening Mask
The enzymes in the papaya are great for repairing the skin from sun damage, pigmentation as well as exfoliation. You will notice your skin looks brighter and fresher.
Cut a slice of ripe papaya and remove the seeds and pulp.
Rub the inside of the papaya peel on your cleansed face.
Focusing on the fine lines.
Leave for 15 to 20 minutes.
Remove with tepid water.
Anti Ageing Mask
Red wine can be a powerful antioxidant, the clay will gently draw out impurities, and grapeseed oil will moisturises, nourish and hydrate.
In a bowl add ¼ cup wine

Add ¼ cup kaolin clay (you will find at health food shops
Add 2 -3 tablespoons grapeseed oil
Mix well together and apply on the skin
Leave for 10 minutes and rinse
This mask can be done 1-2 times a week.
Acai Berry Firming Mask
Berries are very rich in antioxidants, great for treating fine lines and also great to firm and tighten the skin.
In a bow add half a cup of sugar
Add 2 teaspoons Acai powder
Add 10 blueberries, Raspberries and or Blackberries
Mash up all ingredients together
Add in olive oil and whisk.
Massage mixture into the face
Leave on for 5-7 minutes and rinse of.
This mask can be done 1-2 times a week.
Banana Botox Mask
Who needs Botox when you have bananas ?
Bananas make a fantastic mask, very moisturising and leaves your skin leaves it looking and feeling softer.
Mash up a medium-sized ripe banana into a smooth paste.
Apply it to your face and neck.
Leave for for 10 to 20 minutes.
Rinse it off with cool water.
Tip You can add 1/4 cup plain yogurt and 2 tablespoons honey for extra nourishment.
Exfoliate and Smooth Mask
I love this mask, especially when i am in a rush and when i want an instant glow. The oatmeal will gently exfoliate while the honey with smooth and nourish. I promise you your skin will glow.
Mix 1 teaspoon of honey and 1 teaspoon of good quality olive oil
In a pot mix a cup of oatmeal with a small amount of water (less that you would if you were eating them) and cook them on the stove until it forms a thick paste.
Add the oats to the honey and olive oil mixture.
Apply the mixture to your skin, apply using circular movements over your face and neck area.
Avoid the eye area
This treatment can be done twice a week
The Green Mask
This mask will feel amazing, it will condition, moisturise and hydrate. Great for the dry skin.
Mash 1 Ripe Avocado
Add 1 Egg White ( room temperature )
1 Teaspoon Lemon Juice
Mix the ingredients together well.
Apply onto the face and neck.
Leave on for 30 minutes and rinse
This treatment can be done 2 times a week
Revitalising Orange Mask
This mask is truly AMAZING . You skin will glow with radiance,
Mix 1 cup of oatmeal
Add the juice from 1 orange
Add 3 tablespoons plain yogurt, i suggest greek yogurt.
Add 2 tablespoons honey
Add 2 teaspoons dried orange peel (buy at the supermarket)
Stir all ingredients well
Consistency needs to be thick so add more oats if needed.
Apply onto your face and neck
Leave on for 20 minutes and then rinse off
You can do this mask 2-3 times a week.
Pomegranate Exfoliating Mask
This mask is loaded with anti-aging properties such as antioxidants and vitamin C.
This Exfoliating treatment will remove dead skin cells, hydrate, smooth and condition.
Due to the seeds we suggest to mix in a blender
Mix 2 tablespoons of pomegranate seeds
Add 1 cup uncooked oatmeal.
Mix together
Add 2 tablespoons honey
Add 2 tablespoons buttermilk
Mix well
Apply to face for no more than 5 minutes then rinse.
This treatment can be done weekly