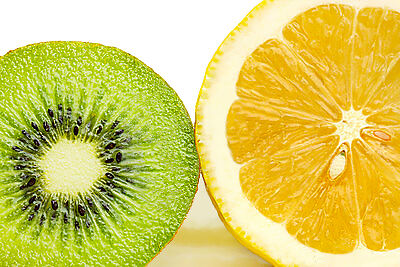 How to make Vitamin C Serum
Vitamin C is one of the most loved and powerful antioxidants for anti-aging and sun damage, it is also necessary for the production of collagen within the skin.
Enjoy the challenge of making your own and also save a lot of money in doing so.
All it takes is a quick trip to the local health foods store or pharmacy and a small amount of time to prepare. Your Vitamin C will be fresh and you will be able to apply it to your skin in the same way you do with branded Vitamin C like Hydra C.
Vitamin C is safe and naturally prevents sun damage, hyper pigmentation, promotes tissue healing, stimulates collagen production and fights free radicals.
Things You Will Need
1 teaspoon distilled water or rose water (if you would like an aroma)
Small mixing bowl
1/4 teaspoon vitamin C powder (L-ascorbic acid)
Whisk
1 teaspoon vegetable glycerin
Small funnel
1 ounce dark glass dropper bottle
Directions
Measure the distilled water into the mixing bowl. If you would like the serum slightly scented serum, use rose water instead of distilled water.
Measure the vitamin C powder( Ascorbic Acid ) into the mixing bowl. If you have sensitive skin mix a little less of the powder.
Stir the mixture with the whisk until it is completely dissolved.
Put the vegetable Glycerin into the mixing bowl. If you have dry skin you may want to add a little more.
Stir mixture with whisk until it has completely blended.
Remove the top off of the dropper dark bottle. Place the funnel into the dropper bottle and pour the mixture from the bowl into the funnel.
Close the lid and shake vigorously.
Refrigerate
Warnings
Vitamin C is very unstable and will oxidise very quickly. Never use oxidized vitamin C serum, they will be no benefit and it can damage your skin. To know if Vitamin C has been oxidised or gone bad, simply look at the colour of the serum, it will be discoloured.
It is VERY important to only use a dark coloured dropper bottles, so it prevents quick oxidization. Create a new batch every 4-5 days maximum safety and effectiveness.
If you find the serum burns please wash it off immediately. The best thing to do is lower the potency, to do this you simply use half the Vitamin C powder (Ascorbic Acid).
Tips
For a smoother formula instead of powder use crystals. Use them in conjunction with Aloe Vera (instead of vegetable glycerin).
The dropper provide a great way to measure the exact application you need. Apply two drops into your hand and rub together then apply the serum all over your face and neck.
Always apply your moisturizer after the serum. Make sure you also apply sunscreen in the morning, as the vitamin C will increase your skin's sensitivity to the sun.
For best results we suggest to use it in conjunction this the Hydracol Micro Derma Roller. This will increase the absorption up to 4000%