DIY MINI-BIKE CONSTRUCTION
IT'S HARD TO FIND YOUR DREAM MACHINE, SO JUST MAKE IT!!!!
Everyone know how fun it would be to have a mini bike. But how much funner would it be if you could make it yourself, so it is has everthing you want. No more tires too small, engine not fast enough, unsure abou the seller... you make it so it is the finest quality!!!
Basically all you need is avaliable on ebay! Just draw up some designs, or purchase some if you would prefer. Find a steel supplier for a few bits of metal to whip up a frame, or purchase one if easier, and then mix and match parts so you have the ultimate machine!!!!
Here's a list of all the things you would need to make your beast of a bike!
Some sort of welder, ARC's are easy to use and cheap, just remember to take safety precautions!

An engine, 50-110cc is the common range for engine size, but if you have what it takes, why not go further!

Fork set-up for the front end and handle bars

Wheels (front and back)

A form of braking system, both disc and drum brakes can be used, it all depends on your budget

A seat, it's always useful!

Minor parts like lights, battery, throttle control etc
Here's a hypothetical design for a bike that YOU could make!!!!!
All of thes items were found in actual Ebay Auctions!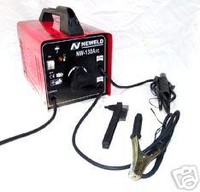 $140.00
$120.00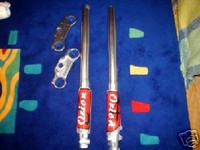 $250.00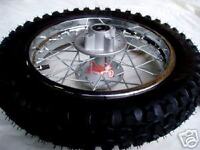 $30(front) + $70(back) = $100.00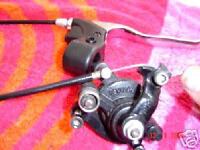 $20(disc) + $30(caliper) = $50.00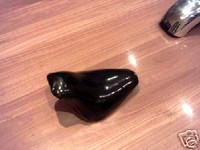 $29.00
$33.00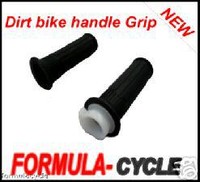 $10.00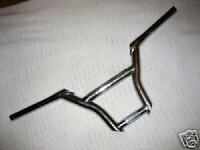 $24.00
Other bits and pieces
Around $100

So lets add all that up... That's about $900 for a totally awesome mini bike!!!
Click on the parts heading to search for auctions on Ebay
Yes, it maybe be about $100+ more than one straight out of an aucton, but atleast you can have a piece of mind know that YOU made the bike, it is up to YOUR standards and you can tell your mates that YOU MADE IT!!!!!
Trust me i've seen it done
My mate completed one with basically the same products that i described and it flys!!!
If you have any questions, email (ebay user:eskii69) or if you are interested in maybe making a chopper trike like i am, drop me a line!!