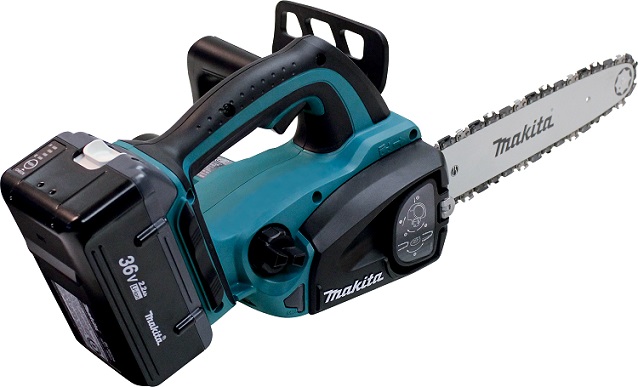 When it comes to considering a Makita chainsaw, buyers have to look into three main aspects: power source, the length of their bar, and the horsepower. However, the actual choice depends on the buyer's cutting needs. For instance, buyers who are need a chainsaw for home use, such as cutting firewood and trimming trees, only need a small chainsaw. At the same time, they have to consider the horsepower of the saw to ensure that it can handle their average cuts. If the saw does not have enough power for the job, the user is likely to become tired very quickly, which may result in the chore taking a long time. It can even cause an accident.
Makita Chainsaw Power Source
There are two primary types of Makita powered chainsaws, theMakita electric chainsaw and the Makita Petrol chainsaw. The type buyers choose depends on factors including proximity to an electrical or petrol source, and the type of cutting required. Therefore, buyers have to consider the location of their cutting project and the size of the job.
Makita Electric Chainsaws
Makita electric chainsaws are great for completing smaller cutting jobs that do not require a lot of power, such as trimming branches and cutting down small trees. Many users appreciate these small electric chainsaws because they are quieter and lighter than most petrol chainsaws. They are also easier to start-up, and they do not require as much maintenance. There are even Makita cordless models for maximum versatility and flexibility.
However, buyers should make sure they have a compatible extension cord when using corded models. Some sellers provide this information. If they do not, buyers can check the manual or manufacturer's website.
Makita Petrol-Powered Chainsaws
Makita petrol chainsaws use an engine to power the machine. They are double cycle engines that utilise a mixture of petrol and oil to operate. Buyers who choose petrol-powered chainsaws are looking for the mobility of a cordless electric saw, but with the high power that they can only find in a petrol chainsaw.
Bar Length and Engine Displacement
Buyers should realise that the size of a chainsaw does not always depend on how big it looks, but rather on the length of its chain bar and its engine displacement. However, engine displacement only applies to petrol-powered chainsaws.
Bar Length
The chainsaw bar length is a measurement from where the chain meets the housing to the cutting tip of the saw. This is typically the entire section that does the actual cutting, which also dictates the largest sized item the saw can handle, without the user having to attack it from multiple sides.
Buyers who want a saw for home use can find bar lengths ranging from 150 to 500 mm. As the size in bar length increases, so do its power and weight. Buyers may welcome the increase in power, but larger, heavier chainsaws, also increase safety risks. In short, inexperienced users should leave any saw with a bar length greater than 500 mm (such as the Makita-90cc-74cm-30-Petrol Chainsaw) to professionals.
Engine Displacement
The engine displacement of a chainsaw is the measurement of the engine size in cubic centimetres. Buyers can use the Makita chainsaws' CC rating to compare them to other Makita chainsaw models. However, buyers must be careful when selecting a chainsaw, because a higher CC rating indicates a higher power range, which in turn indicates a heavier chainsaw. Homeowners should satisfy with chainsaws ranging from approximately 25 to 50ccs. However, buyers who can use a heavy chainsaw comfortably can go up to 64cc, but not higher, unless they need it for professional jobs.
Choosing the Right Makita Chainsaw
The chart below highlights various chainsaw types and their workload in regards to their power and engine displacement. In essence, buyers can determine which saw is suitable for which job type.
| | | | | | |
| --- | --- | --- | --- | --- | --- |
| Job Type | Electric Saw | Light Duty Saw (30cc-35cc) | Medium Duty Saw (36cc-41cc) | Heavy Duty Saw (42cc-50cc) | Professional Grade Saw (50cc +) |
| Trimming, Light Cutting, Pruning | Good choice | Good choice | Can be used | Can be used | Can be used |
| Cutting Small Trees, De-Limbing | Can be used | Good choice | Good choice | Can be used | Can be used |
| Cutting medium-sized Trees | Not to be used | Can be used | Can be used | Good choice | Good choice |
| Cutting Large Trees, Firewood | Not to be used | Not to be used | Not to be used | Can be used | Good choice |
Before buyers start shopping for a Makita chainsaw, they should determine the most frequent job types that they have to complete, and find a saw that provides the right balance of weight and power to suit their needs. If buyers find that their jobs requires a large saw, they should find the largest one that they can handle safely, because large chainsaws vibrate, and can become tiresome very quickly.
How to Buy a Makita Chainsaw on eBay
eBay has a powerful search engine that makes it easy to find great deals on chainsaws and other garden tools. Simply type Makita Chainsaws into the search field and wait for the results to load. This type of general search provides a listing of all Makita chainsaws. If you seek a specific type, of saw, you can opt to narrow down your search with the filters provided, such as brand name, item condition, and seller location.
Another option is to perform a more refined search. For instance, if you want a Makita 400mm chainsaw, just input the information into the search field to eliminate all other chainsaw brands and measurements from the search results. This method minimizes browsing time, but only if you already know which saw you want to purchase. When you make a selection, you can contact the seller if you need additional information. If you have all the information you need, just go ahead and complete your transaction.