* Manly-Warringah Sea Eagles Jersey Logo Guide *
* 1985-2007 *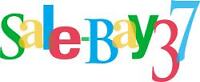 Thank you for taking the time to look at my guide. The Manly-Warringah Sea Eagles Rugby League Football Club has been a huge passion of mine since childhood (a long time ago...), & collecting the team jerseys through the years has been one of my hobbies (obsessions?). This guide will showcase the different club logos that have graced those jerseys over the years.
The Manly club was known as The Sea Eagles from their inception, however the Sea Eagle wasn't used as an actual jersey logo until the 1956 season.
From 1947-1950 there was no actual jersey logo, with the first jersey logo being used from 1951-1953 (MW Shield).
In 1954, once again the logo was dropped from the jersey, however the jersey itself was distinctive due to the large player number on the front.
1955 saw the player number return to its traditional position on the back of the jersey, leaving the front of the jersey logo and number free.
The first incarnation of the Sea Eagle as a jersey logo was in 1956, when a maroon & white Sea Eagle perched on top of a football with the lettering "MW", on a yellow vinyl type patch, appeared on the left breast.
In 1957 the Sea Eagle went completely white & was used as a large logo on the chest of the jersey.
The Sea Eagle logo has since had a few changes through the ensuing years, and I hope you enjoy the following trip down Memory Lane.
Please note, I don't profess to be perfect, so if you find any errors in the guide, or if you have any suggestions or questions, please use the Contact Member button on
My Ebay ME Page
. The guide will be an ongoing project & your suggestions will be used to improve it for the benefit of all Sea Eagles fans. The Jersey Guide & Logo Guide may also be viewed in the Articles section on the Manly Eagle Rockers web site via the link on
My Ebay ME Page
.
The photos used are from my own personal collection & also sourced from various sites on the internet. If there are any photos used in the guide that are protected or copyrighted & are unable to be used, or if you require acknowledgement, please advise me.
Thanks for visiting my guide - I hope you found the information you needed. Please don't forget to vote YES if you did find the guide helpful! The voting button is at the bottom of the guide.
* Manly-Warringah Sea Eagles Jersey Logo Guide *
* 1985-2007 *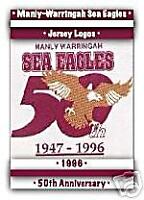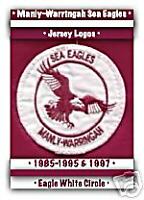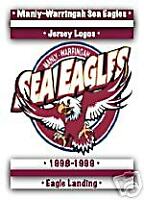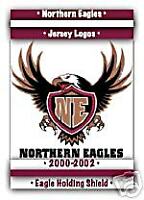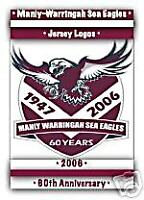 * Manly-Warringah Sea Eagles Jersey Logo Guide 1985-2007 *



See Also
* Manly-Warringah Sea Eagles Jersey Logo Guide * 1947-1984 *
See Also Manly-Warringah Sea Eagles Jersey Guides


Once again, more jersey pictures may be viewed on
My Ebay ME Page
now. Thanks for your time.