Camouflage Tape: An Underrated Accessory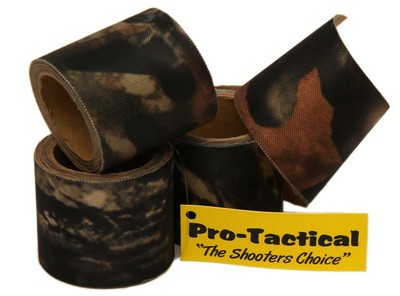 If there is one hunting accessory that isn't given its due, it has to be camouflage tape. There is no doubt that this adhesive tape has little to do with your shooting ability or helping you stay warm on your trip. Yet, you may not realize the many ways in which it could prove to be a potential lifesaver for you.
For one, you can use the tape to deal with tears and rips in your clothing and shoes. You would realize how dangerous it would be to have tears in your clothes when you are in the wild/outdoors. Also, this saves you from the hassle of repairing the clothes on the spot. You can get it done by using camouflage tape and only have the clothes restored to their original condition when you get back home.
Camouflage tape can also help protect your firearms and other accessories you carry with you. There is always the chance that your guns get scratched from being in the open for so long. There is also the risk of damage if the firearms fall or get bumped. Applying camouflage tape to the firearms ensures they remain in perfect shape. If your firearms get damaged it pretty much means you have to cut your hunting trip short. In other words, camouflage tape can guarantee you are able to fully enjoy your trip.
As you can see, camouflage tape is a must-have hunting accessory, yet most people don't consider carrying it with them. You shouldn't make the same mistake as others!
CLICK HERE
to purchase Camo Tape