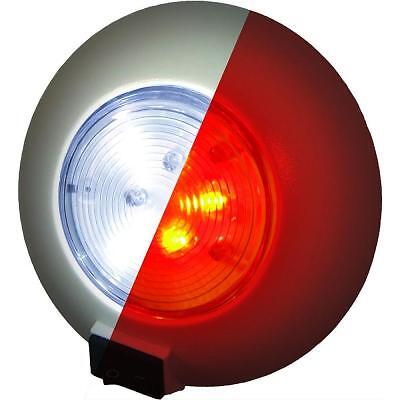 Night-time fishing is a popular activity for some marine enthusiasts and it requires marine interior lights. These lights are designed to be placed in every room on a boat, including the engine room and hallways, helping sailors find their way, even during the day. Most recreational vessels have 12 volt DC electrical systems, which means that various types of lights can be installed, including incandescent, fluorescent, and LED. Unlike traditional lighting, marine interior lights are waterproof, helping to prevent rust. When purchasing marine interior lights, buyers should consider the various types, familiarise themselves with the different factors that help them to buy the right product, and learn how to wire the components properly. Marine interior lights can be bought from boating stores and retailers such as eBay.
Types of Marine Interior Lights
Marine interior lights come in a wide array of types, including incandescent, fluorescent, and LED. These lights help sailors find their way around the vessel better, whether in the day or night.
Incandescent Marine Lights
Incandescent bulbs are used most commonly for marine interior lights. These bulbs produce a warm, subtle feel, and are quite effective. Buyers that do a lot of filming or take pictures within the cabin should choose these bulbs as other harsher lighting types, such as fluorescent and LED, can reduce the visual quality. However, a disadvantage is that incandescent bulbs are inefficient, expending up to 90 per cent of their available energy as heat. This wastes the power of the boat's battery.
Fluorescent Marine Lights
Fluorescent lights are often preferred for their efficiency and energy saving qualities. They are relatively inexpensive, especially in comparison to incandescent bulbs. However, they should be avoided by those that want to capture images while onboard as they lead to overexposure and off-coloured video and photos. In addition, fluorescent lights only come in a tube shaped design. This means that they are less versatile when designing the interior of the boat.
LED Marine Lights
LED lights are considered to be more modern in their design, so they can be found in various shapes and sizes. They consume less electricity than other types and run well with solar power. Although they offer harsh lighting, they are extremely useful for the safety and security of marine vessels. They are available in various wattages, so can be chosen according the desired effect in the boat. In addition, LED lights are quite efficient when compared to incandescent bulbs, although they tend to be more expensive. However, in the long run, their energy saving and extended lifespan far offset the initial cost.
Colours of LED Lights
LED lights come in a wide array of colours, including amber, red, blue, UV, green, and white. Some of these lights are known for producing a glittering effect and are well suited for decorative use on recreational boats. Popular LED light colours and a description of each of them are listed in the table below.
LED Colour

Description

Amber

Allow sailors to see most clearly

Aimed down from under the seats and deck to light the floor

Bright light that has a minimum level of insect attraction

Red

Does not reduce night vision

Not very bright

Aimed down from under the seats and deck to light the floor

Has the lowest level of insect attraction

Blue

Aimed outwards to light the banks while fishing

Attracts insects

UV (Purple)

Aimed outwards to light fishing lines

Works well with a fluorescent monofilament line and glows bright

Attracts insects

Green

Aimed into the water to attract bait

Attracts insects

White

Used solely for headlights

Improves lighting

Attract insects
LED lights are preferred for their brightness and they do not have the glare often associated with fluorescent and incandescent lights. Amber and red lines are primarily used for interior lighting, so when choosing an appropriate colour, buyers should consider how and where the lights are used.
Factors to Consider when Searching for Marine Interior Lights
There are various factors to consider when searching for marine interior lights, including bulb housing and location. These factors help buyers choose the most appropriate lights for their marine vessel.
Bulb Housing for Marine Interior Lights
When buying marine interior lights, it is important to consider the type of material used to make the bulb housing. Buyers should choose brass or chrome as both are corrosion resistant and able to survive wear and tear. However, plastic housing is often used because of its durability and inability to break.
Location of Marine Interior Lights
When searching for marine interior lights, buyers should determine where the lights are placed. There should be least an interior light above the doorway to the cabin. After choosing the location, buyers must consider the path that the associated wiring should take. Most larger boats have either a circuit breaker panel or a common bus bar as its power distribution centre, generally found under the dash. For the exact location, consult the boat owner's manual.
Wiring Marine Interior Lights
When wiring marine interior lights, buyers must first determine what bulkheads or walls stand in the way. To determine if there is a clear path for wiring, it is best to remove the interior panels of the walls using a hammer or screwdriver. Most interior walls and bulkheads have holes for existing systems, which simplifies the wiring job and diminishes the need to drill new holes. In this case, buyers must simply pass the wires through the existing holes.
If the bulkhead does not have a hole, one must be drilled. It is best to drill the hole so that it is centred on the chosen location of the marine interior light unit. Use a file to remove any rough edges from the hole because this can lead to premature wire wear, or more severe damage, including a short circuit or even a fire. Fish tape should be fed through the hole until it reaches the point where the wire is joined to the vessel's power distribution centre. The wire must then be attached to the fish tape and pulled through the hole until it reaches the point where the light is to be mounted. Connect the pigtail on the light to the wire with electrical screw cap connectors and secure the screw connectors with electrical tape. Any excess wire should be pushed back into the hole before mounting the light using the screws provided. Finally, access the power distribution centre and connect the wire.
How to Buy Marine Interior Lights on eBay
After considering the type of marine interior light you are looking for, its purpose and condition, you can visit eBay's online marketplace to search the wide selection available. Go the any eBay web page and enter keywords describing the product, such as "LED marine interior lights" into the search window. This provides a limited selection of items. For a wider, more general selection of results, enter "marine interior lights" or search through eBay Deals where you may find items you have not considered.
Read the item description and check the specification of the light and whether it comes with the necessary wires. Review the seller's feedback in order to understand the quality of products and customer service that he or she offers. Before completing any purchase on eBay, make sure that you are satisfied with the information provided and contact the seller if further details are required.
Conclusion
Marine interior lights are an important component, especially for those planning to use their vessel after dusk. When searching for products, buyers should consider the type of sailing activities that they participate in as this can help to determine the appropriate type of light. For ideal lighting, keen photographers should choose incandescent bulbs, LED lights are better for those that enjoy night-time fishing, while those on a budget may prefer the low cost of fluorescent bulbs. Buyers should also consider the boat's power supply with respect to wiring. If there are no pre-existing holes, drill them in the bulkhead in order to install the lights. With so many types of marine interior lights, eBay can help buyers narrow down their choices based on their specific needs.
Marine Interior Light|Incandescent Light|Fluorescent Light|LED Light|Fish Tape