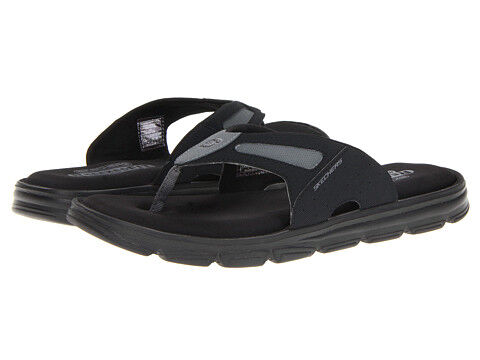 Flip-flops are synonymous with a laid back, relaxed attitude and lifestyle – they are more than just a shoe, they are a way of life. Because of this, they have become a popular style for holiday and beach wear, and due to their affordability, comfort and cool looks they are popular year in year out with men of all ages.
Shopping online for flip-flops allows men to browse through the huge selection available – there is a wide variety of styles, colours and brands of flip-flops to choose from on websites such as eBay, where it is even possible to buy used flip flops at a discounted price.
What are Flip-Flops?
Flip-Flops, so called because of the noise they make when walking, are also sometimes called thongs. These sandals consist of a flat sole and y-shaped straps that hold the sandal on the foot. They can be made of a variety of different materials from plastic to rubber, suede, leather and fabric.
Flip-flops are most commonly worn on the beach or during the summer months and are a popular choice when travelling due to their affordability and lightweight construction, making them easy to pack and transport. It is often possible to find rubber or plastic flip-flops for just a few dollars on websites such as eBay.
Why are Flip-Flops so Popular?
There are a number of reasons why flip-flops are such as popular item of footwear. Here are some of the main reasons:
Lightweight and easy to carry – for example, when going on holiday
Affordable – plastic and rubber flip-flops are often very reasonably priced
Feet are able to breathe and stay cool in hot weather
Because they are so affordable, walking on sand and in the sea is not an issue as it would be with more expensive shoes
They convey a laid back, relaxed approach to life which is very appealing
Popular with surfers and sporty men for their comfortable fit and relaxed look.
Although they are so popular, it is important to be careful when wearing flip-flops as they are not the most secure item of footwear. It is all too easy to sprain an ankle or damage the legs and feet when walking long distances, as the thin sole does not provide much protection from impact. It is also not advisable to drive in flip-flops.
When to Wear Flip-Flops
There are plenty of occasions on which it is appropriate to wear flip-flops. They make a great choice when packing to go on holiday, but are also ideal for wearing during the summer at home. Here are some times when it is a good idea to have flip-flops to hand:
Beach holidays
Surfing
At the swimming pool
In the garden
Shopping during the summer months
Because they are so lightweight and easy to carry, flip-flops are a great choice of footwear to throw in a bag and take on an outing to the beach or other summer activity. They are also ideal for any situation where a spare pair of shoes are needed and are a great way to protect feet from verrucas or other skin conditions at the swimming pool.
Popular Brands of Flip-Flops
There are many popular brands of flip-flops available – eBay has a wide range to choose from, whether looking for men's Globe flip-flops or a more structured leather flip-flop. Here are some of the most popular brands and styles to choose from on eBay:
| | |
| --- | --- |
| Brand | Styles |
| | Rubber and leather flip-flops in a range of colours |
| | Colorful leather, rubber and fabric flip-flops |
| | Colorful rubber flip-flops |
| | Fabric and rubber flip-flops with the Adidas stripe |
| | Contoured rubber and cork footbeds with brightly coloured leather thongs. |
| | Brightly coloured rubber flip-flops |
| Globe | A range of rubber and leather or suede styles |
It is easy to shop for specific brands or browse the brands available on eBay – some of the above brands are more expensive than traditional rubber flip-flops, which usually only cost a few dollars. It is easy to find basic rubber flip-flops in a wide range of colours online, which are far more affordable than buying some of the most popular brands.
Should you Buy Used or New Flip-Flops?
When buying flip-flops, it is a very personal decision as to whether to buy used or new. Because flip-flops are a summer sandal and are worn in hot weather with bare feet, they may absorb sweat and odors from the wearer, so it may not be the most hygienic option to purchase flip-flops in used condition. It is possible to find flip-flops which have only been worn a couple of times, on websites such as eBay, and it is important to read the item listing thoroughly, as any damage to the shoes or flaws will be detailed here.
It might be more hygienic for men to buy new flip-flops, and as they are usually such an affordable item of footwear, it should be easy to find flip-flops for a reasonable price online.
Choosing the Perfect Pair of Flip-Flops for You
When it comes to choosing the perfect pair of flip-flops, it is a case of personal taste, although available budget will also play a part in the decision making process. Here are some things to consider when shopping for flip-flops on websites such as eBay:
Should used or new sandals be purchased?
How many pairs of flip-flops are required?
Is a branded pair of flip-flops needed or could cheaper rubber flip-flops be purchased?
What is the individual's available budget?
What style of flip-flops is preferred – a simple 'y' thong style or a more covered up look?
What colour of flip-flops is preferred?
How comfortable will the flip-flops be for the intended purpose – for example, would another type of sandal be more practical?
By thinking about answers to the above questions, it is easy to find the perfect pair of flip-flops online.
How Buy Men's Flip-Flops on eBay
If looking for a new pair of stylish men's flip-flops in time for the summer, eBay is the best place to head. Just visit eBay and head for the drop-down menu 'Shop by Category' at the top left of the page. This will open up a category list – under Fashion, click on Men's Shoes. In the left-hand menu, Sandals, Flip-Flops can be selected.
Because there are many different brands, styles and colours of men's flip-flops to choose from, finding the right pair can be tricky, but by narrowing a search using a certain term, it is easy to find something specific. Just type the words related to the search, such as 'Black Adidas Flip-Flops' into the search bar, and a list of available items will appear.
Conclusion
Men's flip-flops are great for instilling a laid-back, chilled out vibe whether on holiday or just at the local beach. Comfortable, practical and affordable, a huge range of colours, styles and brands is available to choose from to suit all tastes and budgets, whether a funky blue Birkenstock or a black Animal flip-flop is more appealing.
eBay has a wide range of both new and used men's flip-flops to choose from, and by shopping online men can save money compared to buying their flip flops at a local store. By shopping on eBay, it is easy to find a great deal on men's flip-flops for summer.