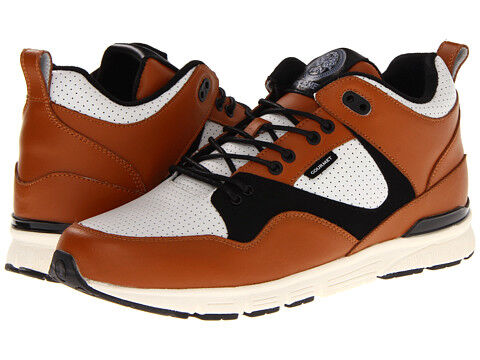 Compared to the wide range of styles and colours available when it comes to women's shoes, it is easy to think that men's shoes are quite dull and boring. In fact, modern men's casual shoes come in a range of styles and colours to suit all personalities and situations, from bright blue deck shoes to yellow sneakers and red canvas lace-up shoes.
eBay has a wide range of men's casual shoes to choose from to suit all tastes and budgets and it is possible to find both used and new men's shoes at very affordable prices compared to buying in a shoe store.
Shoes to Complement Modern Men's Styles
Modern men's fashion has become more tailored, and shoes have adapted to complement this. Whereas once men's shoes were quite bulky and masculine, today they come in a variety of different colours and styles to work with contemporary outfits. Boat shoes and colorful sneakers work well with skinny jeans whether it is summer or winter, and a classic pair of Converse All Stars can help to add instant cool to any outfit. If shopping for men's shoes as a gift, it is important to consider the man in question's style. Someone who likes to wear bright colours would probably appreciate a bold, vibrant pair of trainers, whereas a man who prefers to dress more classically may opt for a brown or black pair of leather loafers. A huge range of styles and colours can be found online on websites such as eBay.
Types of Casual Shoes for Men
With so many different types of shoes to choose from, it can seem like a minefield knowing where to start. Here are some of the most popular types of casual shoes for men:
| | | |
| --- | --- | --- |
| Type of Shoe | Features | Brands |
| Boat shoes/deck shoes | These slip on loafers usually feature roping detail and are made from leather or synthetic material, although canvas deck shoes are also popular. | Lacoste, Timberland, Vans, Rockport |
| Athletic shoes (trainers) | Shoes designed for training such as running shoes, gym shoes or other trainers. | Reebok, Nike, Adidas, Lacoste |
| Canvas shoes | Particularly popular with younger men who team them with skinny jeans in the summer months – eBay has a wide range available in bright colours | Vans, Converse, Dunlop |
| Lace up leather boots | Great for energetic activities such as hiking or climbing (but also less energetic activities like a stroll to the bar) | Wolverine, Caterpillar |
| Basketball shoes/high tops | A trainer with higher sides for ankle protection – popular with the young, trendy set. Converse is the iconic, famous brand and can be found at a discounted price on eBay. | Converse, Nike, Reebok |
| Loafers | Casual loafers are usually made from suede or synthetic leather and worn in the summer months with cropped pants or jeans. | Sebago, Dunlop, Sperry Top Sider |
| | A cross between a suede shoe and a boot, these relaxed fit boots lace-up the front and come in a variety of colours - a must-have for modern men | Lacoste, Clarks, Hush Puppies |
Popular Brands of Casual Men's Shoes
When shopping for men's casual shoes, it helps to know what some of the most popular brands are. It will depend on the type of shoe purchased which brand to select – some brands such as Nike specialize in training shoes and basketball shoes, whereas others like Timberland do a range of loafers and lace-up leather boots.
Here are some of the most popular brands of casual men's shoes, available to buy on websites such as eBay:
Lacoste
Clarks
Hush Puppies
Nike
Adidas
Converse
Vans
Wolverine
Rockport
Dunlop
Reebok
It is possible to find many of these brands at very affordable prices when shopping on eBay, compare to shopping in a local shoe store, and there are even used shoes available to choose from which could mean saving even more money.
What to Look for when Buying Men's Shoes
When buying men's shoes online, there are a number of factors to consider, particularly if buying the shoes as a gift. Here are some things that need to be taken into account:
Budget – how much is available to spend on the shoes?
Should used or new shoes be purchased – this decision may depend on budget and the choice available
Size – are the desired styles available in the right size?
The individual's style – do they prefer canvas shoes or would they prefer a leather or suede shoe? Do they like bright colours or is a more neutral shoe the most suitable option?
When will the shoes be worn? Are they for work or casual wear, and will they be worn with socks in the winter or bare feet in the summer?
Extra features – do the shoes have any extra features, for example, some running shoes feature a built in pedometer or vents designed to keep feet cool
Brand – does the individual have a favourite brand, or if shopping for yourself, is the brand of shoe important?
It is important to consider all of the above factors when shopping for men's shoes – budget will probably be the deciding factor in the end. When shopping on websites such as eBay, it is possible to use the search function to narrow a search depending on specific criteria such as size, material and colour, which makes finding the perfect men's shoes easier.
Is Brand Important?
The question of whether or not brand is important when it comes to buying men's shoes will generate a different answer depending on who is asked. Whilst some men place a high priority on wearing the best brands available, other men are not bothered which brand of shoes they wear as long as they like the style.
Young, trendy men are the most likely to choose a specific brand, and some men may have loyalty to one brand of shoe over another – for example, Converse is hugely popular and many men who wear Converse do not buy canvas shoes from another brand. It is easy to find popular brands at affordable prices when shopping online – eBay has a huge range of brands such as Rockport and Hush Puppies at greatly discounted prices.
Should you Buy Used or New Men's Shoes?
It is a personal decision whether to buy used or new men's shoes. It is possible to find used shoes in very good or as new condition on eBay, and this is a great way to afford a designer pair of shoes at a discounted price. If buying a gift for somebody, it is probably more acceptable to opt for a new pair of shoes.
On eBay, it is possible to find new with tags, new without tags, new with defects and pre-owned shoes for sale, and the individual product listings will provide more information about the condition of the shoes – so these should always be checked carefully before making a purchase.
How Buy Men's Shoes on eBay
If looking for a wide range of men's shoes at affordable prices, the best place to head is eBay. Just visit eBay and click on the drop-down menu 'Shop by Category' at the top left of the page. This will open up a category list – under Fashion, click on Men's Shoes. In the left-hand menu, Casual can be selected.
There are many different types, styles and colours of men's shoes to choose from and it can be helpful to narrow a search using a certain term if looking for something specific. Just type the words related to the search, such as 'Timberland Boots' into the search bar, and a list of available items will appear.
Conclusion
Men's shoes today come in a huge range of styles and colours to suit all tastes. Casual men's shoes such as deck shoes, canvas shoes and lace-up leather boots are popular with men of all ages, and the desert boot is one of the most popular styles of recent years. Men are experimenting more than ever before with fashion, and as a result their shoes are more stylish and colorful than in the past.
eBay always has a wide range of men's shoes to choose from, whether looking for red desert boots or a pair of white canvas sneakers, there is something to suit all tastes. It is easy to find a great deal on men's shoes when shopping on eBay – designer brands are often listed at very affordable prices.