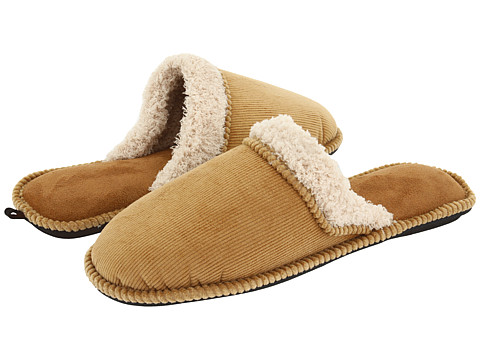 Not every man wants to be seen in his favourite, cozy slippers – sometimes, they are strictly for lounging alone in the house. But by investing in a stylish new pair, a man's slippers could soon become a piece of footwear to be proud of. With so many different styles of men's slippers to choose from, there is no excuse for men not to make an effort and buy some new, modern slippers rather than the tired old pair that has become a favourite.
By shopping online on websites such as eBay, it is easy for men of all ages to find the perfect pair of slippers; whether that is a fur-lined pair of suede moccasins or some cozy UGG style boots. eBay has a wide range available to choose from at affordable prices to suit all tastes and budgets.
Styles of Men's Slippers
There are many different styles of men's slippers to choose from, and it is a personal decision which is best for the individual. Some styles, such as fur-lined UGG boots, may be more popular with younger men, whereas more traditional slippers such as moccasins might be preferred by the older generation, but there are no rules when it comes to comfort.
Here are some of the most popular styles of men's slippers, and these can all be found on eBay:
Wool slipper boots
Novelty slippers
Monogrammed/initialed slippers
Classic slip-on style
Choosing the right style of men's slippers is a personal decision and will depend on the material desired, budget and style that the individual finds most comfortable.
What Materials are Best for Warmth?
When looking for winter slippers to keep feet warm, it is best to choose natural materials such as wool or fur. Wool lined slipper boots or slippers will keep the feet snug and warm whilst providing cushioning for the feet that is extremely comfortable. By investing in wool slipper boots, the ankles are also kept warm and pyjama pants can be tucked in for an even cozier feel.
UGG boots are ideal to wear as slippers, and UGG even make their own range of slippers which have the same fleecy sheepskin lining as their outdoor boots. These are ideal for men to wear in the winter – nobody will be ashamed to be seen taking out the garbage wearing these slippers.
Making Slippers Look Stylish
It is true that slippers are not the most stylish items of footwear on the planet, and if men own novelty zombie or Batman slippers, women could be forgiven for thinking that this is far from stylish (although it is cute). However, slippers can look stylish: it is simply a case of choosing a modern pair of slippers and teaming them with fashionable loungewear for a cool look.
Here are some combinations guaranteed to leave any man looking good:
Checked loose fit lounge pants, a tee and wool slipper boots
Loose fit lounge pants, a tight fitting tank and fur lined moccasins in a cool neutral shade such as gray or blue
Novelty slippers paired with novelty pyjamas are a fun look but one that is perhaps best reserved for close family members or alone time. It is easy to find a great range of men's novelty slippers on eBay, from Homer Simpson slippers to zombie slippers.
Popular Brands of Men's Slippers
There are many popular brands of men's slippers, and whether or not to buy a specific brand is an individual choice. Here are some of the most popular brands of men's slippers available to buy online, on websites such as eBay:
| | |
| --- | --- |
| Brand | Styles of Slippers |
| | Leather moccasin style slippers with sheepskin lining in a range of neutral shades |
| | Classic sheepskin moccasins and scuffs in a range of colours including brown, tan and gray |
| | Sheepskin moccasins, scuffs and boots |
| | Traditional style slip ons, some with Velcro fastenings and mostly in plain dark, striped or plaid options. |
There are many non-branded men's slippers to choose from too, and it seems that brand is less important when it comes to slippers, as they are generally worn indoors. A wide range of used and new branded and non-branded slippers can be found for affordable prices online on websites such as eBay.
Finding Pyjamas to Match your Slippers Online
When shopping for slippers online, it is a good idea to find pyjamas or loungewear to match. Websites such as eBay have men's loungewear such as pyjamas, boxers, tanks, and t-shirts available to choose from, so it is easy to put together a co-ordinated look for relaxing at home.
Checked lounge pants are a traditional favourite and look great with sheepskin boot slippers or fur-lined moccasins. If opting for novelty slippers such as Scooby Doo slippers, keep the rest of the outfit simple and choose plain jersey bottoms and a neutral coloured T-shirt to avoid looking too childish. Whilst it does not matter too much what men wear if they live alone, if a visitor arrives unexpectedly it helps to be wearing something that looks good.
Should you Buy Used or New Men's Slippers?
Whether to buy used or new men's slippers is a personal decision. Because slippers are worn on bare feet and can absorb sweat and odors from skin, many men may prefer to invest in new slippers which are fresh and clean.
eBay has a wide range of slippers to choose from, and used slippers from some of the leading brands such as EMU can be found for very affordable prices, compared to buying new. It goes without saying that if purchasing slippers as a gift, a new pair should always be selected. By reading the full product listing, it is easy to find out what condition the used pair of slippers are in before deciding to make a purchase, as any defects with the slippers will be detailed here.
How Buy Men's Slippers on eBay
When shopping online for men's slippers, it is easy to find the perfect pair at a reasonable price on eBay. Just visit eBay and head for the drop-down menu 'Shop by Category' at the top left of the page. This will open up a category list – under Fashion, click on Men's Shoes. In the left-hand menu, just click on Slippers.
There are many different types of men's slippers to choose from and it can be helpful to narrow a search using a certain term if looking for something specific. Just type the words related to the search, such as 'Scooby Doo Slippers' into the search bar, and the available items will be listed.
Conclusion
Men's slippers do not have to be old and tired - they can be fashionable and stylish thanks to the huge range available to buy online. From sheepskin slipper boots to fur-lined moccasins, there are both traditional and contemporary style slippers available to suit men of all ages, no matter what their tastes. Now men can be proud to be seen taking out the garbage in their stylish new slippers.
eBay has both used and new men's slippers to choose from, and by shopping online men can save money compared to buying slippers elsewhere. It has never been easier to find a great deal on men's slippers.