Manicure sets come in different sizes, materials and instruments configuration, yet there are a few differences when choosing a set for a men or a woman.

As in many things in life, men and women have different needs.

Mens nails are usually prone to some thickening and specialised nail tools, such as large nail clippers or heavy duty nail nippers, work amazingly on thicker, stronger men's nails.

Women who prefer to do their own manicure, require precise instruments to detail their nails and cuticles.

It goes without saying, that both men and women would appreciate sharp, durable and high quality manicure and pedicure tools in their sets.

Here are a few tips to help you choose the right manicure set that will be an ever-welcome gift in his or her grooming & beauty collection.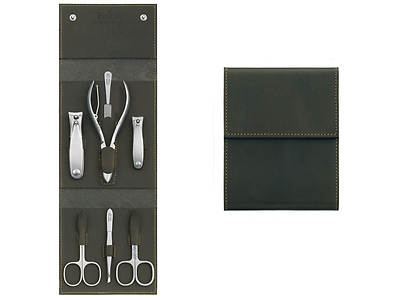 Add a caption
Niegeloh Leather Manicure Set Havanna XL (Solingen, Germany)
When choosing a manicure set for a men, it is important to remember:

Mens have thicker nails and may needs stronger nail tools, such as large nail clippers or nippers. Thanks to larger size, he can use them on fingernails and toenails at the same time (the principle of simplicity every man loves).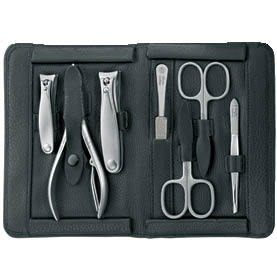 Add a caption
Niegeloh Leather Manciure Set Imantado XL (Solingen, Germany)

Men have more facial hair, therefore having nostril scissors with safety tips in his set would be a benefit for every man. He will be able to look after his nose & ear hair at his regular grooming ritual.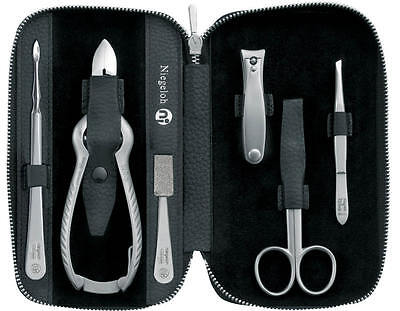 Add a caption
Niegeloh Leather Manicure Set Imantado Zip L (Solingen, Germany)

For frequent travellers (and those who often leave things behind), keeping his grooming gear in one convenient place may help them look sharp when on the go.
Manicure sets protected in sturdy cases made of genuine leather, store the nail tools in individual pockets and protect blades from dirt and damage.
Thus, he will have his tools handy at all times and they will give him excellent service for many years ahead.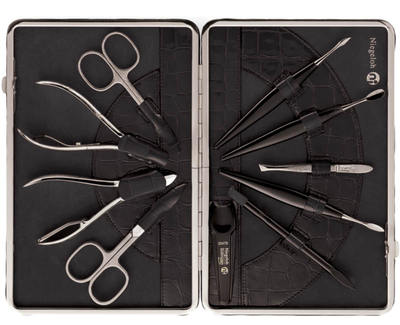 Add a caption
Niegeloh Leather Manicure Set Kroko XL (Solingen, Germany)
Selecting a manicure set for women can be easy when you know that:
Women who like the look of beautiful nails and well-presented hands prefer more complete manicure sets that include a range of detailing tools, such as cuticle scissors or cuticle nippers, nail cleaners and cuticle pushers.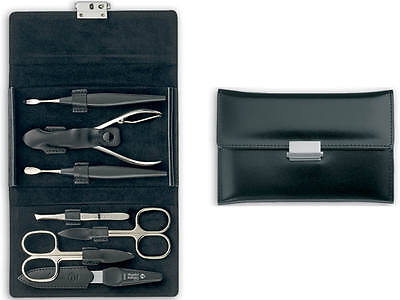 Add a caption
Niegeloh Leather Manicure Set Diabolo L (Solingen. Germany)

Some women have preference for cuticle scissors, while others for cuticle nippers. It is a personal choice really. Cuticle scissors are a more traditional tool with slim blades perfect for trimming fine cuticles in the nail bed.


Cuticle nippers have shorter blades and therefore allow more precise detailing. They are preferred by women with limited coordination or strength in their hand thanks to the comfortable grips that take only a tiny squeeze to achieve a perfect trim.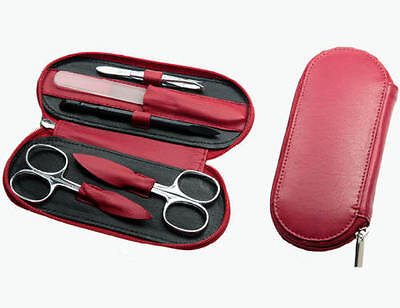 Add a caption
Sonnenschein Exclusive Leather Manicure Set (Germany)

Many women appreciate a good quality nail file which smoothes their nail edges and doesn't need to be replaced too often. Sapphire nail files by Niegeloh Solingen or Hans Kniebes (Germany) have coarse and fine sapphire grains glued by sufficient amount of chromium. They are very durable and can be used to remove excess nail length or file nails to the desired shape.
If you are looking for a great gift idea - a good quality manicure set is something everyone needs on a regular basis. German manicure sets in stunning leather cases are considered some of the best in the world, with Hans Kniebes and Niegeloh topping the list.

View our collection of mens and womens premium manicure sets that are lovingly crafted by German artisans and are sure to impress even the most sophisticated individual.