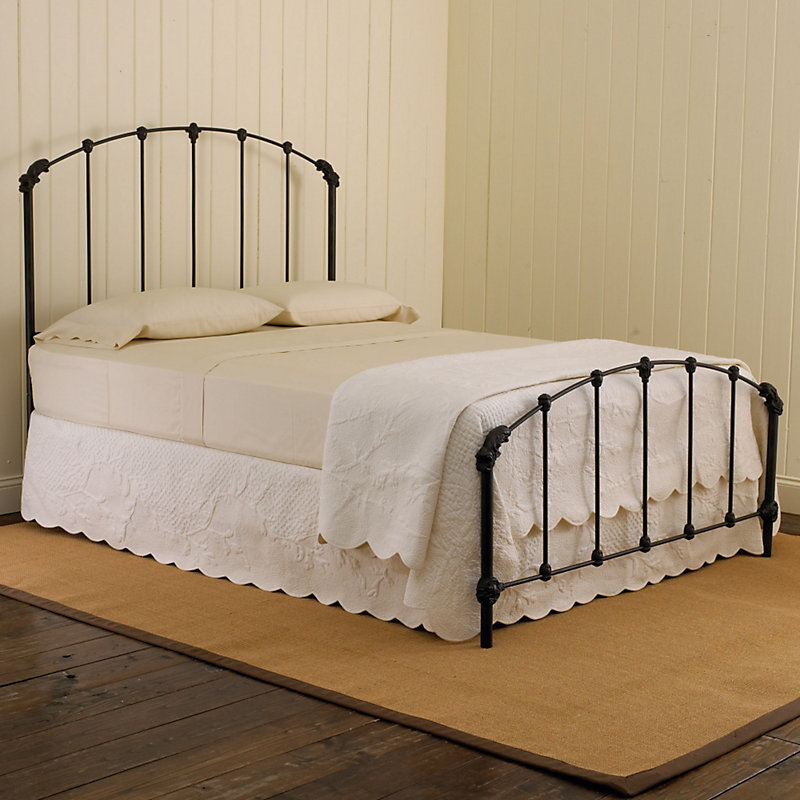 A headboard, or bedhead, plays a crucial role in bringing a bedroom together. Whether sleek and modern or elaborate and romantic, the bedhead sets the tone for the space. Metal headboards are a versatile and sturdy option, but consumers have several factors they must take into account when making a selection.
Materials and finish are major considerations. Beyond that, buyers should also pay attention to the size of the mattress. Finally, buyers need to narrow down the options to a style they like that blends with the room's existing decor. Although metal headboards are available from many brick-and-mortar furniture and department stores, consumers can also turn to online marketplaces such as eBay.
Headboard Materials
Metal bedheads come in a variety of materials, each of which has its own distinct look. For example, some bedframes feature a combination of wood posts and a metal bedhead, or a wood bedhead with metal scrollwork. Others are made entirely of metal.
Wrought Iron
Wrought iron is the traditional material of metal bedheads. For centuries, it has been synonymous with ornate detailing. True wrought iron resists corrosion better than most other metals. Be careful, because many modern frames labelled as wrought iron are actually steel or cast iron made to look like wrought iron; such imitations are more brittle because they are cast from a mould. Pay attention to the item's description when buying a wrought iron frame.
Steel
Steel is another common choice. It is less expensive and easier to manufacture than wrought iron. It is very strong, but it is less resistant to corrosion. Most metal headboards, including ones made from steel, have a protective coating to minimise or prevent rust. Buyers can also refinish frames with some slight corrosion, by sanding them down, removing the rust, and repainting them.
Brass
Brass is another classic choice for headboards. It became popular in the 1800s and this popularity continued well into the 1900s. Brass is an alloy of copper and zinc. As a result, brass is not as strong as steel or wrought iron, and usually appears only in the headboard and footboard. Brass has a high lustre, and it resists tarnish. However, the sheen can wear off over time. This is especially likely if the headboard is not solid brass, but only finished. However, a genuine brass bedhead is often more expensive than one of steel or iron.
Metal Finish
As with wood, metal bed heads come in an array of finishes. This makes metal extremely versatile. Buyers can choose from a sleek, porcelain finish, as well as textured, powder-coated finish. Black and white are common headboard colours, but buyers can select from among many others, such as gold, silver, and pewter. Buyers who like brighter colours can find coloured bedheads in hues such as red or blue, or can repaint the headboard to match a room's decor. Choosing the right colour depends on the existing furniture and paint. It also depends on whether the buyer wants the bedhead to stand out or blend into surroundings. For example, a black frame and bedhead contrasts nicely with pale walls or bedding, while a white one blends in.
Headboard Size
Sizing is another key consideration when shopping for a bed frame. First, select a headboard based on the size of the mattress. Depending on the style, the headboard itself may be larger than the frame. Sleigh beds, for example, have arches, so the actual frame extends outward. Remember to factor the total size of the headboard, not just the size of the bed, into any room plan.
In addition to the length and width of the headboard, buyers must also consider the height. It should be tall enough to be comfortable to lean against when users read in bed or watch television. A room with tall ceilings can accommodate a taller headboard, but low ceilings are better suited to a low headboard. A tall headboard in a room with a low ceiling can make the space appear cramped.
Style
Metal headboards come in many designs and styles, so it is easy to find one that suits any room. From simple, no-frills designs to romantic, elaborate ones, buyers can choose a metal headboard that matches the style of the room and personal aesthetics. Scrollwork and curves are whimsical and pretty, while geometric patterns provide an Art Deco feel. Sleek, boxy designs seem modern and edgy.
Another option worth considering is a metal canopy bed. Canopy beds create a strong focal point in the room. Although metal can seem industrial or urban, homeowners can balance it out with a soft, billowy, fabric canopy.
For people who love the look of past decades, vintage and antique headboards are a great option. In both cases, buyers should make sure the headboards and frames are sturdy and in good condition. Homeowners can even refinish an old, beat up frame to give it a fresh look.
How to Buy a Metal Headboard on eBay
eBay is a great place to get great home furnishings, including metal headboards. Head over to the eBay Deals page to finddeals on bedroom furniture and bedding. You can locate metal headboards with a keyword search, then use eBay's refinement filters to narrow down your options.
Check a seller's feedback history, and keep an eye out for Top-Rated Sellers, who earn recognition from eBay for their record of excellent service. You can even search for local sellers. If both parties are comfortable, you may be able to arrange a local pickup, which can cut back on delivery costs. Browse the listings on eBay to find a great new metal bedhead for your room and enjoy the convenience of shopping online.