Pottery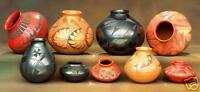 World Famous Casas Grandes Pots, Tarahumara Pots, Paquime, and Mata Ortis Pots
What is Casas Grandes Pottery, and why is it so popular?
Casas Grandes Pottery was first produced about 1,000 years ago in an area of Northern Mexico called Paquime. At first the pots were crude but evolved through trade with other cultures. The Paquime culture peaked sometime in the 13th or 14th century and then disappeared for reasons that remain unknown.
The art of Casas Grandes Pottery was just recently revived 50 years ago or so by a young man who grew up near the Paquime ruins. That young man, now world renowned, Juan Quezada, worked tirelessly to not only bring back the art, but to "take it to new heights". He shared his technique with friends and family untill the art of making pottery became a cottage industry for his village.
These artisans, inspired by the environment including bird and leaf patterns, each signs their name on the handcrafted pottery as was the custom initiated by Juan Quezada. This pottery is a revival of the 14th century craft and is an affordable art that you now own and cherish.