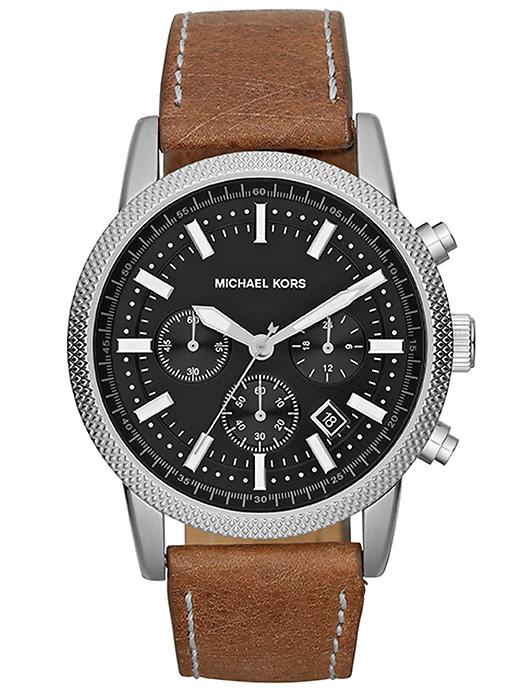 Michael Kors watches are available for both men and women. The stunning range includes an array of styles suited to every occasion, from casual wear, sports, workwear, and formal wear. From stainless steel waterproof watches and smart, durable workwear watches, to delicate dress watches, eBay sellers offer a huge selection of high quality, authentic Michael Kors watches in both new and used condition, catering to every taste, need, and budget. Shoppers should carefully consider what features they require from their watch and decide on a strap and bezel style in order to make a confident, informed purchasing decision.
Choosing Features for a Michael Kors Watch
Michael Kors watches are available in a range of styles with a number of different features. When buying a watch, consumers must decide which features are the most important. Consider which are absolutely necessary and which are secondary to get the best mix of aesthetics and practicality.
Chronograph
Many Michael Kors watches combine function and style as chronograph watches. A chronograph watch has a large face with three additional dials, such as the Michael Kors mid-size stainless steel Camille watch. These smaller dials are used as a stopwatch. Michael Kors chronograph watches have one dial measuring seconds, another measuring minutes, and a third measuring hours, offering maximum versatility. Some watches in the range, such as the Hunger Stop 100 series watch only have two additional dials on the watch face.
Date Window
Watches with a date window offer convenience, allowing wearers to quickly check the current date as well as the time. Date window watches have a small square display that automatically adjusts to the correct date. Consumers should note that not all date window watches make allowances for leap years and 30-day months and so the date may need adjusting at the end of each month. The vast majority of the Michael Kors watches feature a date window, including the popular oversize silver colour stainless steel Brookton watch and the black stainless steel Mercer chronograph watch.
Number of Hands
Some watches have two hands while others have three. Analogue watches with two hands show minutes and hours. The presence of a third hand allows users to track seconds as well. Generally, watches with a third hand allow the users to reset the third hand to zero when needing precise timing. Examples of Michaels Kors watches with three hands include the mid-size rose-golden Leather Mercer three hand watch and the mid-size stainless steel silver colour Wren chronograph watch.
Water Resistance
Water resistance is a very important feature for many consumers. It is important to note that water resistance indicates that the watch is resistant to damage from splashes, such as those incurred when cooking or hand washing. However, these watches cannot be safely submerged. Waterproof watches are those that can be safely submerged. However, each Michael Kors watch has a different safe submersion depth. Sports watches usually have some degree of waterproofing, but it is vital to check the level of waterproofing for consumers who plan to participate in swimming or water sports with their watch.
| | |
| --- | --- |
| Depth Rating | Usage |
| | Safe to wear in rain and splash-proof |
| Water Resistant to 30 metres | Can be submerged in water |
| Water Resistant to 50 metres | Swimming in shallow water |
| Water Resistant to 100 metres | Snorkelling, diving, and surfing |
| Water Resistant to 200 metres | Scuba diving |
| Water Resistant to 1000 metres | Deep sea diving |
Check the level of waterproofing before purchase and use the chart above to gauge whether the maximum safe submersion depth is suited to the needs of the wearer. It should also be noted that a watch requires re-waterproofing when the watch battery is replaced. For waterproofing up to 1,000 metres, consider the Michael Kors Everest watches or the Pressley watches.
Choosing a Strap Material
The watch strap plays a significant role in the appearance and presentation of a Michael Kors watch. Michael Kors watches are available with both metal and leather straps, offering a range of attractive styles. Weigh up the advantages and disadvantages of each strap type before making a choice.
Leather
Leather straps offer a classic appearance. Leather strap watches, such as the mid-size black leather Layton glitz watch for him, or the mid-size pink leather Runway three-hand watch for her, generally have a buckle closure. Leather provides a timeless appearance, but colour choice is limited. Known for ageing well, leather develops a unique patina over time. It is soft and well suited to those who suffer from metal allergies, offering a comfortable, hypoallergenic fit. Leather can, however, sustain damage from water and suffers significant damage from salt water, so is not well-suited to swimmers and those who participate in watersports. However, leather is a great option for professional wear, casual wear, and dress wear.
Stainless Steel
Stainless steel watch straps are available in a range of colours, from gunmetal gray, such as the over-size stainless steel gunmetal gray chronograph glitz watch, to rose gold colouring, like the mid-size rose golden stainless steel Everest chronograph watch. Stainless steel is a relatively hard metal that offers resistance to scratches and scuffs, keeping the watch looking like new. Another advantage of stainless steel is its hypoallergenic nature, making it well suited to those with allergies to metals such as gold.
It is also resistant to corrosion and does not suffer from fresh or salt water damage. While the metal is durable, it is comparatively brittle and the links can snap with age, although this can be repaired by a jeweller. Most Michael Kors watches have a stainless steel construction, from glitzy dress watches such as the stainless steel Logo Runway three-hand glitz watch, to more robust watches suited to work and play, such as the over-sized black stainless steel Lexington chronograph watch.
Choosing a Bezel Type
When purchasing a Michael Kors watch, consumers have a range of attractive bezel styles to choose from. Shoppers can opt for a plain, stainless steel bezel that looks great as a casual watch or as workwear, seen on watches such as the over-size two-tone Mercer chronograph watch or the mid-size leather Bradshaw chronograph. For something a little more showy, consumers can choose a watch with a bezel set with cut glass or cubic zirconia to add a touch of sparkle to their ensemble, like the Pave Crystal Parker watch. Alternatively, opt for a bezel with numbers, time stops, and accents inscribed such as the over-size two-tone navy and golden stainless steel Everest chronograph watch.
How to Buy
There is a wide range of Michael Kors watches available to purchase on eBay. The exquisite Michael Kors watches, for both men and women, are available by searching on eBay and using the filters available to narrow down the watches until you find the perfect one. Choose from a leather or stainless steel strap on your Michael Kors watch and look for a chronograph watch if you need a watch with a stopwatch. Look for a seller on eBay who has positive feedback to ensure a high quality watch is delivered to your door quickly and safely. Some sellers offer free delivery on your Michael Kors watch.