Michael Schumacher - Formula One 1994-2001
This is one of many illustrated classic F1 guides I've created for the community. I hope you enjoy it. If you wish to find out more about the classic Michael Schumacher art featured in this guide please click here.
"Out In Front" (1994)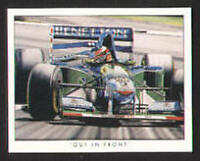 Michael Schumacher exploded into Formula One in 1991 with Jordan and in his second season, driving for Benetton, had his first victory at Spa, Belgium. Another victory at Portugal followed in 1993. In 1994, after the tragic death of Ayrton Senna, he won his first world championship crown, by one from Damon Hill at the last race of the season in Australia.
"First Victory at Hockenheim" (1995)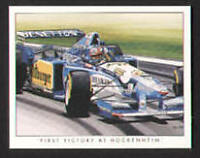 In 1995 in the new Renault powered Benetton, Michael Schumacher had a record equalling, nine season victories. He won his second world championship crown in spite of the Williams team of Damon Hill and David Coulthard having the quickest cars, and saw his first ever victory at his home grand prix at Hockenheim.
"Eau Rouge" (1996)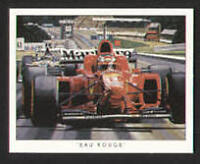 In 1996 Michael Schumacher moved to the Ferrari team who had not enjoyed success for many years. He had victories in Spain, Belgium and the all important Italian Grand Prix at Monza, but could nothing against the Williams pairing of HIll and Villeneuve, finishing third in the driver's championship that year.
"On the Edge" (1997)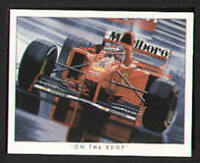 In 1997, Michael Schumacher was again up against the Williams with Villeneuve and Frentzen and despite scoring great victories at Monaco, Canada, France and Japan, Villeneuve won the title, and Schumacher's incident with Villeneuve at the final race of the season in Jerez, Spain will long be remembered.
"Seeing Red" (1999)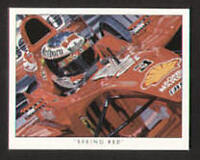 The first seven races of the 1999 season brought two victories and two podium finishes. At the British Grand Prix however, an accident caused by brake failure resulted in a broken leg and a season in ruins. Later in the season Schumacher achieved two further podiums and helped this team mate Irvine to second place in the driver's championship, and Ferrari to the constructors' championship.
"The Italian Dream" (2000)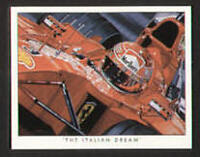 After the unfortunate season in 1999, Michael attacked the 2000 championship with a vengeance. Takiong nine victories (equalling Nigel Mansell's record wins in a season), three podium finishes and nine pole positions, Michael Schumacher finally brought about "The Italian Dream" and gave Ferrari their first driver's world championship for 21 years plus second, successive, constructors' championship.
"The Ringmaster" (2001)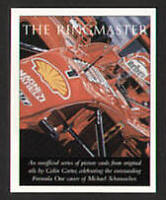 The 2001 season was a runaway success for Schumacher and Ferrari. Nine victories, five podiums and an amazing eleven pole positions crushed all opponents. Again he equalled Mansell's nine victories in one season and , in gaining his fourth world championship crown (to equal the great Alain Prost), he became the highest points scorer in F1 history with 801 career championship points.
Thank you for reading my guide and I hope you found it interesting!