Introduction to the MIchel Perchin MP4 Rollerball/Ballpoint Convertible Pen Collection:
This discussion pertains to the Michel Perchin MP4 Rollerball/Ballpoint Convertible Pen Collection, a set of beautifully hand crafted, enameled sterling silver and fine acrylic writing instruments from this world class manufacturer. As with our other guides about Michel Perchin pens, we will define the edition size, detail the color palette, and highlight the important features of these value priced, limited edition, fine writing instruments, for the benefit of new and experienced collectors alike.

Design Elements:
Michel Perchin, Inc., first introduced the MP4 Rollerball/Ballpoint Convertible Pen Collection in mid 2005 in celebration of their 10th Anniversary. Because of the size and color palette of the MP4 edition, production has continued into 2006 and the selection of pens has expanded to five color combinations in total. The precision crafted MP4 Pens, were inspired by the magnificent design of the Fabergé "12 Monogram" Egg with intricate, high relief, guilloché work in an elegant scrolling pattern. The MP4 pen is adorned with an Italian made acrylic cap in order to keep the weight of the pen down and create a first time ever price point that many more customers will find appealing. The solid Sterling silver barrel feels perfectly balanced in the hand and the Rollerball refill makes for smooth and effortless writing. This is a very handsome and high quality pen well suited for every day use. The MP4 name stems from the fact that this pen went through 3 previous iterations as a prototype before the final design criteria was perfected on the fourth attempt. The Michel Perchin MP4 Convertible Rollerball/Ballpoint Pens were produced in a total of five color combinations, blue enamel barrel and mystic blue acrylic cap with 22 carat yellow gold plating, ruby red enamel and jet black acrylic cap with 22k yellow gold plating, midnight blue enamel and acrylic cap with rhodium plating, emeral green enamel and jet black acrylic cap with rhodium plating, and slate blue enamel and jet black acrylic cap with rhodium plating.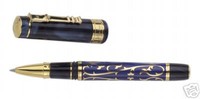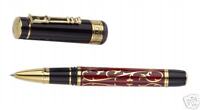 Edition Size:
Each of the Michel Perchin MP4 Rollerball/Ballpoint Pens will be produced in fairly limited edition quantities of 999 pens in each of the five colors. Actual finished production quantities may vary as some pieces may fail to pass the rigorous quality control inspection. At the time this guide was published production continues on the series well into the calendar year 2006. Total aggregate production quantity of the MP4 pens will not exceed the maximum 4995 pens scheduled for production.
Availability:
Since the Michel Perchin MP4 Rollerball/BallpointConvertible Pens are still in production, they should be available at most Authorized Michel Perchin Retail Dealers, including White Mountain Trading Company, an eBay Power Seller. Of course, on hand inventory of colors may vary from dealer to dealer. Since the Blue/Gold and Red/Gold combinations have been on the market for the longest period of time, thusfar, it is likely they will be the first pens in the collection to sell out both at the maker and the retail level. The MSRP (manufacturer's suggested retail price), for the MP4 Rollerball/Convertible Pens is $990.00, a value price given the pen's meticulous craftsmanship and Sterling Silver barrel and componentry. Although scarcely available, a buyer could potentially still find an entire matched serial number set of all five colors but because of alternating delivery times between colors a matched serial number set of five pens would be a real find.
Precious Materials:
The Michel Perchin MP4 Rollerball/Ballpoint Convertible Pens feature solid Sterling silver, (.925 pure), barrels and Italian made acrylic caps. Further, the pens are carefully completed with soft enamel. The finished pens are then plated in either 22K yellow gold or Rhodium, a precious white metal in the Platinum family, for a lasting luster.

Serialized Edition:
The serial number for each pen is engraved on the cap ring prior to the "M" in the engraved name, Michel Perchin. The numerator, or top number of the serial number, indicates the pen's position in the production sequence. The denominator, or bottom number, indicates the MAXIMUM number of pens to be produced in the series. As mentioned before, the total edition size of the Michel Perchin MP4 Rollerball/Ballpoint Convertible Collection is 4995 total pieces across five different colors, or 999 pieces in each color.
Components:
Each Michel Perchin MP4 Rollerball/Ballpoint Convertible Pen is delivered with one P 900 Schmidt brand Ballpoint refill and one P 8126 Schmidt brand Rollerball refill. Extra refills can be ordered from an authorized dealer or can usually be readily found at most better office products or stationary stores. Each pen is shipped in a Swiss made leather display box, with soft ecru colored lining, and smartly packed inside of a cardboard dust cover box with Perchin logo. Further, each pen package, when new, should contain a Michel Perchin Certificate of Authenticity, that should be completed with a purchase date and location of the authorized reseller, and care instructions/warratny information.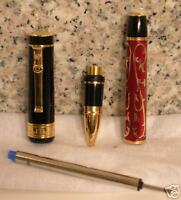 Quality:
Michel Perchin writing instruments give the word quality a new meaning. Their unique designs reach back into time to capture elegance unknown in today's world of mass production. No expense is spared in materials and workmanship. The result is a powerful statement of value to be handed down from one generation to the next. The uncompromising quality of Michel Perchin writing instruments is recognized by their presence in the Pen Museum, in Paris, France.
Thanks for reading and hope you found this information about the MIchel Perchin MP4 Rollerball/Ballpoint Pen useful. If you wish to send us a question about this item or any other Michel Perchin writing instrument, please feel free to contact us by clicking on the Ask Seller a Question button in any of our eBay listings! Also, be sure to read our other eBay Guides and check back regularly for updated pages in our eBay Store.