Hairdressers & Clients Prefer
The hair of the extension already attached to a small metal ring with a silicone interior. The ring then threaded through the natural hair and pulled close to the roots and clamped shut. Securing the extension in place for months until they are unclamped again. Minimal damage to the natural hair and saves money as the hair extensions can be used and maintained simply.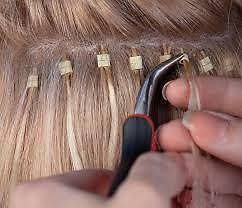 They were originally designed for professionals to improve the time it took to install extensions, hairdresser/ extension techs could complete a full head in an hour instead of the 3-6hrs it used to take using fusion and braiding methods.
"Basically, they took the "Micro Ring" method and simplified it making it easier and quicker to use. The finished results are the same, when installed you can't tell the difference, they look fabulous! and they really are extremely easy to use."
Human hair or Synthetic hair?
DIY + Salon
ALWAYS 100% Human Hair because this hair is going to look and behave like real hair, because it is real hair.You can blow dry, straighten, colour and curl human hair, unlike it's synthetic counter part which would probably melt ! yes, melt if you did any of those things to it....
What colour?

DIY
choose a colour closest to your hair colour but slightly lighter. Human hair extensions can be dyed darker to match your hair. DO NOT BLEACH or LIGHTEN your extensions, doing that will def dry them out and ruin them.
Salon
Your stylist will match the colours for you. A good stylist will use a blend of colours if necessary and the result will be a near to perfect blend.
Length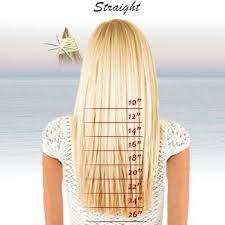 DIY + Salon
The most common lengths available are 16" inches and 28" inches. My advice is, if you have a choice between shorter or longer, go for the longer.Your transformation will be more dramatic and if you change your mind about the length you can always have them cut.
Thick or Thin ?
DIY
Most extensions come in 0.5 gram strands, these are thin strands so it usually takes between 150-200 strands to complete a full head using 0.5g strands
The next size is 0.65 gram strands, these are thicker so generally you will need less of them to complete a full head anywhere from 90-150 strands usually does it.
You can also get 1 gram strands. I don't recommend these as they are far too thick and bulky making them heavy, which is def not ideal for extensions..
Salon
Your salon will use their own pref weight / thickness
How many will I need ?
DIY
Generally the thicker and shorter your natural hair the more extensions you will need
In my experience the average full head usually requires between 100-140 extensions... every one is a little different. ( I use 0.65g strands on my clients)

Salon
If your going to the salon to have them done ask for a FIRM QUOTE before paying the deposit. The number of extension strands that constitutes a "full Head" will vary from salon to salon. Generally you will be charged $10- $15 extra per extension strand for every extension you are over that amount.
How long will it take ?
DIY
Get a friend to help you and take your time.....
For first timers you can expect installation to take 2-3 hours


Salon
An experienced extension technician can have this method installed in approx 1-2 hours ( based on 125 ext strands)
What do they feel like?
DIY + Salon
First time you will probably feel as though you are sleeping on macaron shells for the first 1-2 weeks. I promise you that this feeling will subside after a few days.
If your worried have your extensions checked at your local salon.
How long will they last ?
DIY
These types of extensions can last up to 6 months in your hair depending on how well you care for them.
It is normal to have a few slip out during the time you have your extensions. Keep them!
Most girls chose to have all extensions removed at the end of 3 months
Salon
Yes ! even the salon extensions need to be removed at the end of 3 months wear.A good extension tech will ask you to come back in 4-6 weeks to have your extensions checked.
Many professional extension techs and hair suppliers use eBay to sell their left over or slow moving stock.
Usually at heavily discounted prices. Most of the extensions for sale on eBay cost less than $3 per strand which makes extensions really affordable for anyone game enough to have a go themselves.
3. Caring for your Extensions

1. Application - Someone Competent or Professional
2. Quality - 100% Human Hair
The important thing to know is that with all extensions the most common problem is dryness and knotting. This is because extension hair no longer has it own supply of natural oils. It is so important to understand that your extensions need daily moisture/ oil supplements.
Use a good conditioner..... Evii Xtensions makes the best hair care for human hair extensions you can get it from salons or ebay.com.au
Kerastase retails for about $35- $40 a bottle and you can purchase it at salons.
Use a leave in serum after every wash.
Only wash hair every 3-4 days ( over washing causes dryness)
Use products designed for Human Hair extensions
Stay away from dandruff shampoos, they will almost certainly dry out your extensions.
Don't rub your hair when drying, it will tangle. Do not wring water out your hair. Pat dry with a dry towel.
Chlorine, salt water will dry out hair causing tangles so apply a liberal amount of UV/sea protection serum and plat extensions before swimming. After swimming rinse hair, wash + condition and apply frizz free serum (oil replacement)
Brush your with only a Micro-Loop Brush and sleep with a Plait secured at the base of the head also pref.