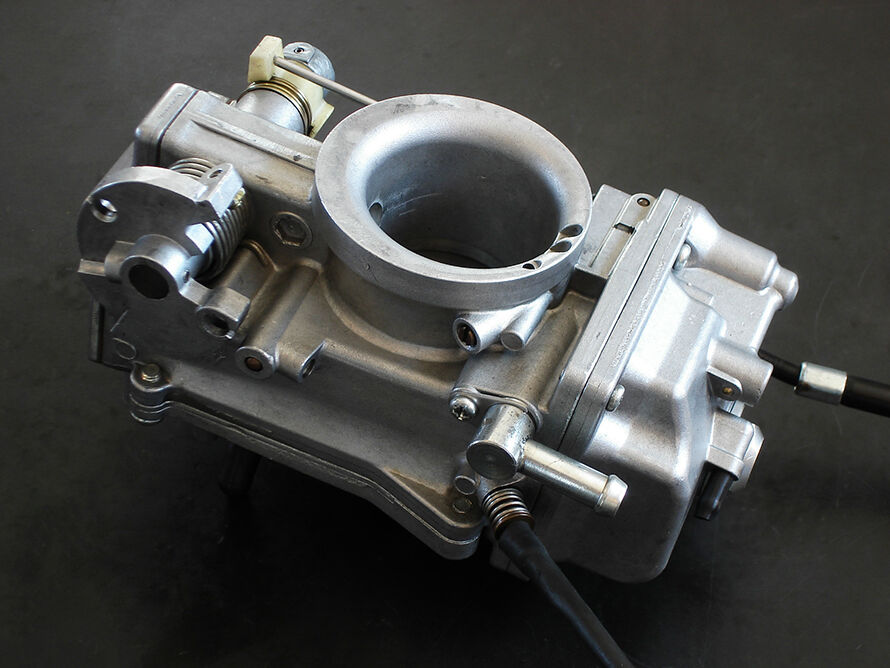 The Japanese Mikuni Corporation first opened their doors in 1923. Their primary focus is on manufacturing carbureators and fuel injectors for motorcycles, snowmobiles, and other small recreational vehicles.
When it comes to shopping for a new carbureator for a motorcycle there are many popular brands available that manufacture quality products. In addition, each company has a line of carbureator models. Mikuni has an established reputation for building quality products. The company has three carbureator models to choose from and they even offer tuning advice to shoppers since the process can be complicated.
Choosing a Mikuni Carbureator
It is impossible to say what kind of carbureator is best for a specific bike. Many things influence how a carbureator performs on motorcycle. Simply putting aftermarket parts on the bike can affect how it runs and therefore change what carbureator model would be best. It is important to figure out how much torque and horsepower the engine has and then choose a carbureator that can handle that amount of power. If the engine is modified, it is worth it to find out the new specifications rather than just guessing.
Mikuni HSR Carbureator Series
Mikuni has three carbureators called the HSR42,HSR45, and the HSR48. Each has excellent throttle response and ample amounts of air flow. The carbureators are sold separately as well as in kits for easy installation.
According to Mikuni, combining the HSR42 with a performance air cleaner and some exhaust system upgrades can give owners 25 per cent more power on a Twin Cam engine.
Polished Carbureators
Since many owners take great pride in how their motorcycle looks inside and out, the company offers all three of their carbureatores in polished, also known as chromed, versions that are more aesthetically appealing. However, the HSR42 and HSR45 polished versions are not available in kits. Only the polished HSR48 is available in a kit.
The HSR48 Carbureator
The HSR48 is for bigger, performance engines. When compared with theHSR42, it flows 26 per cent more air. In comparison to the HSR45, it has a 14 per cent increase in air flow.
Upgrading to an HSR48 can be the final touch that the engine needs. However if the motor has stock ports, the addition air flow is not beneficial.
Tuning a Mikuni Carbureator
Fine tuning a carbureator to run beautifully is difficult, but there are a few ways to troubleshoot a Mikuni carbureator and get it to cooperate with the motorcycle. Learning about these methods also makes the installation process easier. Many of the concerns that people usually have are actually nothing to worry about.
Carbureator Backfires
Keep in mind that high performing engines and exhaust systems commonly backfire or pop. When at high rpm the noise is normal and should occur when the throttle is closed. The noise results from the air and fuel combination thinning out once the throttle closes and the engine is still running above idle.
Low Petrol Mileage
Anytime owners modify their motorcycle there is a change that the petrol consumption is affected. Many things have a big impact on petrol efficiency and not all are related to an actual problem that has to be fixed.
Causes of Low Petrol Efficiency
It is important for riders to understand whether or not they can help their motorcycle use less petrol. Many things are out of their control. The first step for riders is to pay attention to how they drive. The faster the motorcycle goes, the more petrol it uses. Going slower actually increases petrol efficiency. Wind is also a big factor that influences petrol consumption and there is not anything that riders can do about it except try to ride on days when there is no wind. Owners need to pay attention to how much weight they add to the motorcycle when modifying it. The more accessories that are put on, the heavier it gets, and the more petrol it uses. Engines that are highly modified for performance also consume a lot of petrol.
To use less petrol, there are a few things that owners can check. The first step is to make sure that the component is tuned. If the carburetor is not jetted properly poor performance and higher petrol consumption can be the result.
Lastly, check to see if the choke cable is too tight. If the cable is too short or too tight, the plunger on the carbureator cannot close fully. The plunger is the piece that cuts off the petrol from getting into the engine.
The Mikuni choke cable has small brass bumps on the knob. It is also flexible which makes it easier to work with than many other cables. Check to see how much play is available buy pulling on the knob. Owners should be able to pull the knob slightly before the plunger engages. If no play is there, make sure the cable is not caught up somewhere. If it did not, re-adjust the length of the cable.
How to Buy
Once you have decided to go with one of the Mikuni carbureators or carbureator kits, it is time to shop for them. eBay has thousands of sellers all around the world which makes it easy to find good prices. Consider visiting the eBay Deals page to see if they have any interesting sales. If nothing catches your eye there, look to see what sellers have the Mikuni products. You can do this by entering your query, such as " Mikuni carbureator" into the search field.
Compare the prices and delivery costs between sellers to find the best deals. You can also save time by shopping from Top-rated sellers who have achieved their status by consistently receiving good reviews from their clients.