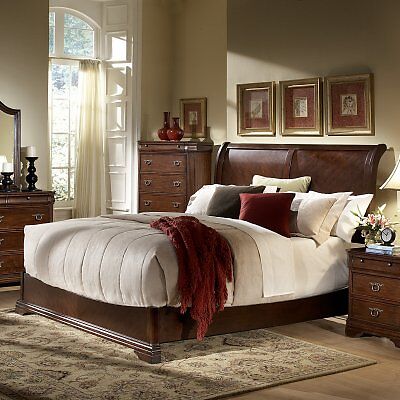 The bedroom is one of the most important rooms in the house. The bedroom is where most people spend a third of every day, so the room has to be comfortable. At the same time, unlike, say, the dining room, no one but the occupant really has to ever see the bedroom. Even in shared houses, the bedroom is private, so bedroom furniture is uniquely available to express the occupant's personal style. But what is that style? Major decorating styles have names, of course, such as traditional or modern, and they offer a starting point for thinking about bedroom suites in an organised way. A buyer can look at an incomplete room and decide if it should be modern or traditional, and then go out and shop for furniture with that style in mind. Knowing the main features of modern vs. traditional style can help buyers make a decision.
Modern and Traditional Style
Some buyers may be wondering what modern means and what traditional means. Within the context of design, these terms are very specific and do not mean exactly what they mean in another context. Buyers should know the main characteristics of these two styles to be able to choose bedroom furniture or decorations that match one style or another.
What Is Traditional?
Traditional means evoking a rural or vintage feel. This does not mean that a bedroom in the traditional style actually has to look like bedrooms did in any particular historical time period in any particular place. Some historical knowledge does help create a unified look and feel; if most of the room looks like Victorian London, a single piece more typical of an American Depression-era farmhouse seems out of place. Still, the point is not to recreate the past but to evoke a certain mood. In general, a traditional mood is evoked by natural materials, warm colours, and romantic, highly decorated designs.
What Is Modern?
The modern style is, in part, a reaction against the traditional style. Just as traditional designs create a feel of fond, backward looks and continuity with the past, modern designs are about a break with the past and an exciting look forward. To evoke the modern mood, one can simply take the traditional style and do the opposite. Wood is fine if it is a dark colour and has stainless steel fixtures. Everything should look carefully engineered and polished. Modern style is represented by cooler colours, in starker, bolder combinations. For modern bedroom furniture, one should stick to clean, unadorned lines. Platform beds, for example, usually paired with minimalist, wall-mounted headboards, are very modern.
What All Bedrooms Have in Common
Regardless of style, a bedroom should be a relaxing and comfortable place to be. A modern bedroom that is stark or severe in tone would be uncomfortable, like trying to sleep in somebody's office. Instead, if the modern style appeals, it should be minimalist, as though the lack of ornamentation is just that much less to worry about. Conversely, a traditional bedroom, taken too far, could seem busy or crowded. Vintage pieces are popular for traditional rooms, resulting in medleys of separate finds. To avoid a disorganised look, one should make sure all the pieces work together visually, and that the room has a clear focal point, usually the bed. Bedrooms also must be functional; the space should be easy to move around in and conveniently laid out.
Assembling a Bedroom
After getting a sense of what the different styles mean, it is time to tackle the practical challenge of assembling a room. Whether starting clean with an empty room or adding a few pieces to a room that already has some furniture, the process is similar. The buyer has to maintain a sense of how the room should work, both stylistically and practically, in order to buy pieces that support that overall goal.
Matching Pieces
Bedroom furniture is often sold as a set and advertised as having a certain style, such as traditional or modern. Obviously, this makes shopping easier, but it is not necessary. Many people decorate bedrooms by combining pieces they already own, or by mixing together various second-hand finds. The pieces do not have to match, only complement each other. Frequently, a piece can be shifted from one style to another using only a few coats of paint. Just follow the general guidelines for colour and texture for each style and remember that there is no wrong way to decorate a bedroom as long as the people who sleep there like it.
Planning a Room
A bedroom is not simply a collection of pieces. Rather, it is the look, feel, and function of the room as a whole that matters. Traditional or modern, the bed should be the focal point of the room, and the room must be conveniently laid out. For example, most people need a nightstand by the bed for personal items and a reading lamp, minimalist or not. For shared rooms, make sure both can go about their morning routines without bumping into each other. For large rooms, make sure the furniture and any decorative pieces can stand up to the large space without feeling lost. If the room is small, make sure that it does not feel cramped and that there is room to move about. One way to test new pieces for size before buying them is to spread newspaper on the floor to approximate how much space a given piece might take up. Is there still enough floor space for moving around?
Traditional and Modern Bedroom Suites Compared
Generally, a bedroom suite consists of a bed, a nightstand or two, and one or two pieces for storage, such as a dresser. As noted, platform beds are more modern in style, because they lack ornamentation. The headboard, if present, should be simple, just a square of matching colour. Ornamented or carved headboards and footboards, or bed posts, look more traditional, especially if done in natural-coloured wood or wicker. A nightstand or a dresser with an essentially boxy design can look either traditional or modern depending on its colour and its hardware. Curves or scrollwork, however, land the piece definitely in the traditional category. This table compares the two styles side by side, with several characteristics shown for each style.
Features

Classic

Modern

Look

Romantic, natural, gentle

Elegant, simple, clean

Designs

Either rustic or rich and ornate

Simple, unadorned, but very finished-looking

Colours

Natural coloured wood, bright or light but not saturated fabric

Wooden fixtures

Very dark wood

White or richly saturated fabric

Metallic fixtures

Walls

Decoratively stencilled or wall-papered, or else painted a dark, rich colour

Generally white
In most cases, the two styles are opposite, or nearly so. Traditional and modern are not the only styles available, nor are these terms entirely distinct from other, related styles. Contemporary is very close to modern, for example.
How to Buy Bedroom Suites on eBay
A wide selection of bedroom furniture is available on eBay. Buyers can choose from new or used furniture and from full or partial bedroom sets or individual pieces of furniture. eBay is easy to navigate and purchasing is simple. Prices are often excellent and, often, there are special deals available.
Finding Bedroom Furniture on eBay
There are a couple of approaches to shopping on eBay. You can browse by doing a basic search with a simple keyword, such as 'bedroom sets'. Or, to find something specific quickly, you can use the Advanced Search feature. Or, try eBay Deals where the lowest prices of the day are listed. Selection on eBay Deals is variable, but you can always come back to check this section at a later date to see if there are any new pieces listed that you may like.
Buying Bedroom Furniture on eBay with Confidence
If you have any questions about a listing, it is easy to ask the seller. Just use the contact link on his or her profile page. The sellers with the best feedback ratings are easy to spot by the ribbon icon on their listings.
Conclusion
A beautiful bedroom is a wonderful thing, relaxing to go to sleep in and enjoyable to wake up to. But what seems beautiful to one person might be less pleasing to someone else. A traditional rustic feel might comfort or inspire one person but might just seem old fashioned to someone else. Conversely, a modern bedroom might perfectly express one person's individuality, but might seem alien and harsh to someone else. The only important thing is to create a bedroom that really works for the occupant, and that means understanding what elements fit together to create a certain style. Equally important is knowing how to put together a room that works well practically, something all bedrooms, regardless of style, must be able to do.
Bedroom Suite|Modern Bedroom Suite|Traditional Bedroom Suite|Bedroom Furniture|Dresser