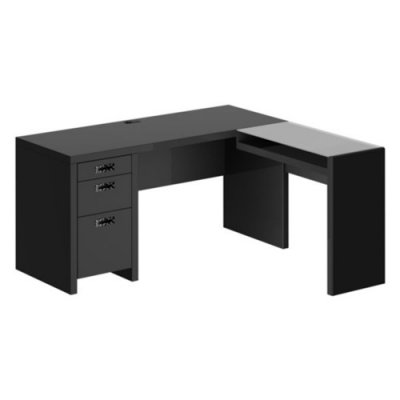 When outfitting a home office with office furniture, buyers have many decisions to make concerning the type of furniture to purchase. Typically, buyers can choose modular or custom-made office furniture, which includes many features that homebound employees and business owners need to keep organised and work efficiently. Modular office furniture is available locally through mass-market retailers and business supply shops, while custom furniture is often sourced directly through local designers' workshops and interior decorators. Conversely, buyers can find both modular and custom office furniture through large-scale online retail sites like eBay . Both modular and custom office furniture has benefits and disadvantages, so buyers must weigh their purchasing decisions carefully before shopping, particularly if they are looking for furniture pieces for long-term use.
The construction methods used to create modular and custom office furniture vary significantly. Modular furniture is constructed in a factory on a mass scale from design plans that are replicated in the same way for every piece of furniture produced. This allows manufacturers to construct furniture pieces that are uniform and designed with a range of features that home office workers require. Custom furniture, on the other hand, is made to order based on the specifications of each buyer.
Since modular furniture is prefabricated, buyers purchase furniture pieces that are ready-made or require some assembly once purchased. Generally, contact between a buyer and office furniture manufacturer is limited or nonexistent, although some sellers of modular furniture offer installation services for furniture pieces that demand complicated assembly. Custom office furniture relies on close consultation between a buyer and furniture maker, however, to ensure the furniture is exactly what the buyer desires.
To achieve perfect results, buyers must plan on spending some time working with their custom office furniture makers. At the beginning of the building process, buyers should have a clear idea of their furniture requirements. Often, buyers supply furniture makers with pictures or drawings of their ideas to easily communicate the basic design of the finished product they have in mind. Once furniture makers draw up building plans, a consultation with the buyer is scheduled so the buyer can offer his or her approval for the plans or suggest changes. In some cases, furniture makers construct a prototype of the finished furniture pieces to allow buyers a true sense of the finished product. Once building plans are finalised, the furniture maker constructs the office pieces. If custom fitting for book shelves or cabinets is part of the installation process, furniture makers often finish the construction process at a buyer's home as part of the building agreement.
Because custom office furniture entails a design and building process, buyers need to wait some time before adding their custom furniture to their offices. Depending on the level of complication behind a furniture piece's design and a furniture maker's workload, the estimated completion date of a furniture piece can be lengthy. Most modular furniture, by nature of its prefabricated design, is ready to install into a home office once it arrives.
Although the creation of custom office furniture affords buyers the highest level of design control, modular furniture also offers buyers some choices concerning design issues. Before deciding to purchase modular or custom office furniture, buyers should understand how the size of furniture pieces can impact their purchasing decisions.
Since custom furniture makers design office furniture pieces from specific design plans, buyers can choose the exact measurements of custom furniture pieces. This is handy for buyers operating in small home office spaces where space is at a premium. Additionally, buyers with large office spaces often need furniture pieces constructed on a larger scale than normal and can only access furniture pieces with the correct dimensions through custom fitting. Modular furniture pieces are prefabricated with specific dimensions, but modular furniture makers often produce variously sized furniture models to match the demands of consumers. It is, therefore, essential that modular furniture buyers know the minimum and maximum measurements for furniture pieces so that they can purchase the correct size model when shopping.
Most modular office furniture contains wood composite and synthetic materials, so buyers have limited purchasing options when choosing the construction materials of their modular office pieces. Custom furniture construction, however, allows buyers to select materials that provide a variety of benefits.
Custom Furniture Material Selection

Benefits

Eco-friendly

Decrease the carbon footprint of creating a custom furniture piece and help contribute to a cleaner environment

Recycled

Can be composed of products made from recycled woods or paper, which cuts down on tree depletion

Can also include reused architectural salvage materials, like cabinet handles or old timber that provide a piece of office furniture with a unique appearance

Locally-sourced

Locally-sourced materials allow custom office furniture buyers to support businesses within their communities
When consulting with custom furniture builders, buyers should mention material selection at the beginning of the design process so builders can look for appropriate materials as soon as possible. Depending on availability, the selection of rare materials can increase the build time necessary to complete a furniture-making project.
Both modular and custom office furniture can retain resale value if kept in good condition. Custom office furniture can increase in value over its lifetime, however, particularly if a well-known furniture maker constructed it. Furniture resale values are determined by the collector's market, which prizes furniture examples that include natural, handmade components, distinct style lines, and exotic woods. As natural materials age, they form patinas that cannot be replicated with newer woods, adding to the desirability of custom furniture pieces. Although buyers cannot predict resale value when purchasing custom office furniture, the quality of handmade craftsmanship typically retains more value than prefabricated pieces of the same type.
Buyers looking for office furniture can use eBay ' s wide-scale network of sellers to find the perfect furniture pieces for their home offices. Whether shopping for corner desks, office chairs, or filing cabinets, buyers can access furniture pieces that make operating from a home office easier. Buyers with limited budgets can also find bargain office furniture pieces through eBay Deals ' Furniture section. Before committing to an office furniture purchase, buyers should review the product specifications that sellers outline in their eBay product listings so they know that they are selecting the right size furniture for their office spaces. Because some assembly may be required for office furniture models, buyers should look for any special instructions and check to see that all of the hardware components are included in a purchase before initialising a sale.
Conclusion
Both modular and custom office furniture have advantages and limitations for buyers so it is valuable for buyers to understand the differences between the two types of furniture before shopping. Modular office furniture is factory-manufactured using replicated designs while custom furniture is constructed based on a specific customer's preferences. Consultation demands between a buyer and furniture maker are high to complete a custom furniture piece correctly, and the design and building process often takes a significant amount of time. Although custom creation offers buyers the most design control over their furniture pieces, modular furniture options can include different size dimensions and features depending on the model. Once buyers determine their immediate and long-term preferences for office furniture, they can find a large selection of purchasing options on eBay.
Modular Furniture|Custom Office Furniture|Cabinet|Desk|Office Chair