FYI: It has recently come to my attention that Siren may not be manufacturing the Australian Monkey Magic DVDs anymore, as it is no longer listed for sale on their site and it appears that stocks are running very low elsewhere.
Introduction
I have been selling Monkey Magic DVDs for a little while now, and have noticed that there is some confusion about the different versions of Monkey DVDs available. This buyer's guide will attempt to clarify these matters, and provide the buyer with a basic knowledge of what is available. There were 52 episodes of Monkey created. Originally there were 39 episodes dubbed, which aired on Australian and British television. The 13 lost episodes were dubbed within the last few years; the original voice actors were actually assembled again to acheive this.
After you finish reading this guide, please take the time to rate it. If you find this guide useful, please press the 'yes' button at the bottom of the page.
Different Versions of Monkey DVDs
There are two main versions of DVD on eBay at the moment.
Australian Version
The Australian DVDs were released by Siren Visual Entertainment. The Australian DVD set contains 17 volumes - the last four being released after the initial 13 volumes. The last four volumes contain the so called 'lost episodes', which were never shown on Australian or British television, and have been dubbed only recently. Most of the original 13 DVDs are region 4 (Australia/New Zealand), while the latest volumes will normally be region 0 (region free). This means that there will be no compatibility problems when played on Australian DVD players, or on Australian computer systems (with region 4 activated).Some Australian DVD sets have been advertised on eBay as being 'complete', however this is not completely accurate owing to the subsequent release of the 'lost episodes', volumes 14-17. The 'lost episodes' have been appended to the original set of 13 DVDs. The order in which the Monkey Magic series was filmed is actually different, and the Australian version reflects the order in which the dubbed series was released. You can purchase these in a box set, or they are available individually. They are also available in smaller 4 DVD sets. The Australian set can be distinguished by the following typical cover design or box set appearances.
Australian version - Single DVD, Small set of 4 volumes, and box set.
British Version
The British DVDs were released by Fremantle Media. The set contains 13 volumes; the 'lost episodes' being incorporated into the set. They will also usually be Region 2 DVDs (Europe), and have a different appearance to the Australian DVDs. The British DVDs, when together in order will Spell the word 'Monkey' on their spines. The British DVD set actually runs in sequence from the first actual episode to the last - that is in the original order in which the series was made, and not in the order that it was dubbed and released to us and the UK. These DVDs are almost always seen in box sets. The British version can be distinguished by the following typical cover design, or box set appearance.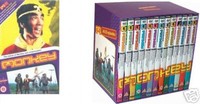 British version - Single DVD and Box set.
Other Information
Some general points to consider:
Make sure the postage costs are *reasonable* - the items alone only weigh approximately 110 grams each. Therefore, be mindful of how much you are actually paying for a DVD when the cost of postage is considered. Generally, around $5.50 within Australia for standard postage is a reasonable price (per item). You have to consider that the seller has to pay for postage, as well as the envelope and packing materials (which can be quite expensive). The seller may not be using the most economical postage option, and this sometimes explains the higher prices. Postage prices for box sets can vary due to the bulky nature of the package and costs will vary depending on the size of box the set is being sent in. Costs, I would estimate, would be around $15-20 within Australia. To give you an idea of the price of sending multiple dvds - I have sent 8 DVDs in regular cases to a customer via 3 KG Express Post satchel for $9.90 (bubble wrapped).
To reinforce the above, a low price DVD is not always a bargain. Check the price of postage first, and try to achieve the best deal with the total cost in mind. Sometimes the price will be the same, and you may then just buy from the seller you feel most comfortable purchasing from (based on feedback or whatnot). I actually see people buying DVDs on Ebay for low prices; between 99 cents and $4, and then paying $16 or so postage. I am at a loss to explain why anyone would fall for this, as they end up spending on average $5 to $7 more than someone who bought a DVD for a good price and paid a reasonable price for postage.
If not purchasing Region 0 (region free) or Region 4 (Australia and New Zealand), ensure that your DVD player is able to play different region DVDs. Generally, DVD players will be capable of playing DVDs from different regions out of the box, however some may need some programming to do so, and some may not actually play them at all. The easiest solution, if you are not sure, is to purchase Australian region 4. PAL or NTSC issues will not be a problem, unless you live in a NTSC zone. If this is the case, ensure that your equipment will also display the PAL video standard.
Always check the feedback of the seller before committing to bid or buy. On occasions you may find that the seller has been suspected of selling pirated versions, or low quality movies, as well as other issues that previous buyers may have felt neccessary to raise. A few negatives will not be a problem generally, as some people are never satisfied; however be wary of sellers with a lot of negative feedback.
If the disc is second hand, and the condition is not specified - request that the seller grade the DVD. There is nothing worse than a damaged DVD to spoil your viewing experience.
Episodes of Monkey
Series 1:
1. Monkey Goes Wild About Heaven
2. Monkey Turns Nursemaid
3. The Great Journey Begins
4. Monkey Swallows the Universe
5. The Power Of Youth
6. Even Monsters Can Be People
7. The Beginning Of Wisdom
8. Pigsy Woos A Widow
9. What Monkey Calls The Dog-Woman
10. Pigsy's In The Well
11. The Difference Between Night And Day
12. Pearls Before Swine
13. The Minx And The Slug
14. Catfish, Saint And The Shape-Changer
15. Monkey Meets The Demon Digger
16. The Most Monstrous Monster
17. Truth And The Grey Gloves Devil
18. Land For The Locusts
19. The Vampire Master
20. Outrageous Coincidences
21. Pigsy, King And God
22. Village Of The Undead
23. Two Little Blessings
24. The Fires Of Jealousy
25. The Country Of Nightmares
26. The End Of The Way
Series 2:
27. Pigsy's Ten Thousand Ladies
28. The Dogs Of Death
29. You Win Some, You Lose Some (2004 - 'lost episode')
30. Pigsy Learns A Lesson (2004 - 'lost episode')
31. The Land With Two Suns (2004 - 'lost episode')
32. The House Of The Evil Spirit (2004 - 'lost episode')
33. Am I Dreaming? (2004 - 'lost episode')
34. The Tormented Emperor (2004 - 'lost episode')
35. Between Heaven And Hell (2004 - 'lost episode')
36. The Foolish Philosopher
37. Who Am I?
38. What Is Wisdom?
39. The Fountain Of Youth
40. Better The Demon You Know (2004 - 'lost episode')
41. A Shadow So Huge
42. Keep On Dancing
43. Give And Take
44. Such A Nice Monster
45. The Fake Pilgrims (2004 - 'lost episode')
46. Pretty As A Picture
47. Mothers
48. The Tenacious Tomboy (2004 - 'lost episode')
49. Stoned (2004 - 'lost episode')
50. Hungry Like The Wolf (2004 - 'lost episode')
51. Monkey's Yearning (2004 - 'lost episode')
52. At the Top Of The Mountain