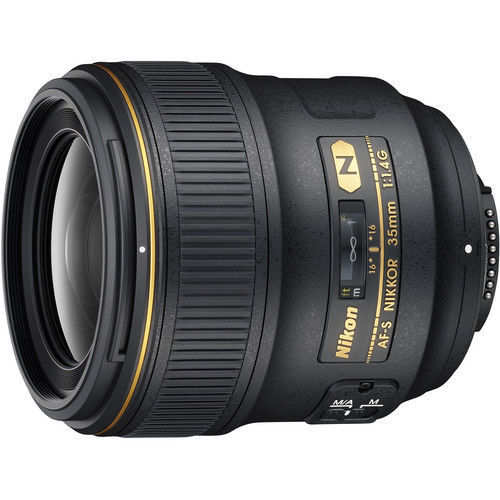 Nikon has been a force in the camera industry since the 1950s and 1960s, and is one of the world's most recognised manufacturers of cameras. With the arrival of dSLR cameras (digital single-lens reflex) and other cameras with interchangeable lenses, Nikon lenses have become even more popular -- even with other camera brands. The reasons are clear: Nikon lenses not only come in a variety of sizes and types, and they perform at the top of their class in nearly every category.
Nikon lenses that have become the most popular in the Australian market because of their quality. They produce sharp images, boast vivid detail, focus quickly, have no distortion and are highly durable. Certain lenses have also become popular because they offer great value for the price, suit a certain type of photography well or are able to fit a wide array of cameras. The following are the most popular Nikon lenses, by lens type.
Most Popular Nikon Prime Lens: AF-S Nikkor 35mm f/1.4G
The AF-S Nikkor 35mm f/1.4G lens beats out other prime lenses from Nikon in every major category, and that's why serious users choose it over other models. It's a must-have piece of equipment for many pros that support Nikon. Its 35-millimetre focal length is just right, and the large and fast maximum aperture (how much light the lens gathers) makes it great for low light situations. It captures anything from a cityscape at night to countryside landscape at sunrise wonderfully.
Most Popular Nikon Zoom Lens: AF-S DX Nikkor 35-200mm f/4-5.6G ED VR II
This lens is reasonably priced and performs exceptionally. Its large zoom range makes it quite versatile and it works to reduce vibration. Images are vibrant and clean when snapped on this camera. It excels when there's lots of light, too.
Most Popular Nikon Wide-Angle Lens: AF-S Zoom 17-35mm f/2.8D IF-ED
This Nikon lens is a high-end one with a fast fixed maximum aperture of f/2.8, advanced optical design, seamless high-definition video filming and outstanding durability. It's a pleasure to have this in the studio and on the road. And that's why pros and enthusiasts line up to get the AF-S Zoom 17-35mm lens.
Most Popular Nikon Fisheye Lens: AF DX Fisheye 10.5mm f/2.8G ED
This DX-format lens from Nikon is in the middle price range for Nikon lenses. The unique bending effects created by the 180-degree angled frame are mesmerising. The high maximum aperture of f/2.8 allows for some sweet images to be taken in low light environments (note a lower number equals a higher aperture).
Most Popular Nikon Telephoto Lens: AF-S Nikkor 800mm f/5.6 FL ED VR
Few lenses on the planet can reach as far and perform as well as this Nikon telephoto lens. It is, without a doubt, top of the line, and something most in the photography industry absolutely dream of owning. Optical performance is superb, shooting speed is unimaginable and handling it feels natural. This lens has every major piece of advanced technology on the market, too.