Children between the ages of one and three experience rapid emotional, cognitive, and social development. Every toddler plays with toys, and they are an important tool in promoting a child's overall well-being. Moreover, such toys are fun, and can teach a child important aspects of social behaviour, such as sharing and communicating with others.
When it comes to the most popular outdoor toys for toddlers, it's important to separate younger toddlers (12-24 months) from older toddlers (24-36 months), as those who have just turned one do not have the same capabilities as those approaching three years old.

Young Toddlers
Toddlers around one year old are just learning to walk, while those nearing two years old are beginning to walk with confidence and ease. The best outdoor toys for this age range typically don't require much physical exertion from the toddler, but are still interactive and fun.
1
Ride On Toys

Ride on toys for those aged 12 months and up require the toddler to manually push the car with their feet. This not only allows parents to relax, but gives the child a sense of accomplishment and freedom by moving the toy vehicle alone. These toys come in a variety of colours and typically have a horn. Riding together with other young toddlers is a great way for your child to build friendships and social skills.
---
---
---
4
Coupes and Wagons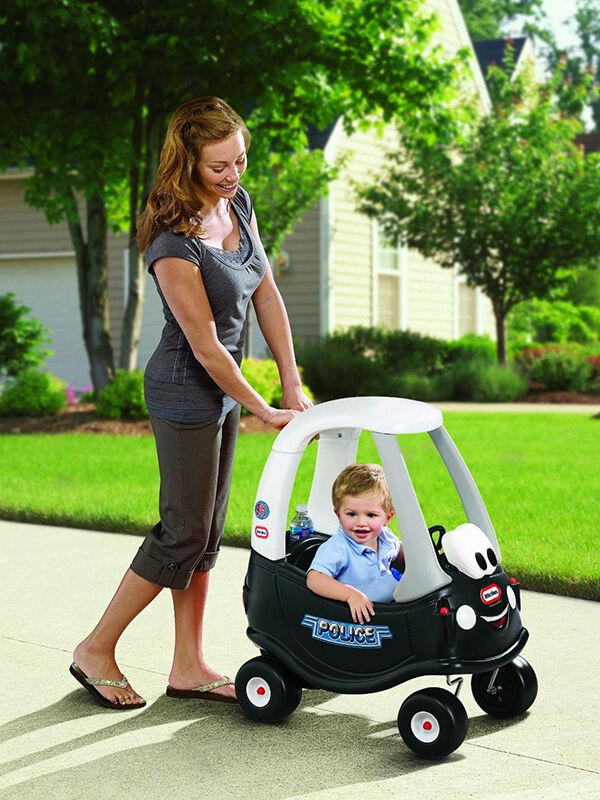 These require the parent to do all the work, but young toddlers enjoy riding in their own automobile as someone else makes it move. Little Tikes made the toddler coupe famous over 30 years ago, and it's just as popular now as it has ever been. Larger coupes and wagons that can fit two children present a great opportunity for young siblings to bond or learn how to share.
Older Toddlers
From two to three years, most toddlers vastly improve their language and communication skills and are beginning to use their imagination actively. Popular toys for this group are often a mix of fun, social activities and those that challenge the mind.
---
5
Beach Sand Toys

By building a simple sand castle, a toddler can exercise their mind as well as understand how to finish a satisfying task.Bucket sets generally include a small shovel, rake, and additional scoops.
---
6
Slides

Slides are great for promoting coordination and physical fitness. Whether playing with friends or alone, your child is certain to feel exhilarated each time they slip down the incline. Slides for toddlers have wide steps for security and stability, and typically aren't any taller than one metre.
---
7
Playhouses

Outdoor playhouses are a popular choice that stimulate the imagination. Let your toddler cook, go to work, and tend the garden. Simple playhouses are made of plastic and easy to set up, but ones made of wood with specific architectural styles look much more realistic. For example, some wood cubby houses have an Aussie outback style or Victorian design. Tents are another option as well.
---
8
Crawl Tunnels

Portable and easy to fold, crawl tunnels can be used both indoors and outdoors. Great for exercise and games, these tunnels are convenient if you plan to host parties for toddlers. They come in a variety of designs, including caterpillar, Disney themes, and polka dots.