With so many baby toys on the market, it can be difficult to determine which are worth the money, and which are better left on store shelves. While personal opinion and lifestyle factors weigh in on any given toy purchase, some toys rise above the pack in terms of enjoyment and overall sales. Read on for a brief overview of some of the most-loved baby toys of 2014.
1
Vulli Sophie the Giraffe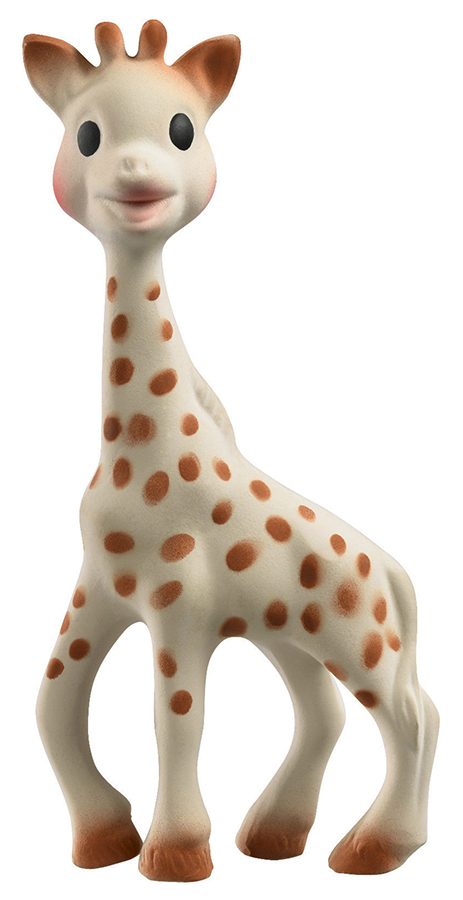 Sophie has been a favourite of parents for several years, and her appeal doesn't show any signs of slowing down. Babies can easily grasp her slender legs and neck, which makes the toy easy for small babies to handle. Sophie is also made from durable natural rubber, making her ideal for little ones growing their first teeth. She can be chewed, gnawed, and gummed without breaking down, so parents won't have to worry about discovering small parts that pose a choking hazard.
---
2
Fisher-Price Ocean Wonders Soothe and Glow Seahorse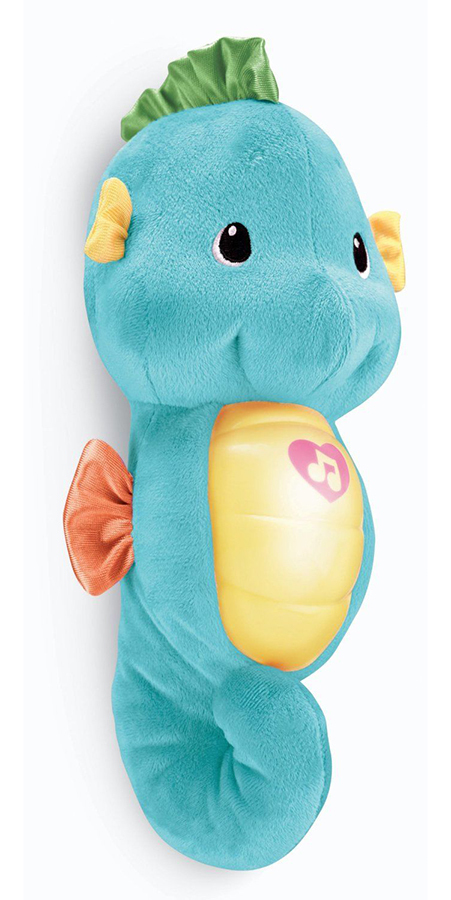 This plush little seahorse is super-soft and cuddly, making it a suitable nighttime option for older babies. The seahorse's tummy glows when pressed, and an internal music player offers soothing sounds to lull babies to sleep. The power and volume can be controlled, and the music and lights gently fade out after five minutes, so a sleeping baby won't be disturbed by an abrupt end to the music.
---
3
Fisher-Price Laugh and Learn Love to Play Puppy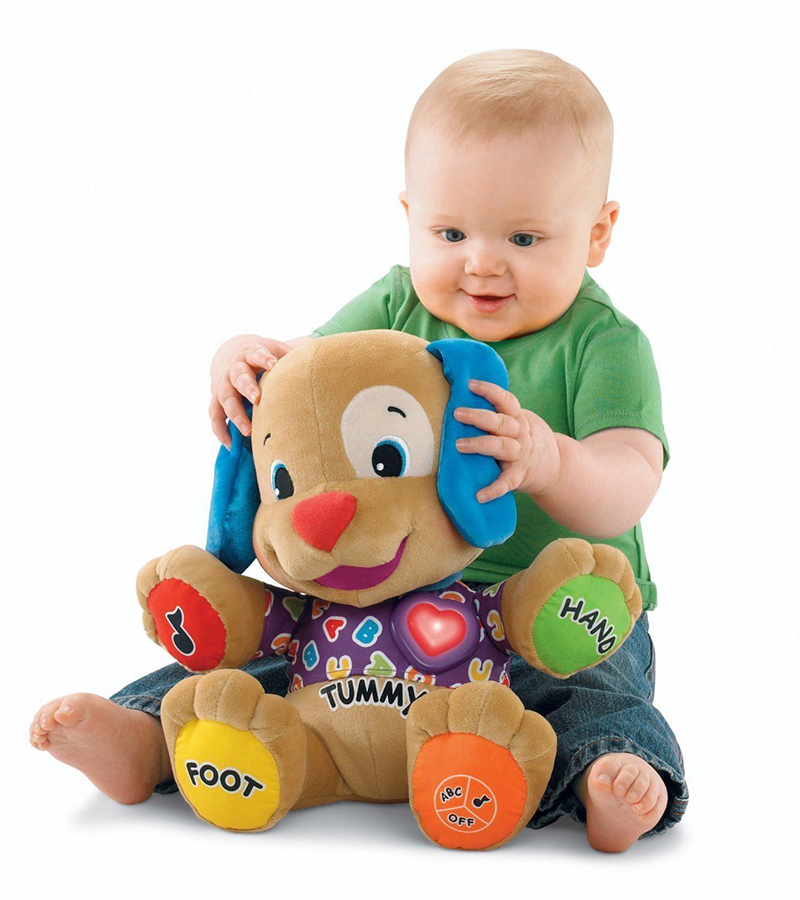 This puppy by Fisher Price loves to play, and he has been a family favourite for many years. His plush feet, hands, tummy, and ears are all labelled to help a baby with association. Laugh and Learn puppies are covered with brilliant colours designed to capture the attention of a fussy infant. When a part of the body is pressed, the puppy announces that specific body part, corresponding colour, or letter of the alphabet. One hand also features a music option that sings babies to sleep with gentle lullabies. This toy will grow with children through toddlerhood, making it a good investment.
---
4
VTech Sit to Stand Learning Walker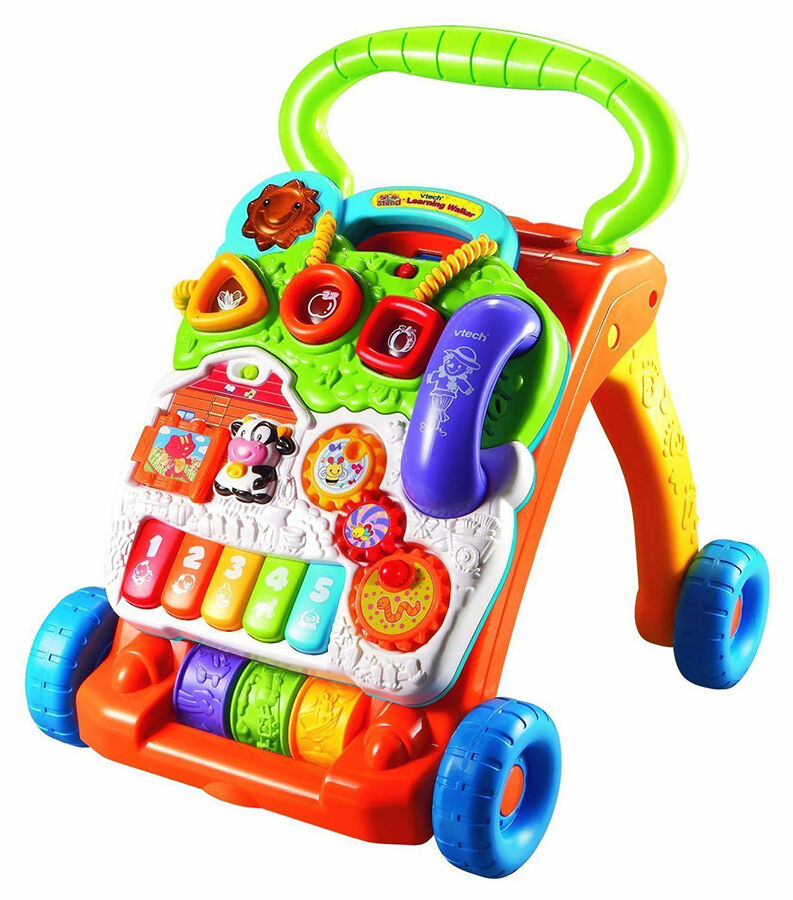 This learning walker has been updated a few times, and boasts significant improvements. The VTech walker features a colourful design combined with plenty of lights, music, and buttons for babies to press. The V-shape allows it to work as a toy for both sitting or standing babies. The handle at the top allows a baby to pull up and stand to practice walking. Once the baby is steady, this walker also makes a great push toy.
Parents appreciate this toy because it is fun and educational. It helps with number recognition, while the shape sorter encourages fine-motor development and hand-eye coordination. Colour recognition is also encouraged with various buttons and keys.
---
5
Tiny Love Take Along Arch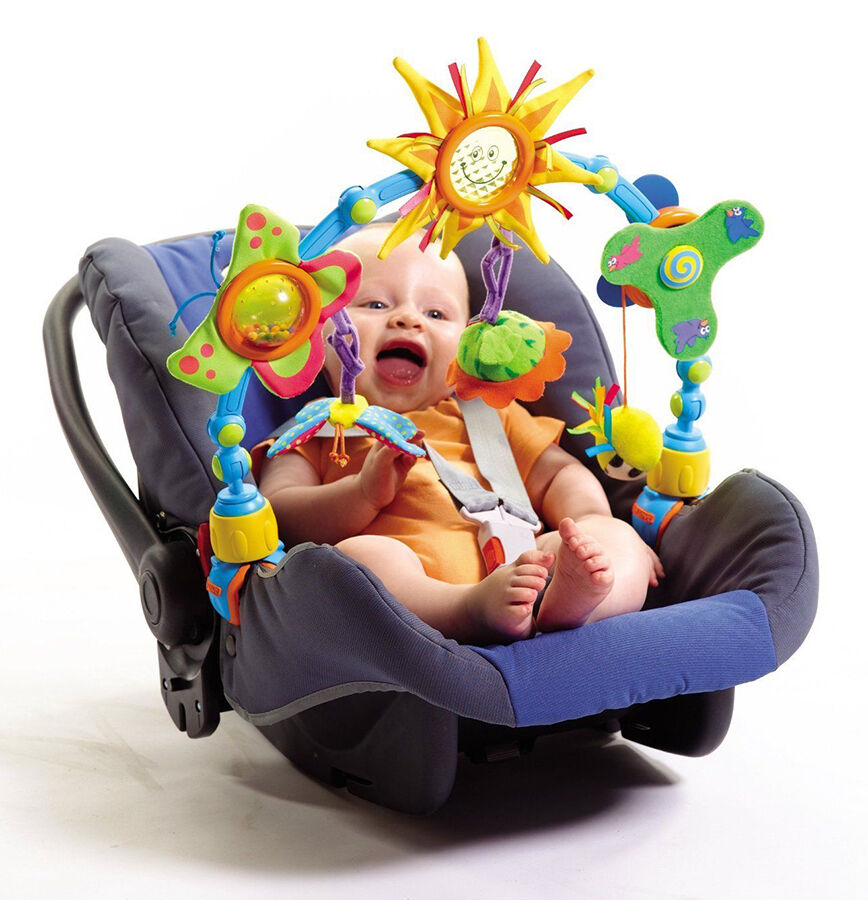 The Take Along Arch can be connected to car seats and baby carriers to keep babies entertained while on the go. It features bright colours and hanging sensory toys for babies to touch. The windmill is movable, which teaches the baby cause and effect. This toy is a long-time favourite, since it goes just about anywhere and connects to a wide range of baby car seats and strollers.
---
6
VTech Baby's Learning Laptop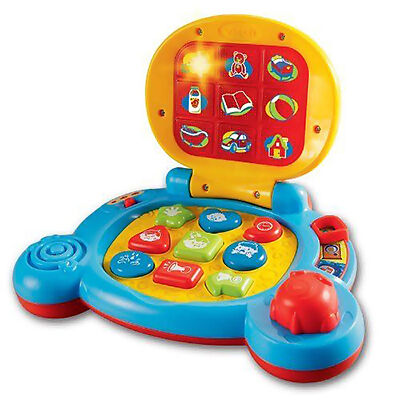 Another offering from VTech, this learning laptop gives babies a fun place to learn and play. It has bright and colourful lights and music, and it teaches the names of common objects and feelings. It even comes with a little mouse, which is just the right size for tiny hands.
---
Conclusion
Find this year's best baby toys at local stores or online retailers. Whether based on parental preference or baby intrigue, the toys mentioned above have earned their place as successful and educational baby products for the 2014 year.