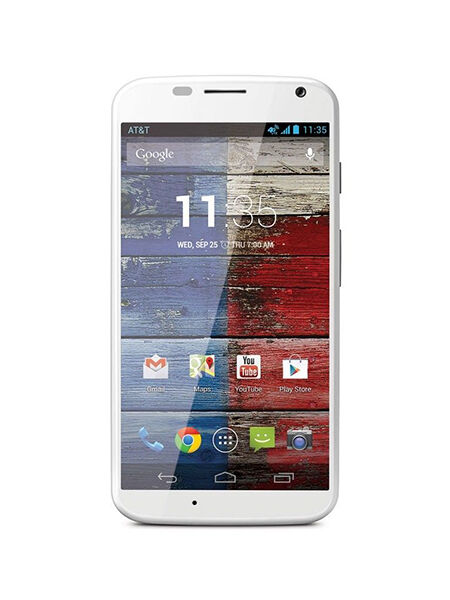 Busy lives demand a phone that can keep up with the times and its user. Checking email, catching up on the latest news, and posting to social media sites are just some of the tasks that people now require on their phones everyday. These features give users a way to stay connected, even on the go. Like most smartphones, the Moto G LTE is built with all of the features that a consumer not only wants, but the ones they need. An impressive aesthetic display, large storage space, and fast processor make the Moto G LTE a popular choice for today's buyers.
Stunning Display and Cameras
One of the most notable features of the Moto G LTE is its 4.5-inch screen that expands to all four corners of the device. It is High Definition with a 1280 x 720 resolution and a stunning 329 pixels per inch. The result is a brilliant display that is great for making video calls, taking pictures, browsing the Web, or reading articles. Corning Gorilla glass makes this phone extremely durable and less likely to crack or shatter if it is accidentally dropped. Additionally, the water repellent coating offers protection in wet or humid environments.
As far as cameras go, the Moto G LTE comes with both a front and rear camera, each with 720p HD and video capturing abilities. The front camera has 1.3 MP while the rear camera ranges between 3.8 and 5 MP depending on the settings. Users can take panorama photos, slow-motion videos, and tap to focus with both. Additionally, zoom capabilities include up to 4X clarity and an LED flash for taking pictures in the dark.
Plenty of Storage Space
The Moto G LTE comes with 8GB of internal storage, which is plenty for the average user. Those desiring more space will appreciate the micro SD slots which expand the phone's storage up to 32GB. This cool feature allows additional space for pictures, videos, apps, and music. The phone also contains a 3.5 mm headset jack that is excellent for added privacy when listening to music or watching videos on the go.
Fast Processing Speed
All of these striking features would be essentially useless without the phone's processor, the Qualcomm Snapdragon 400 that runs on a 1.2 GHz quad-core CPU. The Android system is one of the newer versions the 4.4 KitKat, which allows for quick upload, download, and sharing between devices, as well as improved performance over previous models.
Faster processing times and a solid CPU core also help users multi-task, eliminating the need to hang up in order to email or look up directions. Users can continue to play their music as well, even if they want to text at the same time.
Conclusion
The phone's attractive display, large storage space, and fast processor are all contributing factors as to why the Moto G LTE is one of the top performing phones for users on a budget. They can also be personalised with snappy shell cases, which users can choose to add colour or designs that match their personal styles. Phone accessories for the Moto G LTE can be found online at sites such as eBay.