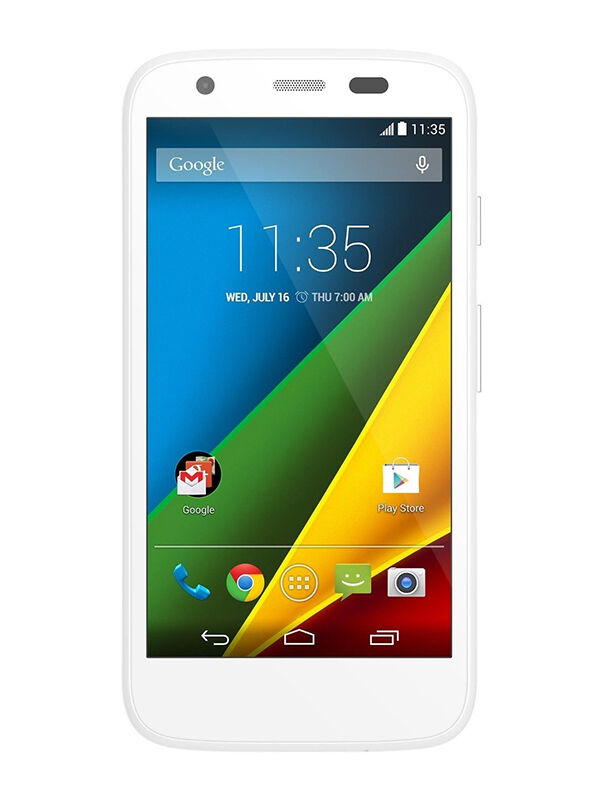 The Moto G LTE is one of the cheaper Android smartphones, and with this model Motorola has set out to prove that cheap doesn't necessarily mean a drop in quality. On paper, it appears that they have succeeded.
Design
When it comes to the design of the Moto G, it's worth noting that it shares a lot of similarities to the high-end Moto X, albeit with curvier edges. However, it is both significantly heavier and has more of a plastic feel than its older brethren. Despite this, Motorola has done a great job compressing some of the design elements of a high-end device into a phone with a low price.
To help accentuate the cheaper design, Motorola has allowed users to change the casing on the device to swap the colour at will. As simple as this may seem, this helps customise the devise to user preferences.
When it comes to the screen, the Moto G boasts 4.5" 720p. While it doesn't compare to the higher resolution displays of more high-end Android devices, it is certainly great considering the price. When compared to cheaper Nokia Lumia phones, Samsung's low-end Galaxy smartphones, the Moto G's 720p screen is a significant improvement.
Software
Motorola succeeds where other Android phone manufacturers fail by offering an OS that most closely resembles stock Android. While this means the omission of a few of the more useful proprietary Motorola features that are offered on the Moto X, it also means an OS that follows Google's Android philosophy.
While the phone does run an almost stock version of Android, they have included a few proprietary apps, much to the phone's benefit. With apps such as Assist that help toggle phone alerts during meetings and Help that provides useful tutorials, this isn't the bloatware that Android users are accustomed to, but rather useful applications designed to help with everyday phone use.
Camera/Video
The Moto G camera is unexceptional when compared to high-end Android phones and simply average when compared to other low-end Android phones. The image quality is nothing special and, in the best lighting conditions, the photo rarely rises above mediocre. With a phone as inexpensive as the Moto G, some sacrifices are to be expected.
When it comes to the camera app, Motorola has gone for a minimalist approach, removing the vast majority of settings from view. While these more advanced settings are still accessible, they're kept out of sight so that the user can focus on taking pictures.
Videos taken with the phone aren't impressive when compared to other Android smartphones. While the quality of the videos that can be taken are perfectly suitable for services such as Instagram or Vine, that is about the extent of it.
Battery
The Moto G features a 2,070 mAh battery that is more than sufficient for a phone of this size. Even with significant use throughout the day, the Moto G can usually last an entire day while still having a fair amount of battery life still left over. With light usage, the Moto G can last up to two days without having to charge it.
Unlike other low-end Android devices, the battery in the Moto G is not removable. In the event that the battery needs to be replaced, one would have to go to Motorola or a phone carrier.
Performance
The Moto G features 1GB of RAM, a Snapdragon 400 processor, and an Adreno 305 graphics processor unit. The Moto G is impressive when it comes to performance, even when compared to some of the more expensive flagship phones. Scrolling in the web browser is smooth, games run well, and apps launch quickly. For an inexpensive phone, the Moto G delivers more than sufficient performance.
When it comes to other connectivity options, the Moto G is great. It works well with LTE and 4G connections and does a good job of maintaining a consistent connection. It also offers Bluetooth, GPS, and all of the other connectivity options that now come standard with Android phones.
Conclusion
Those shopping for the Moto G LTE will find that it is one of the best smartphones on the market for its price range. Despite a few issues, the impressive specs and great battery life make it a more than worthy purchase for those looking for an inexpensive phone.