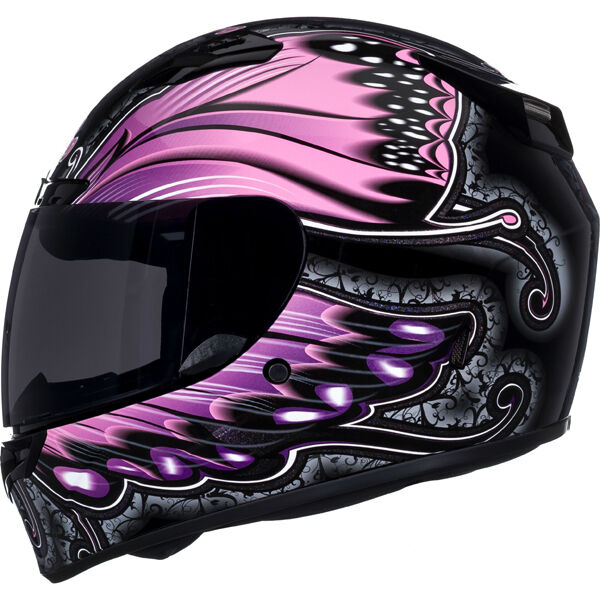 When it comes to motorbikes, one of the most important things to consider is the rider's safety. An essential piece of safety equipment on a motorbike is the helmet, which can mean the difference between life and death in many cases. With that being said, an average, run-of-the-mill helmet is not typically great for the wearer's safety, and so an investment in a good helmet that provides both comfort and durability is necessary. However, with the varying styles and brands available, it may seem as if it is more difficult to choose the proper helmet than the motorbike itself. Because of this, it is necessary to do the proper research and pay careful attention when shopping for a motorbike helmet.
Helmet Design
The design of a helmet can prove to be one of the most important things to consider when shopping for a helmet. There are many different styles of motorbike helmet. Popular styles include beanie helmets, half helmets, open-face helmets, and full-face helmets.
Beanie Helmets
Beanie helmets live up to their name, as they are similar to a beanie cap, providing only protection of the top of a person's head. With this minimal protection, a beanie helmet is more versatile, easier to put and take off, and more affordable than other types of helmets. However, beanie helmets do not protect the face or ears of the wearer, meaning there is greater risk for injury. It is wise to ensure that the helmet has been certified for use on motorcycles as there are many novelty helmets with the same design incapable of proper protection.
Half Helmets
Half helmets protect the top portion of a person's head, including the ears, without obstructing the wearer's vision. These helmets do not feature the same protection as an open-face helmet or a full-face helmet, but are still effective in preventing skull injuries in the case of an accident.
Open-Face Helmets
Open-face helmets provide protection for three-quarters of the head, exposing only the lower part of the wearer's face. Typically, open-face helmets by themselves do not provide protection from bugs, weather, and other similar elements. However, there are open-face helmets with a face shield that do protect the wearer's eyes.
Full-Face Helmets
Full-face helmets are exactly as they sound, and protect the entire face of the person wearing the helmet. They offer superior protection compared to other types of helmets, providing protection from not only serious injury, but also outside elements. Full-face helmets also tend to be more expensive than the other types of helmets available.
Helmet Size
Another important factor to consider when shopping for a motorbike helmet is the size of the helmet. While this may seem like an obvious point, a snug-fitting helmet can make a world of difference not only in terms of comfort, but also in terms of protection. A loose-fitting helmet can result in a greater impact on a person's brain, which typically means a greater risk of death or serious injury.
| | | |
| --- | --- | --- |
| Adult Sizes | Inches | Centimetres |
| | 20 1/4 to 20 7/8 | 52 to 53 |
| S | 20 to 21 5/8 | 54 to 55 |
| M | 21 3/4 to 22 3/8 | 56 to 57 |
| L | 22 1.2 to 23 1/8 | 58 to 59 |
| XL | 23 1/4 to 24 | 60 to 61 |
| XXL | 24 1/8 to 24 7/8 | 62 to 63 |
Each manufacturer has their own manufacturing practices. Consumers would be wise to ask for a sizing chart before making their purchase.
Helmet Certification and Safety Standards
With motorbike helmets, each helmet undergoes rigorous testing to ensure maximum safety for the consumer. There are many different certifications a helmet can qualify for, including the D.O.T Certification and Snell standards for American helmets, British Standards Institute (BSI) certification, and the European Union ( ECE ) certification. When buying helmets in Australia and New Zealand, consumers must ensure that the manufacturer of the helmet has tested the helmet and that one of the accredited companies has certified the motorcycle helmet. Buyers can find a list of accredited companies by consulting the website of the JAS-ANZ, the accreditation body for Australia and New Zealand. Accredited companies include SAI Global, BSI, Global-Mark, and TUV RA. Importantly, since 31 March 2011, helmet manufactures must include a label or mark from an accredited body proving that the helmet has been certified.
Other Things to Consider
When shopping for a motorbike helmet, it is important to consider the style, fit, and certifications of the helmet, as well as things like comfort and breathability. Comfort can be as important for some buyers as safety is, especially for those who frequently travel on a motorbike. Along with comfort is the issue of breathability, which is more of a concern in half helmets and full-face helmets. These types of helmets should include some type of vents for air to circulate through the helmet, preventing overheating, without sacrificing safety. Also, buyers should keep in mind that popular brands tend to be more comfortable than their off-brand counterparts. When it comes to helmets, buying second hand is not a wise choice as the previous owner might have been involved in a crash, which compromised the integrity of the helmet.
How to Buy a Motorcycle Helmet on eBay
eBay has a wide variety of motorcycle helmets that have been accredited for use on public roads. To search for a motorcycle helmet, simply enter the keywords 'motorbike helmet' in the search bar to begin. You can further refine your search results by entering specific keywords, by browsing through the different categories on eBay, or by specifying different product information, such as brand, price, or size. Check the eBay Deals section to find the best prices of day on motorcycle protective gear. Because nothing is more important than safety, you should find the right helmet that not only serves the desired purpose, but fits great and provides the maximum protection when you ride.