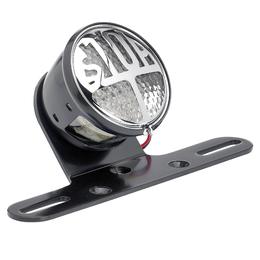 With fumes filling the air and cars clogging the roads, sometimes it seems impossible to avoid traffic jams on the dreaded commute to work. For some riders, the motorcycle solves this problem quite nicely. It features the manoeuvrability of a bike and speed that rivals many high-end cars. However, with access to such extreme speed and no crumple zones for protection, smart motorcyclists prioritise safety above all else. Quality motorcycle LED backup lights alert other motorists on the road to the moves a motorcycle rider makes. When browsing in motorcycle shops or on eBay , buyers want to consider the brand, installation requirements, and compatibility of the backup lights they plan to purchase.
Reasons to Choose LED Backup Lights
LED (light-emitting diode) bulbs recently surpassed traditional bulbs as the top choice for illumination. The uses for LED lighting include house light bulbs, car headlights, motorway banners, and almost everything in between. In comparison to traditional bulbs, LED bulbs use less energy, do not contain mercury (a hazardous substance that threatens the environment), operate for longer periods of time, operate with greater efficiency and reliability, and cost less over time, although they generally cost more at the time of purchase. Because backup lights dramatically affect the safety of the rider, the durability and efficiency of LED lighting makes for a wise choice over traditional bulbs.
Choosing Quality Brands of LED Backup Lights
As with most consumer products, the brand of the motorcycle LED backup light makes a difference in terms of price, compatibility, and, in many cases, quality of the light. Lights that cost more money sometimes offer better quality than less expensive brands, but exceptions do exist. In some cases, less expensive LED lights offer comparable or better quality than some of the top brands. Reading customer reviews and consumer reports sometimes helps buyers determine the best brands for their price ranges.
Many vehicle brands make LED backup lights designed specifically for the motorcycles the companies create. For example, BMW motorcycle LED backup lights are likely to be a perfect match for many BMW motorcycles, and the same goes for lights made forDucati motorcycles,Harley Davidson motorcycles, and Honda motorcycles. Before actually purchasing a set of LED backup lights, the buyer should always check and double check to make sure the lights are the right fit for his or her motorcycle. Failure to double check often leads to wasted time and money.
Key Characteristics of LED Backup Lights
Different brands of LED backup lights vary in some ways. The most significant differences typically involve the output and the colour. These choices give buyers the opportunity to choose from various options to personalise their motorcycles with different colours and degrees of brightness.
LED Output
Each motorcycle LED backup light provides a different output of illumination measured in watts (W) in most cases. Packaging that includes something like 3W on it indicates that the bulb produces 3 watts of illumination output. The number of watts for a backup light normally runs from 0.5 to 5 watts. Bulbs with higher wattages produce more powerful, brighter backup lights.
LED Colour
Motorcycle riders often enjoy choosing different colours for their motorcycle LED backup lights. Although bulbs always come in standard white, they also come in shades of amber, bright blues, and other bright colours. Advantages and disadvantages exist for all the colours. Some colours shine much brighter, such as blue LED lights, which generally shine much brighter than the other colours. Other colours produce lower output levels and are somewhat harder to see. In the end, colour choice depends on the needs of the riders, and smart riders consider safety along with their personal colour preferences.
Installation of LED Backup Lights
After purchasing motorcycle LED backup lights , riders must install them on their motorcycles. Some LED lights come with instruction manuals, but others do not. Installation varies from motorcycle to motorcycle, but the general steps tend to be similar. Before installing, riders need to test the LED lights to make sure they are functional. To do this, they connect them to an outside power source that is not on the motorcycle. For safety reasons, riders must disconnect motorcycle batteries before proceeding. Most batteries are located under the seat of the motorcycle. After disabling the power, riders remove the current backup light covers and disconnect the current bulbs from the sockets. Riders then install the new LED backup lights into the sockets, replace the covers, and reconnect the batteries. Because each motorcycle features a different style of pre-installed backup lights, some riders may need to check their motorcycles' manuals for alternate directions for safely replacing backup lights.
How to Buy Motorcycle LED Backup Lights on eBay
The search for an LED backup light begins on any page on the eBay site by entering a search query into the search bar. For the best results, include as many keywords as possible, including brand, colour, condition, and other important details. Check out eBay's Search Tips for more advice on how to find what you need. Be sure to check out special eBay deals on motorcycle accessories and parts when shopping. If you need additional motorcycle parts, search for LED brake lights, tail lights, and more. Carefully consider LED output (wattage), quality, and price before making a buying decision. With just a little effort, the appropriate LED backup light for your motorcycle should be easy to find.