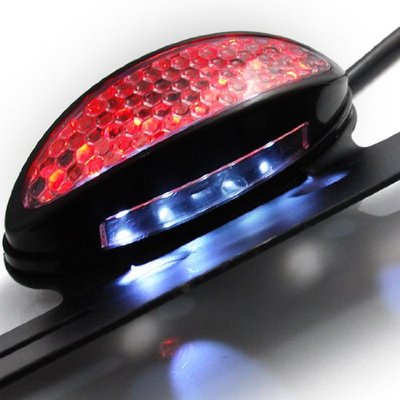 Many riders enjoy motorcycles as a fun pastime, but safety remains a serious concern. Ensuring motorcycle LED brake lights function correctly alleviates some of this concern. Motorcycle LED lights enable other drivers to see motorcycle riders on the road. Many kinds of motorcycle LED brake lights exist for safety, and they feature numerous benefits. General knowledge of the functions and advantages of the different types of brake lights makes purchasing the right lights an easy process. Buyers generally acquire motorcycle LED brake lights in motorcycle parts stores or on websites like eBay. The comprehensive shopping site boasts a large collection of motorcycle LED brake lights for various types of motorcycles. At times, the site features special deals on motorbike parts and accessories.
Function of Motorcycle LED Brake Lights
Motorcycle LED brake lights function better than their incandescent counterparts for several reasons. The bulbs produce brighter, environmentally friendly light and last longer. By contrast, incandescent bulbs suffer damage much more easily in severe weather conditions. Changing atmospheric conditions do not affect the luminescence and lifespan of LED brake lights. Most importantly,motorcycle brake lights signal other drivers that a rider applied the brakes, and this early warning system prevents accidents.
Advantages of Motorcycle LED Brake Lights
Many motorcycle riders prefer LED brake lights, primarily because of their numerous advantages. LED brake lights feature a trendy and fashionable look while remaining highly durable, energy efficient, lightweight, and cost effective. These bulbs also feature longer lifespans due to the lack of heat buildup that commonly affects incandescent light bulbs. Manufacturer-specific LED brake lights and aftermarket options both enjoy equal popularity. The ease of installation and replacement of these lights varies from model to model, but they tend to install more easily than many types of incandescent bulbs.
Cost Effective
Motorcycle LED brake lights cost more at the point-of-purchase level when compared to incandescent bulbs. However, these lights consume minimal battery power, and this helps preserve the overall life of motorcycle batteries. The LED lights themselves feature longer lifespans as compared to incandescent bulbs, which means the bulbs do not burn out as quickly. In the long run, replacing brake lights and car batteries less frequently adds up to significant savings over time.
Energy Efficient
Motorcycle LED brake lights consume a fraction of the energy consumed by incandescent bulbs. They also focus better to shine light in a particular direction, unlike incandescent bulbs that throw light off in all directions, wasting some of the light energy in the process. These features save a lot of energy and enable riders to customise their lights more effectively.
Long Lasting
For many riders, the longer lifespan of LED lights as compared to other options stands as the most prominent advantage of motorcycle LED brake lights. According to packaging, most incandescent light bulbs burn out after 8,000 to 10,000 hours of usage. Typical LED light bulbs, on the other hand, last for 35,000 to 50,000 hours. That means motorcycle LED brake lights last up to five times longer than incandescent brake lights.
Lightweight
Typical LEDs that match or surpass the brightness of incandescent bulbs measure 3 mm to 8 mm long. Buyers install them individually or collectively in a circle or other shapes, depending on the motorcycle. Weight plays an important role in bike speed, which matters a great deal to riders interested in racing or who engage in long drives. Because of their extremely small size, motorcycle LED brake lights add almost no weight to the motorcycle body.
Negligible Heat Buildup
As opposed to incandescent bulbs, LED brake lights produce almost no heat. That matters a great deal from a safety point of view because it minimises the risk of the lights creating a fire hazard. In terms of numbers, these LED lights generate about 3.4 BTUs per hour, while incandescent bulbs generate about 85 BTUs per hour.
Motorcycle LED Light Comparison
There are a range of advantages to purchasing high quality motorcycle LED brake lights. Understanding these advantages helps the consumer to make an informed decision when purchasing LED brake lights.
Feature of LED Brake Light

Benefit

More expensive to purchase initially but use less battery

Longer lasting than traditional brake lights

Energy Efficient

Consume energy than traditional bulbs

Focuses the light accurately saving energy

Long Lasting

Lasts five times longer than other brake lights

Lightweight

Lightweight bulbs enable the motorcycle to reach top speeds

Negligible Heat Build Up

Less chance of lights being a fire hazard
Using the chart above customers can understand the benefits of purchasing motorcycle LED brake lights.
Important Considerations for Motorcycle LED Brake Lights
After its invention in 1962, light emitting diode (LED) light gained more and more traction in the marketplace. LED lights now exist in an enormous number of applications. On motorcycles, consumers install LED brake lights,turn signals,headlights, and tail lights. For brake lights, certain considerations deserve some attention.
A rider needs to search for motorcycle LED brake lights that exactly match the specific make and model of the motorcycle. Both OEM and aftermarket lights usually exist for particular motorcycle series. Integrated motorcycle LED brake lights top the list of safe choices. Integrated lights appear red when braking and white when not in use. For extra visibility, some riders use flashing LED brake lights because they allow better visibility from a distance. However, riders should check specific local road rules before using flashing lights.
How to Buy Motorcycle LED Brake Lights on eBay
Use the search bar on any eBay page to start looking for motorcycle LED brake lights on the site. Enter specific or general queries to see the range of results. Various filters allow you to narrow and sort the results to your specifications. Some possible search terms could include Honda motorcycle LED brake lights or Yamaha motorcycle LED brake lights . You should always search for local results near your neighbourhood if you want to avoid delivery charges. Enter your postcode to find local listings. Be sure to read feedback and reviews on sellers to gain better insight before placing an order. Motorcycle LED brake lights serve as a great safety feature for motorcyclists, and eBay offers a selection for everyone.