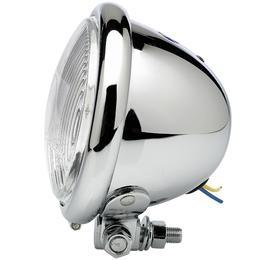 Light emitting diodes (LED) have been a part of various lighting applications for years, so it is no surprise that LEDs have found their way into motor vehicle applications. Cars, trucks, and motorcycles use LED bulbs for interior, exterior, and accent lights. The bright light produced by LEDs makes them an ideal light source for headlights. Motorcycles have a single headlight beam and it must light the road as effectively as two headlights on a car or truck. Using LED motorcycle headlights helps riders to improve the visibility of their bike to other motorists and improve road illumination when riding in the dark. Knowing the advantages and styling options of LED headlights can help motorcycle owners to make an informed purchase.
Advantages of LED Headlights
LED headlights offer several advantages over conventional incandescent headlights. Motorcycle owners considering switching their lights to LEDs can benefit in a number of ways by using the technology LEDs offer. Potential buyers can also weigh the advantages of LED headlights against the higher price of this type of lighting system.
LED Bulb Efficiency
LED bulbs provide more light per watt of electricity than conventional incandescent light bulbs. To generate more light, an incandescent bulb has to be larger in size; that is not the case with LEDs. Manufacturers create unique configuration patterns using several LED bulbs because of their small size, and attach them to a single circuit board. Another aspect of efficiency is the manner in which LEDs project light. Because incandescent bulbs scatter light, manufacturers use lenses or reflectors to focus the beam of an incandescent bulb. LED bulbs focus the light they emit.
LED Bulb Life Cycle
LED bulbs last considerably longer than incandescent bulbs. LEDs dim when failing instead of burning out abruptly. According to experts, a LED bulb lasts approximately 25 times longer than a conventional incandescent bulb. LEDs provide better shock resistance, which can be a key factor as engine vibrations are more intense on a motorcycle than on a car. LED headlight bulbs are not susceptible to damage from shock or vibration like the filaments in conventional headlights.
Styling of Motorcycle LED Headlights
Manufacturers place incandescent headlight bulbs in a unit with reflectors to magnify the light, and use a lens to focus the light in the direction of the roadway. LED headlight bulbs may use reflectors for maximum visibility, but they do not need focused lenses. Therefore, LED headlight styling offers more flexibility to component manufacturers. Several popular styling designs exist that provide a unique appearance to the headlight in addition to producing extra visibility.
Halo Headlights
Halo headlights , or angel eye headlights, get their name from the halo effect that the outer rim of the headlight produces due to the individual LED bulbs that circle the rim. Manufacturers use one or more bulbs, sometimes halogen bulbs, in the centre of the light for maximum illumination. Blue-white lights produce a great halo effect, while amber coloured LEDs create similar styles.
Halo Headlight and Turn Signal Combinations
Combination headlight and turn signal bulbs create a halo effect with a small gap at the top and bottom of the outer LED ring. The centre of the bulb illuminates bright white light from LED or halogen bulbs. The left and right portions of the halo illuminate amber and flash as turn signals.
Multi-LED Headlights
Headlights using three or more LEDs to illuminate offer some distinct advantages. Because the LED light focuses in specific directions, manufacturers use multiple LEDs for the headlight to achieve better lighting of road surfaces immediately in front of the bike and to the sides of the roadway. Depending on their assemblage, multiple LED lights can create low beam or high beam lights. Eighteen centimetres round headlights can hold a number of different LED bulb in various patterns to achieve the level of lighting the rider desires.
Fairing Pattern LED Headlights
Motorcycles owners that prefer to ride with fairings have additional LED headlight design options available to choose from. One can use individual LED bulbs to form a circular or box pattern around the front of the fairing to act as the headlight. Similarly, bike owners can use individual LEDs to create a halo or eyebrow effect as accents to the fairing LED headlight.
Popular Brands of Motorcycle LED Headlights
A number of aftermarket manufacturers make individual component parts like LED headlights, conversion kits, and adapters. Universal LED headlights fit a broad range of motorcycle makes and models. Buyers looking to purchase kits to convert their motorcycle from standard lighting products to LED headlights and related accessories can benefit from knowing some of the more popular brands that exist on the market. These brands include Phase 7,Acerbis, Street Fighter, and Race Tech. Phase 7 and Race Tech make headlights for street bikes, while Acerbis and Street Fighter make headlights for off-road motorcycles.
LED Light Make

Model

Relative Cost

2249

2247

$$$

$$$

Acerbis

2042690001

2140430001

$ to $$

$$$

Race Tech

90-watt Extreme Headlight

X2 Dual-sport Motorcycle Headlight

$$$$

$$

There are dozens more manufacturers and designs of LED motorcycle lights, and choosing the right one sometimes depends wholly on the bicycle itself.
Buying Motorcycle LED Headlights on eBay
You can find a good selection of LED headlights for your street or off-road motorcycle by searching on eBay and checking the offers on eBay Deals. Generate a page of listings by entering the keywords ' motorcycle LED headlights ' into the search bar on any eBay page. Next, you can narrow listings to specific makes of motorcycles, price, and more by using the filter menu. Review seller feedback ratings to see how previous buyers rate their satisfaction with that seller. Shopping on eBay is both easy and convenient; no need to drive around looking for the motorcycle headlight you want, have it delivered directly to your door.