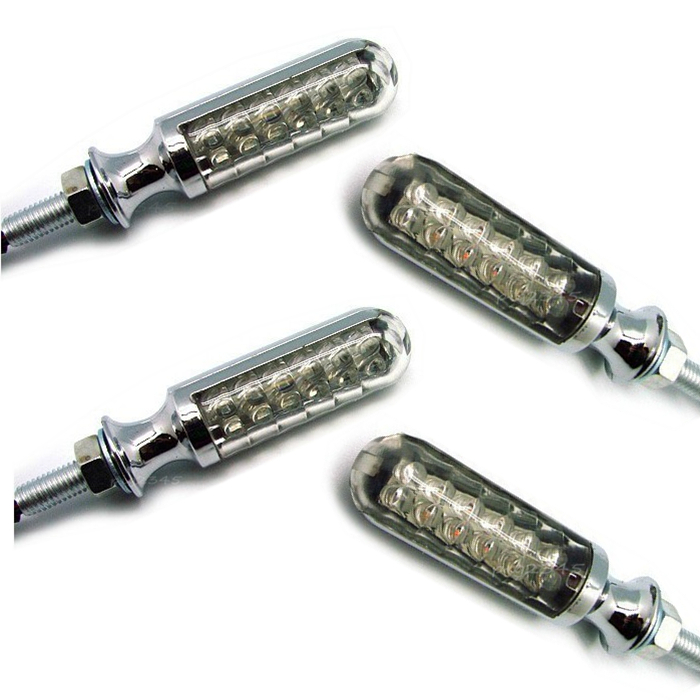 Riding a motorcycle is risky. Before hitting the road, it is important that a rider check that all safety equipment on his bike is fully operational. The turn indicators are especially important because the rider uses these safety lights to warn other road users of his intention to turn or change lanes. Standard bulbs burn out and need to be replaced frequently. Additionally, indicator lights are difficult to see in foggy or other inclement weather conditions. Motorcycle LED indicator lights are an alternative to these standard light bulbs. Before buying LED indicator lights, the shopper should know the advantages of LED lights and what to look for when comparing LED indicator lights.
Advantages of LED Lights for a Motorcycle
LED lights have a number of advantages over other types of light bulbs for motorcycles. Because LED lights are considerably more expensive than standard replacement bulbs, it is wise for the shopper to educate himself about all the advantages of LED lights. One of the biggest advantages is that LED lights last much longer than incandescent bulbs. While incandescent bulbs enjoy a lifespan of 8,000 to 10,000 hours, LED lights last for 35,000 to 50,000 hours, depending on the brand. This long lifespan makes LED lights more cost effective because one does not have to buy replacements as often, so while the initial purchase is more expensive, LED lights are cheaper in the long run when compared to incandescent bulbs.
When compared to incandescent bulbs, LED lights take up less room and weigh less. When riding a motorcycle, weight is an important factor to consider. Additionally, lightweight components help promote fuel efficiency and enhance speed.
LED lights do not produce as much heat as incandescent bulbs. Standard bulbs produce 85 BTUs of heat per hour, whereas LED lights produce just 3.4 BTUs per hour. Because LED lights run cooler, the rider does not have to worry about hot contact surfaces on the motorcycle.
Another important benefit of LED lights is that changes in temperature and humidity do not affect LED lights as readily as incandescent bulbs. LED lights can handle the bumps and jarring of the motorcycle better than standard light bulbs.
Considerations When Choosing LED Indicator Lights
Making the switch from standard light bulbs to LED indicator lights is not as simple as just swapping the bulbs. A shopper needs to consider several factors and also ensure that he has all the parts necessary to make the switch. Such considerations include the installation of load equalisers, choosing between LED kits and LED clusters, and finding LEDs that are compatible with the bulb sockets on the motorcycle.
Load Equalisers
A motorcycle owner replacing stock turn indicators needs to install a load equaliser as well. A motorcycle indicator that flashes rapidly has come to end of its life and must be replaced. When flashing at a faster rate, a burned out bulb draws less current. Because LEDs draw less current than incandescent bulbs, the vehicle's system thinks that a fully functional LED is a burned out incandescent bulb. A load equaliser fixes this problem so that the LED indicator light can function correctly.
LED Kits vs. LED Clusters
LED lights are bright, but the light LEDs emit does not spread in all directions like a standard light bulb. For this reason, motorcycle owners need several LED lights enclosed in a housing. For best results, an owner should install an LED light kit that is specific to the make and model of his motorcycle. However, if the shopper cannot find a light kit for his specific bike, he should measure the housing and purchase as many LED clusters as needed to fill the housing.
Finding the Right LEDs to Replace Bulbs
LED indicator lights fit directly into the socket for a standard light bulb. As with other bulbs, different motorcycles have different sockets compatible with specific bulbs. However, some bikes come with a universal connector. Typically, LED indicator lights come in sets of two, with one for each side. A shopper should also purchase two sets to replace the indicator lights on the front and rear of the motorcycle.
LED Indicator Light Colours
LED indicator lights are available in white and amber colours; however, the motorcycle owner can customise the look of his motorcycles by choosingblue or red indicator lights instead. Additionally, the housings for LED light kits for motorcycles are available in a wide range of colours to complement the colour of the motorcycle.
Other LED Lights for Motorcycles
If a motorcycle owner decides to make the switch to LEDs for his turn indicators, then he should also consider replacing the other lights with LEDs. Kits and bulbs are available for switching headlights and brake lights as well. Because LED lights respond faster than standard bulbs, they make driving on the road safer. Additionally, LED headlights are brighter and help to improve visibility when driving at night.
How to Buy LED Indicator Lights on eBay
There are several great deals on motorcycle LED indicator lights on eBay. Start with a basic or advanced keyword search to find all listings relevant to what you need. Select categories and other options and preferences to narrow the listings even further. If you have trouble finding what you need with this type of search, check eBay Stores for a bigger selection. Be sure to carefully read the description of the indicator lights and view pictures to ensure that the LED indicator lights meet your needs. If you are on a budget, look for sellers who offer used or refurbished indicator lights or free postage and packaging. No matter what colour or size indicator lights you need, eBay provides a large selection of LEDs for you to choose from.