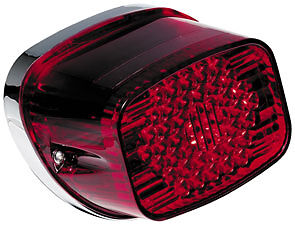 One of the most important safety features of a motorcycle is its lights. Lights make it possible to see while driving at night. They also increase a rider's visibility so that other vehicles can see them, reducing the risk of accidents.
When it comes to replacing motorcycle tail lights there are a number of options for owners to consider. The brightness of the lights makes a big difference. There are also many styles to select that allow riders to customise the look of their motorcycles. Motorcycle LED tail lights are one of the brightest options available, and they are also energy efficient and long-lasting.
What LED Lights Are
LEDs , or Light-Emitting Diodes, are highly popular for their many advantages over other kinds of lighting. At their introduction into the market, LEDs were commonly in homes as accent lighting. It was not until later on that LED made their appearance in the automobile and motorcycle market. Various colours can be produced with LED lights which makes it easy to customise a ride with an entirely new look. The shape of the LED casing also makes a difference in appearance. It is possible to get flush-mounted lights, clip-on ones, and others.
Advantages of LED Lights
To decide whether or not to purchase LED tail lights simply learn about how they compare to other lighting sources. This helps people determine if the advantages outweigh the costs. Some people are more than happy to just continue using standard tail lights.
LED Lights Last a Long Time
One of the most convenient advantages of LEDs is their long lifespan. On average, an incandescent bulb lasts 8,000 to 10,000 hours. In comparison, an LED light has a 35,000 to 50,000 hour lifespan. This means that a person may have to change an incandescent bulb five times before they have to replace the LED light. Since installing new tail lights can be a hassle, this makes a big difference.
LED Lights are Energy Efficient
LEDs are environmentally friendlier than other lighting sources. Typically an LED light uses between six and eight watts. An average incandescent bulb uses 60 watts. The difference is substantial. Since LED lights use less power, they are also less draining on the motorcycle's battery. In addition, the low amounts of power usage help make up for the higher cost of the tail lights.
LED Lights are Compact
Since LED bulbs are three to eight millimetres long, several of them are usually placed in a cluster to make them large enough for use. Individual bulbs are used for applications on things like a string of Christmas lights. Tail lights on the other hand, have several rows of the tiny bulbs which makes the cluster bright enough for use on the street. Even the cluster is usually lighter weight than other kinds of light sources, though.
LED Lights Make Up for the Investment
LED lights do initially cost more to purchase than some other kinds of tail lights. However, they use less energy to run, and they last longer. Eventually, the tail lights do make up for the higher cost.
LED Lights Generate Little Heat
Light-Emitting Diodes do not generate very much heat. Even after being on for long periods of time the bulbs remain cool. They produce 3.4 BTUs per hour in comparison to the 85 BTUs per hour of incandescent lights. Since they do not get hot, they can be touched without risk of burns. LED's also have a much lower fire hazard than other tail lights.
LED Tail Light Mounts and Installation
When shopping for LED tail lights, shoppers must find ones that are compatible. The wiring and mounting systems on each kind of motorcycle vary.
Mounting
The kinds of mounts on each motorcycle are different. Some have come with LED tail lights and it is possible to simply remove the current ones and replace them with new ones. However, others have no mounting system at all. Certain aftermarket parts may also require some modifications to install the tail lights. Find out if the LED lights are compatible without adjustments by reading the product description. Some research may be required if the information is not listed.
Housings
The housing is what the light fits into. A new housing must be installed if the tail light is a different shape or size. As with the mounts, see if the LED tail light is compatible with the make and model of the motorcycle.
Wiring
Many times LED lights require different wiring than other light sources. This is just because it is not simply a matter of changing the bulb when switching from one light source to another. In addition, some drivers want their tail lights to be on all the time for safety reasons. In this case, owners have to install new wiring to accommodate for it.
How to Buy
The advantages of LED lights over lights are many. They use much less energy while still being brighter. They are compact. LEDs also last longer almost all of the other lighting sources. Lastly, they generate very little heat even after being on for a long time. To shop for them, go to the eBay Deals page first to see if there are any daily sales. If you do not find anything there, use the search field on the eBay site to bring up a list of motorcycle LED tail lights. To find more specific products, include the motorcycle's make and model in the query. This should bring up a list of lights that are compatible with the bike. However, be sure to read the product description thoroughly to make sure.