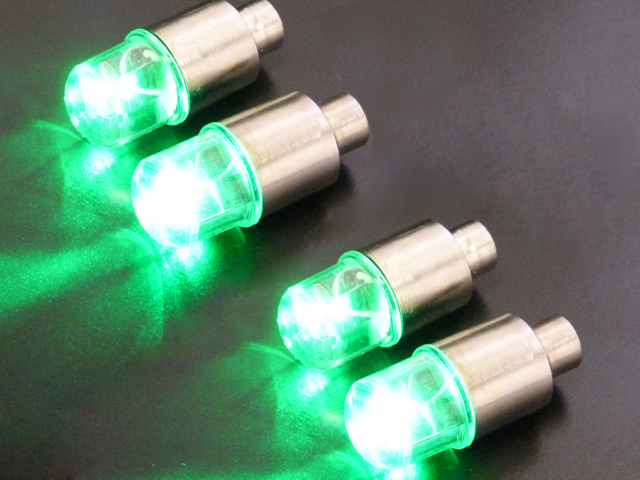 While motorcycle riders have the option of replacing stock tyres with aftermarket variants to add touches of individuality to their motorcycles, a more affordable option is to look for LED tyre valve caps. Apart from adding to a motorcycle's aesthetic value, these tyre valve caps offer users other benefits too, which is probably why an increasing number of motorcycle owners are looking for LED tyre valve caps.
Buying LED tyre valve caps is not difficult; buyers can visit stores that deal in motorcycle parts and accessories, or they can also log on to sites, such as eBay. Irrespective of the chosen medium, buyers should find out about the various alternatives on offer before making a purchase.
The Benefits of Using LED Tyre Valve Caps
The benefits of using motorcycle LED tyre valve caps are manifold, and certainly go beyond enhancing a motorcycle's aesthetic appeal. For starters, the fairly powerful light that these LEDs emanate help improve safety parameters when it comes to driving in the dark. In addition, these tyre valve caps create airtight seals that help to keep out dirt and dust. They play a role in maintaining correct tyre pressure because they minimise the chance of air leaking out of the valve, and in the long run, they also ensure a longer tyre life.
Motorcycle users should bear in mind that core contamination and pressure loss that results from high speeds are two important reasons that encourage the use of tyre valve caps. After all, in case there is any kind of a disruption in the valve's core seal, the tyre valve cap functions as a backup, helping to prevent the escape of air. The fact that motorcycle LED tyre valve caps help to accomplish this in style only contributes to their benefits.
Different Types of Tyre Valve Caps
Conventional valve caps is a fairly new phenomenon.
Different Types of LED Tyre Valve Caps
Just as conventional motorcycle tyre valve caps come in different designs, so do LED tyre valve caps. These valve caps, also referred to as LED tyre caps, come in various designs, like stems and diamonds, and buyers can even find some shaped like rolling dice and skulls. They come in colours that include white, blue, red, green, pink, purple, and more. SomeLED valve caps are capable of producing multiple patterns. These valve caps can be manufactured using metals, metal alloys, and plastic.
How LED Tyre Valve Caps Work
Most LED tyre valve caps tend to come with inbuilt motion sensors that help activate the LEDs when they sense motion, and they switch off automatically when the motorcycle is stationary. On the other hand, buyers can also find variants that include switches that require manual turning on and off. Most motorcycle LED tyre valve caps come with universal fitment capabilities so they are compatible with just about any kind of motorcycle, although the fixing ring's diameter and the valve cap's total length needs consideration. These tyre valve caps are typically easy to install and remove, requiring little more than a few gentle turns. They work using two to three button batteries that need replacing from time to time, and LED tyre cap orders can come with or without batteries.
People who opt for metal LED valve caps should remember that the use of brass is common to make a valve's threaded portion, and elements like road salt and moisture can cause electrolytic reactions between the tyre valve and the valve cap's metal, leading to corrosion. This, in turn, can cause the valve cap to get stuck in place, and removing it to check tyre pressure can be a challenge. Using plastic LED valve caps, therefore, can be a better idea, although using metal caps after smearing their threads with copper grease or petroleum jelly certainly helps.
Quality Matters
Buyers should bear in mind that manufacturers do not make all LED tyre valve caps equally well. For example, LED tyre valve caps should ideally be shockproof and waterproof, for obvious reasons, failing which, they need replacement more often than those that are. In addition, the quality of the LEDs used in these tyre valve caps also varies from model to model, given that not all LEDs use the same materials and technology, thereby warranting some attention. The metal, alloys, and plastic used in makingLED tyre caps also varies, which only goes to show that overall quality is something that requires a buyer's attention.
How to Buy Motorcycle LED Tyre Valve Caps on eBay
Buyers looking for LED tyre valve caps can benefit by searching through motorcycle parts and accessories deals made available through eBay. In addition, buyers can browse through offerings by eBay's top-rated sellers who deal in tyre valve caps of different types, and the fact that a number of sellers who use this platform offer free delivery is an added benefit. Also, while most LED tyre valve caps tend to come in packs of two, eBay users can also find packs of four, eight, and more. Last, but not the least, given the number of alternatives on offer, quality is something that buyers should pay due attention to when buying motorcycle LED tyre valve caps.