There are some easy ways to tell if you are purchasing a genuine motorola handsfree or not.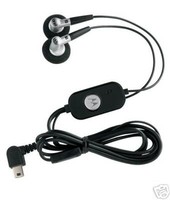 The differences are depicted below and if you purchase a cheap version, expect to receive virtually no bass sound and fuzzing of the headphones when volume is increased. Now, this may not be a problem if your on a phone call, but I primarily use this when jogging to listen to music on iTunes and a cheap imitation handsfree is no way to go (I threw one out which I purchased on eBay for $22 on 30-Aug-06 @ 8:48 [item no:180019453732])
The differences are listed here. I didn't realise the pictures where reduced in size, so I re-wrote what is listed on the pictures for easier reading.
Cheap Version 1 -
Top - Very shiny, looks like chrome
Bottom - Has an integrated circuit on main face of board; and tinny wiring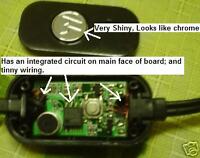 Authentic Version 1
Top - Has not so shiny face (looks like powder coated silver). Hard to tell from this photo
Bottom - No integrated circuit on main face and good quality wiring. (Don't mind the bluetack. I was testing something out)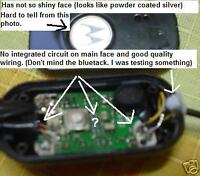 Cheap Version 2 -
Has a shiny face like chrome once more, and has two parts to the earphone (The casing and the speaker itself)
Authentic Version 2 -
Has a not so shiny face like powder coating once more and one part to the earphone which is solidly built.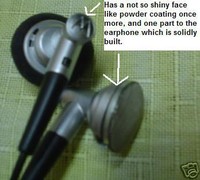 I hope this helps stop some people not getting caught out and wasting their money.
All the best,
carlito_1985