The New Motorola Razr V3i Have Been Released On The Market.
So When You Buy One You Must Choose If You Wants iTunes Or Not!
Firstly To The iTunes Version:
It Will Have A iTunes Key Above The Power Button (Seen Below)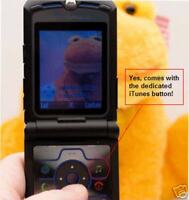 These Versions Have Limits On The Ammount Of Mp3's You Can Put On Them!
The Limits Are 50 Or 100 Songs, There Is No Way Of Knowing What Limit The Phone You Buy Has.
These Models Come In Dark Grey/Silver, Maroon (Also Refered To As The V3iM), Red, Silver.
THEY DO NOT COME IN GOLD!
DAP Can Be Installed On This Model.
Now To The Non iTunes Model:
This Model Does Not Have iTunes, It Replacment It Has Digital Audio Player(DAP), This Has No Limits To The Ammount Of Songs You Can Have. (The Only Limit Is How Big Your Memory Card Is!)
DAP Runs Off The Java Platform Which Uses Alot Of Battery. I Find It Is Pointless As It Will Give You About Of 1 Hr Of Playback Untill The Battery Goes Flat!
This Model Has A Message Envelope Button (See Pic Below)
This Model Comes In All Colours Execpt Maroon.
Colours: Gold, Silver, Dark Grey/Silver, Blue, Red.
iTunes CANNOT BE INSTALLED ON THIS MODEL! Due To Different Firmware Versions!
Thanks For Reading My eBay Guide! I Hope It Has Helped You!! :)
seXyeurobOi