For those who are looking to change up their backyard, there are plenty outdoor kitchen ideas for a wide range of budgets. From the most innovative outdoor-kitchen ideas to the inexpensive designs using salvaged materials, outdoor kitchens can add a fun, healthy element to family life.


Deck Surround with Grilling Station

A deck that is lifted a bit from the ground and surrounds the entire house allows the family to access the outdoor kitchen from any room in the house. This is a perfect solution for properties that have storm-water issues that cause the yard to get soggy during the rainy season. Outdoor activities are comfortable year round with this surround idea. Having a grilling station means cooking outdoors is possible all year as well. Many folks love to grill vegetables, seafood and meats during the cold weather to bring indoors to enjoy.



Build a Pergola over an Existing Patio or Deck

If the home has a nice deck or patio area that can accommodate kitchen equipment and an eating area, an inexpensive way to provide a sheltered outdoor kitchen is to build a pergola over this area to create an outdoor room. Any manner of pergola is a great feature to have for entertaining family and guests. Depending on the type of weather in the area, the kind of entertaining and time of year the outdoor kitchen will be used, various selections of pergolas are appropriate.
Homes that get a lot of rain will make more use of an outdoor kitchen if the pergola is a total shelter. Areas that seldom need shelter from rain, snow or other elements can be more airy with a sectional pergola or roof with slats letting in the sunlight. If the pergola has enough structure, mounting ceiling fans will add to the air circulation in hot climates.

Using a Sun-Shield Shade Structure to Protect an Outdoor Kitchen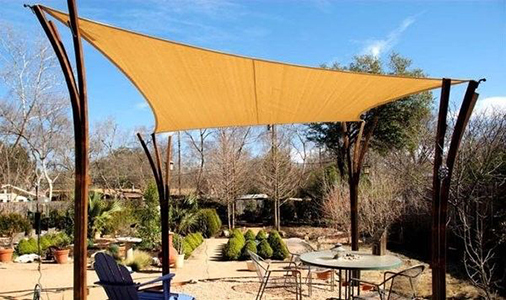 This outdoor structure is a triangular-shaped sun shield that shades the outdoor room from the sun and can reduce the temperature underneath by up to 20 degrees. The great thing about shade canopies is the way they blend into the desert's natural beauty. These canopies allow air and circulation. They also look great from a distance. The modern, simple designs are an asset to the home and yard as well.
Depending on the installation, these shade structures can be permanent or temporary. In areas with regular high winds, it will extend the life of the canopies if they are removed each year prior to the onset of high-wind seasons. Water-proof sun shades will allow outdoor dining during the rainy season, as well. These light-weight canopy structures provide protection from the elements and keep the seating and serving equipment dry.
Modern Outdoor Living with Environmental Element Resistance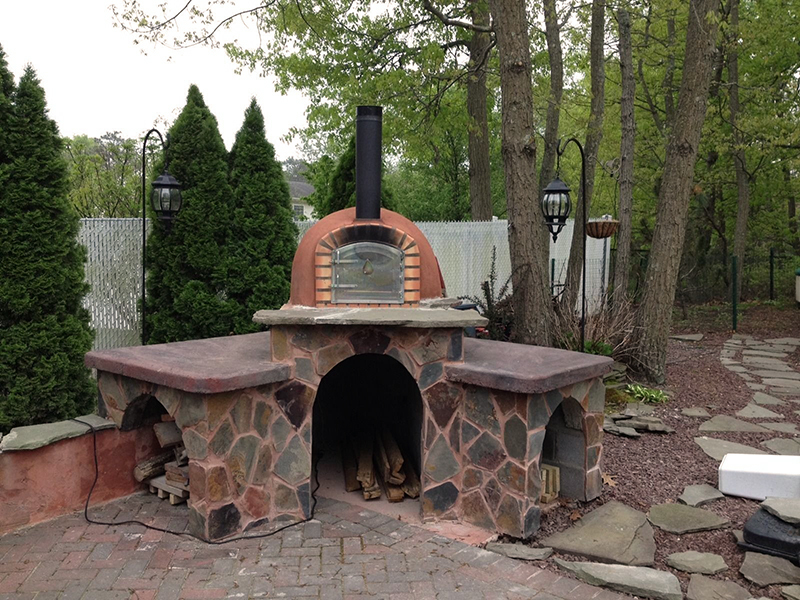 Using the newest technology in outdoor kitchen equipment provides anti-rusting, rot-resistant and mildew- resistant features to enable your outdoor room to last a lifetime. Easy to clean, quality kitchen appliances like an outdoor sink and cabinet system are made of stainless steel. The Euro-Grille wet-kitchen sink module is 100 percent stainless steel and includes a spacious cabinet with shelves. It's mounted on casters and has no need for plumbing construction work. Installation is easy with the plug-in for any size garden hose. The waste water can be used for watering plants.
Optional additions include a six or eight burner BBQ, also high-grade stainless steel, that forms a 90 degree or 45 degree angle kitchen formation when attached. Easy to clean and always sleek and modern, the eye appeal of these appliances will bring enjoyment and ambiance to any outdoor room.
Poolside Outdoor Kitchen Area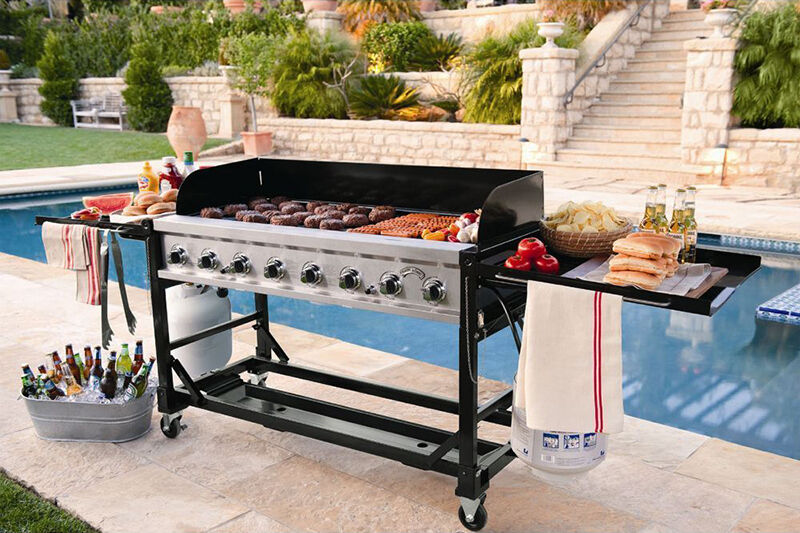 The best selective feature for a poolside outdoor eating area is lots of available refrigeration. Swimmers enjoy the advantage of having beverages, cool fruit and desserts nearby, and mums love the handiness of preventing wet footprints from being tracked into the house. Whether using lovely re-purposed wood from elegant old buildings or paved stone flooring with river-rock enclosures, any type of outdoor kitchen needs a fridge, a wine cooler, a warming drawer and an outdoor pizza oven, a great feature to draw neighbours and friends to the backyard for home-made pizza and beer parties.
Ebay is the answer to Outdoor Kitchen Shopping
From the eBay home page, an outdoor cook can find anything needed for an efficient outdoor kitchen by clicking on the Home and Garden search, and then Outdoor Living. Searching for equipment and outdoor kitchen supplies on eBay is easy, affordable and convenient.
Moving the family outdoors is a healthy addition for every lifestyle. Fun, food and friends will add to your outdoor kitchen experience. What nature-loving cook wouldn't enjoy the relaxation of an outdoor kitchen? Great family times are just a click away on eBay.