Well we all know how it goes: genuine parts for just about anything from cars to lawn mowers can be so expensive. And many parts can be covered by design protection or patent protection so we don't always have an option. The exact percentage varies from country to country, but most countries will allow another manufacturer to copy an item which is protected, by modifying the design by 15%.
This hasn't been a problem for things like non-genuine oil filters, air filters, brake pads, and wiper blades, but for things which spin very quickly, such as helicopter blades, aeroplane props, jet turbines, and lawn mower blades, this can be quite a different story. In the case of helicopter blades, a 15% difference in the design of non-genuine parts means the potential of a 15% difference in the performance of the helicopter and its ability to fly! While aviation rules are a lot more stringent than those which apply to lawn mowers, the principle is the same.
Interestingly, when it comes to lawn mower blades, buyers often go for the cheapest rather than those built to tbe best quality or those which have the best balance or wear resistance. Having been a mower man myself for about 14 years, I have seen some very dodgy non-genuine blades, and also some very good ones made from a very well balanced and wear resistant steel. After such a long time in the industry, I will only use, recommend, and sell blades which I believe are better than the genuine article.
On the dodgy side of the equation I have seen:
the bolt hole obviously and badly off-centre
the bolt hole too far down the blade so the blades don't cut all the way to the edge of the deck
the uplift at the back of the blade is too flat to create enough vacuum
the blades made from inferior steel so they wear out very quickly
the blades are easily bent
the bolt hole is too big so the blade has too much free-play
the blade isn't even similar in shape to the genuine article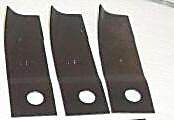 Two things need to be considered here:
The use of inferior copies could lead to damage to people or property, you could be served with a law suit, and if you employ people, it may lead to a workers comp claim.
Using inferior copies can damage your machinery.
So before rushing out and buying a box full of non-genuine parts, do your homework first - you'll be glad you did.
If you appreciated the time and effort I put into writing this guide, please take the time and effort to vote.