Baby bibs are an essential part of your kids meal time. It can keep kids clean and dry while having their meals. Mother's also need baby bibs because it can reduce the times they wash their kids's clothes. Washing a bib is easier than washing clothes.
Standard bibs however only protect the chest and sometimes the lap from food. This is where a large bib with full sleeves is a fantastic idea. Mum 2 Mum have long sleeved bibs available. The long-sleeved bib has 2 advantages. First, it can keep the baby's sleeves of the coat protected from mashed food. Second, the fleece front is helpful to prevent spilling food from rolling down, and the nylon back is water-proof so that liquid cannot soak into baby's shirt. These Wonder Bibs protect against dribble rash and eczema and are an essential purchase for infants with reflux. The open back allows babies and kids to stay cool and makes it easy to get on and off. This bib is ideal for babies who begin to feed themselves. These bibs can also be used for messy activities such as painting and craft making.
Bibs are also useful for younger infants that have not yet started eating solid foods.Even if your baby does not eat solid food, it may still dribble a lot, and need, therefore, to wear a bib. If your baby does not dribble much, it is still worth taking the time to consider a bib.
Mum 2 Mum bibs come in
Sizes:
6mths - 18mths
Dimensions: (bib front, not sleeves)
Size 1 - 29cm (w) x 32cm (l)
Size 2 - 33cm (w) x 37cm (l)
The bibs come in a range of 7 colours. We stock Navy, pink, purple, Royal blue and Green in our store.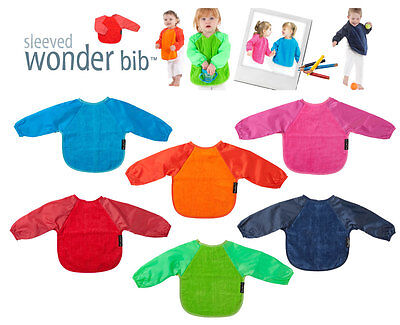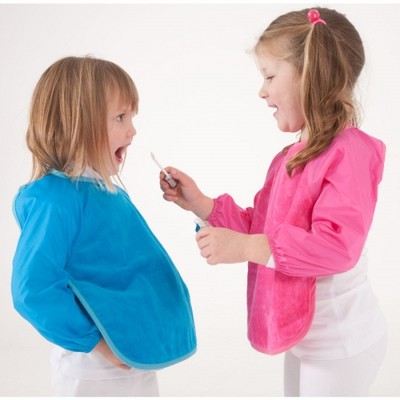 If you found our guide helpful please click YES on was this guide helpful below. Thanks for reading.