Municipal Buses Of The 1950s and 1960s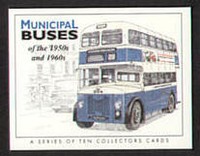 This is one of many illustrated classic bus guides I've created for the community. I hope you enjoy it. If you wish to find out more about the classic bus art featured in this guide please click here.
This guide features several classic municipal buses from of the Fifties and Sixties.
Leyland Titan PD2/5 (Blackpool Corporation Transport)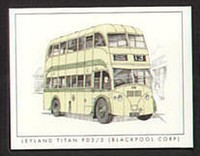 Blackpool's buses have always played second fiddle to the towns famous trams but they were by normal municipal standards, fascinating vehicles. Motor bus operation started in 1921 but it was not until 1932 that substantial numbers of buses were purchased by the Corporation. The mainstay of the early postwar fleet were 100 Burlingham-bodied centre-entrance Leyland PD2/5 Titans. Of distinctive appearance with tehir ornamental full-fronts, they matched the railcoaches in service and gave the town a distinctive public transport image.
Crossley DD42 ( Birmingham City Transport )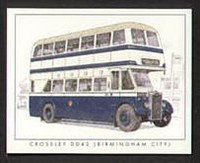 The Crossley company had been based in Gorton in Manchester, though its factory was damaged during the war and production of their new post-war double-decker, the DD42, began in a new factory at Errwood Park, Stockport. The DD42 tended to be a municipal bus, more often than not with Crossley's own bodywork. The two biggest customers were Manchester, which had 301 postwar examples (plus the 1944 prototype) and Birmingham, which had 270 with its own style bodywork.
Daimler CVA6 ( Coventry Corporation Transport )
The first Daimler buses in the Coventry fleet were purchased in 1933, and finding these to be very satisfactory, the Corporation supported the local product almost exclusively. By the early 1960s around 95% of the fleet were Daimlers and Metro-Cammell, another Midlands manufacturer, supplied a similar proportion of the bus bodies. One of the classic models was the Daimler CVA6 with a 60-seat Metro-Cammell body. From 1952 deliveries of this bus carried the Birmingham style tin front (with same body) and later Metro-Cammells, the lightweight Orion design. The maroon and cream Coventry livery hailed from 1933, with an increase in cream on some vehicles from the mid-sixties.
Leyland Titan PD2/3 ( Manchester Corporation Transport Department )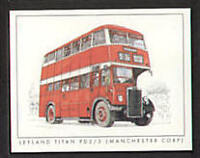 Buses were introduced in Manchester in 1906 as tramway feeders but didn not become numerous until after WW1. Local manufacturer Crossley supplied a significant proportion of Mancehster's buses until 1951, though the Leyland product was used increasingly from 1934. The classic Manchester Corporation Transport Department Leyland Titan PD2/3 model was introduced in 1951 fitted with a Metro-Cammell body. The PD2 model was available from Leyland for around 20 years in various guises and until 1954 could be obtained as a complete vehicle with Leyland's own competently styled body.
Leyland Atlantean PDR1/1 ( Liverpool Corporation Passenger Transport )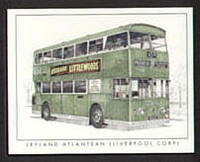 The production version of the Leyland Atlantean double-decker appeared in 1958, and whilst early Atlanteans suffered some of the same reliability problems as the first rear-engined single-deckers, due to the remote positioning of the engine, the PDR1/1 was accepted by the majority of operators. Liverpool obtained a vast fleet of Atlanteans with its unique "hooded" style which first appeared in 1963. LCPT had opted for the Atlantean as the fleet's mainstay, following trials in 1958/9 betwen an AEC Regent V, a Leyland Atlantean and an AEC Bridgemaster. The "Pier Head" destination was hugely familiar for city centre buses and trams of the period.
Leyland Titan PD2/37 ( Halifax Passenger Transport Department )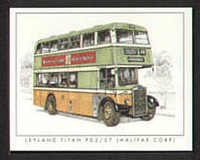 Leyland, like AEC had customers across the board during the 1950s and 1960s, from small independents, municipal operators, company fleets and London Transport. Its main double-deck offering during this period was the Titan PD2 or the 30ft long Titan PD3 from 1956. In keeping with developments in the industry as a whole, the Titan was available with a growing range of options - exposed radiator or "tin-front", air or vacuum brakes, synchromesh or epicyclic gearbox. The Titan finally disappeared from the model list in 1968/9.
AEC Renown 3B3RA ( Nottingham City Transport )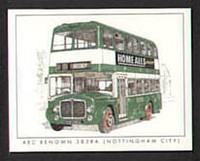 Launched in 1962, the two-axle, low floor, double-deck AEC Ronown was designed to take over from the not too successful Bridgemaster. The model used independent front suspension and air bellows rear suspension, similar to that of the Routemaster. 3B3RA versions had four-speed synchronised gearboxes and 3B2RA models carried four-speed direct-selection epicyclic gearboxes. With an 18ft 3 1/2 in wheelbase the Renown could take either forward or rear entrance bodies. Some two-hundred and fifty Renowns were manufactured during the production period of 1962 to 1967.
Daimler CVG6 ( West Bromwich County Borough Transport Department )
Daimler's main customers during the 1950s were the municipal operators who found the refined Daimler chassis with its preselector transmission ideal for intense urban work. The postwar CV range offered a choice of Gardner 5LW or 6LW engines, or Daimler's own CD6 unit.West Bromwich Corporation employed a fleet of Daimler CVG6 fitted with a Metro-Cammell Orion H63R body. Surely one of the most attractive liveries in the Midlands, the dark blue lower and light blue upper panels are set off with full lining-out, and cream elsewhere, a style used right up until absorption into the West Midlands PTE.
Leyland Atalantean PD1/1 ( Newcastle Upon Tyne Corporation Transport )
Corporation buses commenced running in Newcastle as early as 1912. At this time, trams, trolleybuses and buses all ran in different liveries but coinciding with a delivery of AECs in 1949, the destinctive livlery of yellow and cream with maroon wings on buses was adopted. Newcastle was an enthusiastic Atlantean customer and built up a substantial fleet of rear-engined Leylands.
Thank you for reading my guide and I hope you found it interesting!