So how do you know that the glass someone is selling is indeed an Authentic piece produced in Venice?
Murano Glass has been produced in Venice since the early 13th century, with techniques, skills and secrets passed down from father to son, Maestro to Primo Servente (First assistant or Master apprentice). Both Maestro and Primo Servente spent countless hours in seclusion, perfecting and experimenting with silica, potash and oxide combinations to produce the startling colors you see today. Nobody other than the Maestro and his most trusted apprentice were allowed to know the secrets of the oxides created and used in the furnace as this is the birth of the most amazing glass in the world - Murano Glass!
So what do you look for when purchasing Murano Glass?
MADE IN MURANO - NO glass that is sold by Chinese, Taiwanese, Japanese or Hong Kong sellers on eBay that purports to be MURANO is Authentic Murano Glass. Only glass that is actually produced either on the islands of the Venetian Lagoon of Murano or the mainland surrounding it can LEGALLY be called Murano Glass

CHINESE PYREX - Any Glass made in China will almost certainly always be PYREX, a glass substitute used in Cooking. This fake glass can withstand the heat of the furnaces and is normally either laced with or spray painted prior to firing to keep its colour. NO glass sold by ANY Chinese seller is Authentic Murano Glass. To say otherwise is a direct legal violation of the International VERO programe.

WHO TO PURCHASE FROM - Only ever buy from a reputable dealers such as MURANO ART GLASS AUSTRALIA who can and will personally GUARANTEE the authenticity of each and every piece sold by us

LABELS - Vintage and Antique pieces of Murano Glass were very rarely signed with most carrying labels. These labels rarely survive and it takes an expert to authenticate Vintage pieces with an intricate knowledge of the processes, techniques, Maestri (Master Glass Blowers) and other factors used by furnaces in Venice over the Centuries. Beware, the Chinese are also producing FAKE LABELS and applying them to FAKE GLASS in order to deceive. Many labels have been used over the centuries so again, it is buyer beware!

IS IT SIGNED - Some but not all pieces may or may not be signed by the furnace and the Designer / Maestro. Quite a few furnaces in Venice such as Formia, Venini and Pauly CVM collaborated over the years with designers who have been paid royalties on every piece sold that carries their name. If a piece is signed, it may be done either by DIAMOND POINT SIGNATURE, ACID ETCHING or a combination of both and sometimes, with the label intact also.

CERTIFICATION AND TRACABILITY - If any business is attempting to sell any item claiming to be Murano Glass, then it MUST be able to be traced to a furnace initially, then hopefully and Maestro and Designer. To protect the Authenticity of pieces being produced in Murano and to guarantee that they are indeed genuine, some furnaces can and sign up to the CONSORZIO PROMOVETRO MURANO who issue certification labels under the VETRO ARTISTICO MURANO (VAM). For example, we are the sole OCEANIA agents for Zanetti Murano whose VAM label number is 046 or VAM046. This way you can be ensured that the piece you have purchased is indeed authentic. Just because a piece does not carry a VAM label does in no way mean it is not authentic. It takes an expert such as us to give you the very best information possible and provide authentication where possible.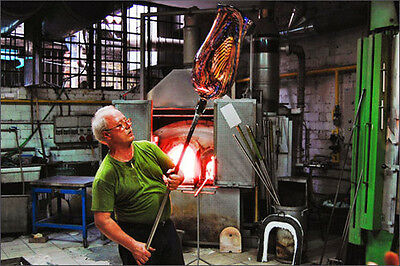 Add a caption
Murano Glass Maestro creating a stunning Glass vase
Murano Glass Master at work
Do you know it takes a Primo Servente or 1st apprentice between 15 to 20 years to earn the title or Maestro? This profession is the longest apprenticeship of its type anywhere on earth.

Murano Glass History
Our passion for Murano Glass and the brilliance of the artisans who make items of exceptional beauty knows no bounds. Enjoy this video on Murano Glass and please contact us with any questions you may have regarding your prospective purchase.

Murano Glass Replacements
Did you know you can have your lost, stolen, broken or damaged Murano Glass replaced NEW for OLD via your household Home and Contents insurance? Contact us to find out how!