Sadly, I have to say goodbye to some of my very good friends. I regret I can no longer perform as a Magician/Ventriloquist, and so it's time for them to find a new home.
All of them are in very good condition - in fact, they're almost new.
If I may, I'll introduce them to you one by one.
For more information and great items, visit our eBay Store.
http://stores.ebay.com.au/CRAFT-MAGIC-AND-SURPRISES
Phillipe the Frog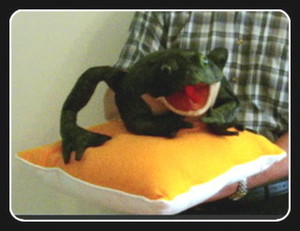 Phillipe the Frog is finely crafted from very durable materials.
I've given Phillipe a French accent. He will not tolerate being called a 'toad'. That's a great concern to him. He'll tell you that a kiss will make him into a handsome prince, but frankly I've got my doubts. The puppeteer's finger in Phillipe's tongue gives added novel animation.

---
Bertie Blackbird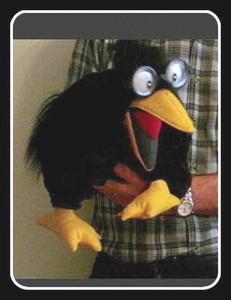 Again, the makers have been very professional in the manufacture of this character.
I've fitted Bertie with accentuated spectacles to provide him with extra expression. He's quite studious, and revels in relating his knowledge on every subject. What he doesn't know, he'll make up.

---
Peanuts the Clown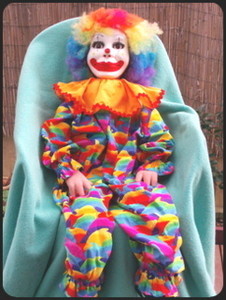 A fairly recent well-crafted head, on a body with a great deal of history.
Peanuts is a shy, loveable character, easily offended but very forgiving.
He is a professional ventriloquial figure, with moving eyes, winking, blinking and natural mouth movement.
Recently re-painted, he's eager and ready to entertain.
---
Granma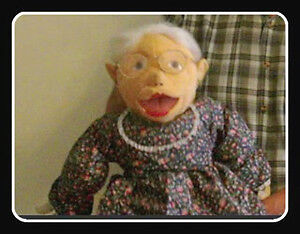 Strong in the making, and in her character.
Granma is rather outspoken, with more than a modicum of the extrovert about her. She is comically critical of her husband, and loves children and cooking.
---
Granpa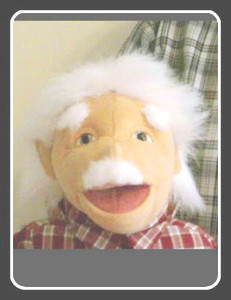 A perfect mate for Granma. The pair are perfectly suited for a 'double act'.
Granpa is your typical embarrassing family member. He gives as much as he gets from Granma,and derives great enjoyment from teasing the kids.

---
Brutus the Gorilla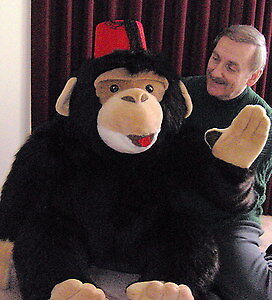 A huge gorilla puppet is ideal for the stage. The puppeteer can choose to work him with one hand or two.
Large as he is, Brutus is as timid as they come. He's just a big kid, with a few coping issues. Sometimes he's a little hard to control, due to his lack of maturity and hyper-active nature.

---
More information can be obtained by clicking on the images above.
I may be contacted for any additional details you may require.
I hope you enjoyed meeting my special friends.
Please visit my eBay Store:
http://stores.ebay.com.au/CRAFT-MAGIC-AND-SURPRISES
---