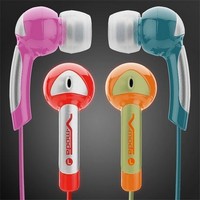 I began my search for a new pair of earphones when my old pair started to give off crackling sounds (uh oh not good). This review/guide will benefit people who are in (or were) in the same position as i am who are looking for a new pair of decent headphones without breaking the bank.
In this guide i will be talking about the V-Moda Bass Frequency Earbuds:
When i started my search for a new pair i just wanted a decent pair of headphones which gave off decent frequencies in terms of their range of tones (nice medium tones, balanced high notes, decent bass but not too much). Initially, i was thinking of buying a pair of higher end headphones (such as the Creative Aurvanas and some from Seinheisser) but settled down for a pair of V-Moda earphones due to the enormous amount of high ratings. Curiosity gave in and i wanted to see what all the fuss was about.
My first purchase on EBay was actually this pair of headphones (hurray ~ !).
The packaging was quite minimalistic and simple. Inside the pack contained the earphones themselves, three sets of silicon covers (S,M,L) (**please note these are earphones so these silicon covers are used to insert into your ear canal**) and a cable manager (of which they lovingly call it: modawrap).
*******************
So what really was the fuss about with these earphones?
Well firstly the silicon fittings were very smug and fit comfortably into the ear canal. People who are new to these kind of earphones (such as me) would immediately realise that you can hear alot of things that you would not hear if your ears werent covered with these plugs (most of these sensations are quite similar when you put your finger into your ear canal to block noise..). You can hear the chord rustling against your clothes and the jaw movements when you chew (hmm..). Aside from that, the comfort rate of these earphones are excellent. In addition to this, the chord length is just right.
The sound is excellent (but since this review is stemmed towards a guide i will leave other reviewers to comment on the sound).
The earphones themselves are quite lightweight. Since my pair is quite new, the durability of these earphones are questionable (but you can read more of their durability written by other reviewers).
Did i forget to mention that these earphones are very affordable?